…
I'm so glad that I finished this cowl… just in time for June.  (Read that with as much sarcasm as you can stand.)
I don't know what the deal is with me and knitting projects lately, but it takes me f.o.r.e.v.e.r to complete them.  This one will have to get tucked away into my closet and come out in the fall because I know I won't need it this summer.  But I still LOVE how it turned out.  I first saw this on Pinterest, and sourced it to Jen Geigley's blog, Hey! Jen Renee.  Jen so nicely posted here about seeing this cowl at The Gap and she just made her own version (without a seam, to boot).  I used the exact same yarn, just a different color.  I'm really into gray.  Grey.  However you spell it.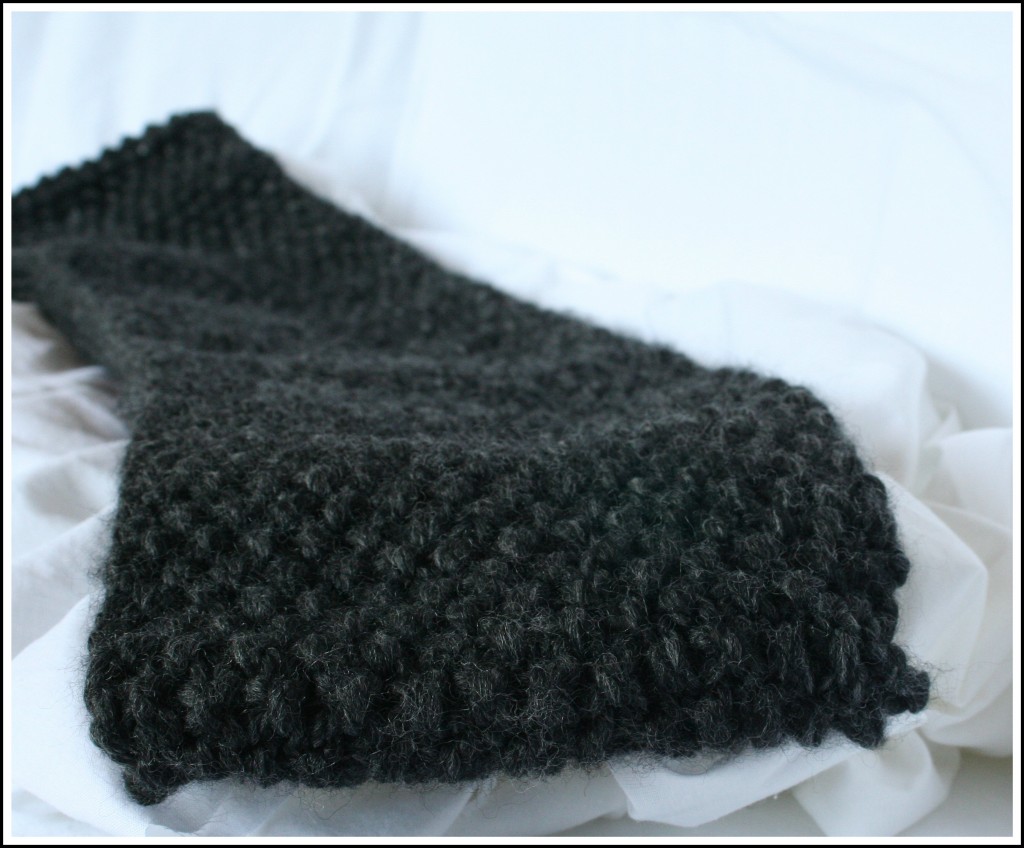 I did run out of steam at the end, so mine is not the full width it should be, but it's still plenty thick.   And I LOVE the seed stitch- I've never done it before.  I do worry that with my next project my brain is going to get confused with when to purl and when to knit, but I'm sure I'll get back on track.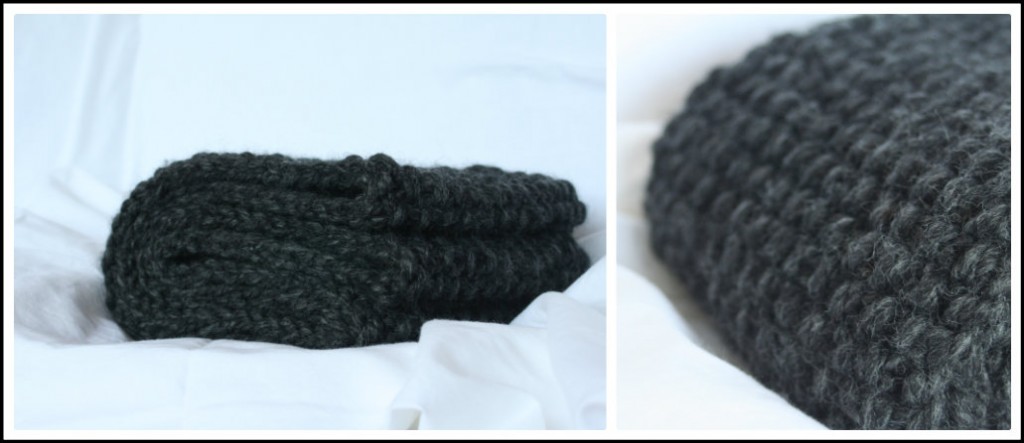 So that you can see it in action, I even made you a video so you can see how it looks on….with my summer tanktop and all.
Thanks for such a great pattern, Jen!
Read More
Well, here I am during the third week of school and already we are plagued with sickness.  My son, Jack, and I are sick.  He is a gross, snot-factory, cranky sort of sick.  As mommy, I'm only allowed to be sick and still functioning in many ways, so I have been drugging myself with Sudafed, but yesterday was the last straw with that approach.  Today  my husband is home, Anna is at school, and I am presently waiting for an iTunes movie to download so I can veg in bed.  While I wait for my movie, I thought I'd show you a little something I made.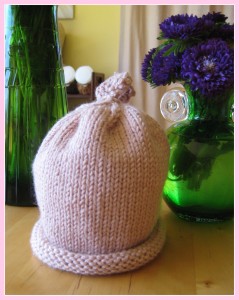 This is a little hat I knit.  My friend and colleague (in that order) Stephanie, just had a little baby girl, Mackenzie.  Mackenzie is adorable, and I worry that she may not need this hat because she has the most gorgeous head of hair a girl could ask for.  But, babies need hats, right?  And I started the hat before she was born with all of that hair, so either way, she was getting a hat.
I think this is my first knitting post on Crafting Crazy, so I'll give you a little background on my knitting history.  I tried to get a knitting lesson from my aunt a couple of years ago and we just couldn't get it done.  She started showing me how to cast on, but because a certain little miss would not eat unless I fed her during that holiday season, I headed back to San Diego with what one might call "knitters frustration."  For whatever reason, I really wanted to learn.  I love yarn, I love handmade things, and yet I didn't know how.  So I hopped on YouTube and decided to teach myself with video tutorials.  I guess it worked.  I wouldn't say I'm an expert knitter, but I have made several things.  My next project, I decided, is going to be for me.  I actually started a wrap that I think may take eons.  Not sure if I'll finish it or cave and switch to something else.
But back to Mackenzie's hat…  I made it with Debbie Bliss yarn- I just love Debbie Bliss.  Anything Debbie Bliss is right up my alley.  This is a thin yarn, so I actually double-knit it on size 7 circular needles.  Just your basic hat pattern- I think I cast on 88 stitches, then knit in the round until it was about 5-6 inches long.  Then I reduced and switched to DPNs when needed.  My favorite part, though, is the top.  Check it out: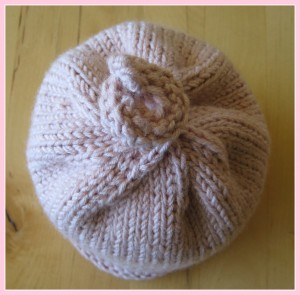 I got this part of the hat on Ravelry.  If you haven't discovered Ravelry, go check it out- it's a great online community of knitters, and there are tons of free patterns.  If you want to make this little "twirl top" then search "Twirl Top Baby Hat" and you'll find it.  It took me about 4 tries to get it right, but it was worth it- it makes it so stinkin' cute.  I can't wait to see a picture of little Miss M in her twirl top hat.  This last collage is just an ode to the stockinette stitch: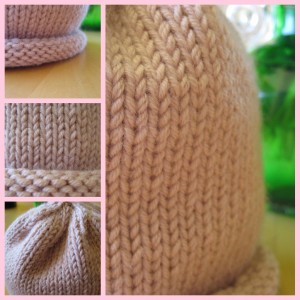 There is something so visually satisfying in knit stitches that line up perfectly.
Welcome to the world, Mackenzie!
And what about you, dear reader?  Do you knit?  If you live in SD I'd love to teach you- I have tons of friends I've offered this to, and no one has taken me up on it….
Read More