…
It was time for a new hair style.  Way past due.
If you're like me, then you value a good hair stylist.  I learned this quickly in my early hair stylin' days.  It was clear that if you want a good cut, you need a good, confident stylist.  This is especially true with short hair because you don't have much wiggle room.  If someone messes up your hair and it's already short…you got problems.
I've been super lucky in my San Diego years.  My stylist, Liesel, has been doing my hair since 2002, I think.  That's 10 years, folks.  I am loyal.  And I'm loyal for good reason:  Liesel is A.M.A.Z.E.B.A.L.L.S.  Not only does she cut my hair really well, but she also has become a wonderful friend, and of course she knows a ton about me (and vice versa) since I verbally vomit on her every time she gives me an amazing hair cut.
Back to my current state of affairs.  I loved my previous 'do.  Here's how it looked:

 It was fun, and I always received compliments on it.  But there were a few issues.  I was tired of the flat-ironing, and tired of having it in my face.   Clips were getting annoying, and with an East-County-San Diego summer looming….a short hair style was just what I needed.   I'm also running a lot, and having hair in your face when you run…not cool.   Then, there was also this: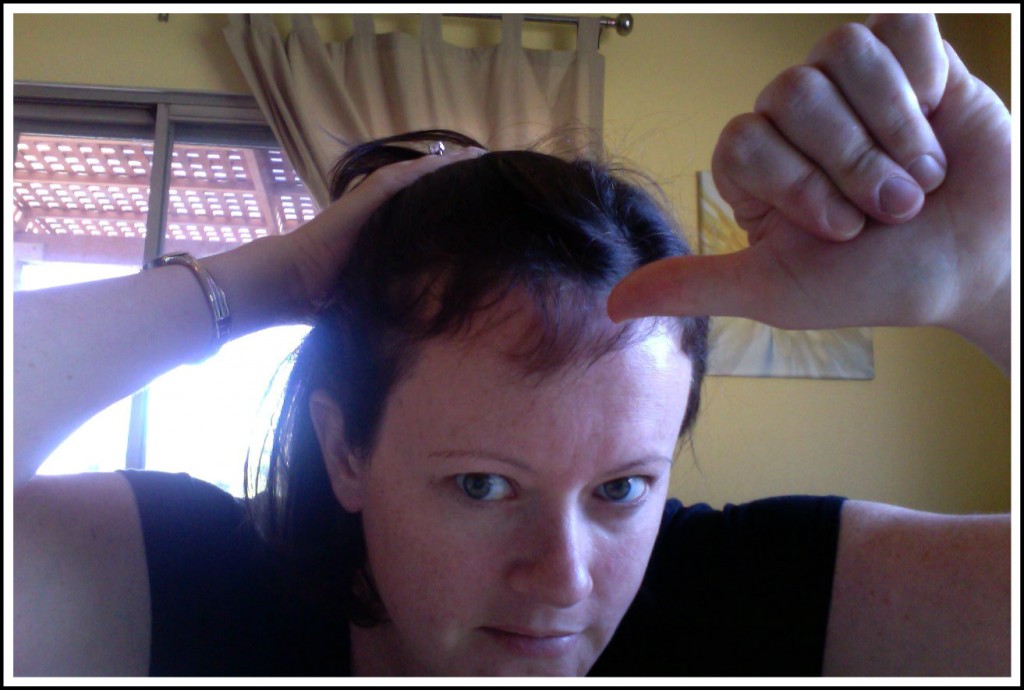 See that row of hair that lines my forehead?  Driving me nuts.  That's all the hair that fell out soon after Emily was born.  My hair fell out for months, and now it's finally growing back.  However, in a few more months, if I left my hair style the same, I would have been battling a lion's mane or something.  It's easier to just cut it short and then it can all grow out together, like one big happy family.
Here's my new look:

Love.
When Liesel cut my hair I had my Short Hair Ideas Pinterest board pulled up.  We talked about what we liked about all of them, and ultimately went with this one as reference.
I have so many friends (and also random people) tell me that I can "pull it off" when I get a short hair style like this.  I really think just about anyone can "pull off" any hair style they want.  Here's the key:  you have to like it.   So get your hair cut the way YOU like it. Not the way your man likes it, the way your partner likes it, the way your friends like it.  Style your hair for yourself- you're the one who has to deal with it.  It especially drives me bonkers when I hear women say that they "can't" cut their hair because "my husband wouldn't like it."   Does he dry your hair?  No?  Does he flat iron or curl it for ya?  No.  Then tough.   Just my two cents.
I love my hair.  Thanks, Liesel!  You da bomb!