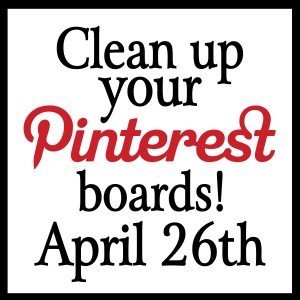 Man, oh MAN!  I had my work cut out for me!  Granted, I did not have eight hours of uninterrupted Pinterest editing, which made it a challenge (Yes, I do place diaper changes above editing my pins).  I did not get nearly as far as I thought I would.  You can tell in my first post from yesterday that I had high hopes to accomplish a lot.
In reality?
I cleaned up one board, my former Food and Drink  board.  Now it's my Main Course board.  I also added:
Sweet Tooth (for all of the tasty desserts and sweet treats I've found)
Drinky Drinks for adult beverages (I need to pin more of those).
Breakfast Bliss (Breakfast is my favorite meal)
I can now find pinned food much more easily, so that will be nice.
I'm so glad I figured out a way to edit a pin board quickly, but it still took a lot of time- especially when I found pins that weren't "legit" due to a lack of a good url, or an incorrect url.  I still have work to do.  I didn't get to "give credit" where it's due on every pin.  But my intent is clear:  I want to be a good pinner.
I'm not sure why it's important to me.  Possibly because I'm a crafter, and I'd like to know that if someone pins content I created, I get credit for it.  Or that if someone pins something of mine, and someone sees that pin, they'll be able to find me on this huge thing we call the Internet.
Regardless, I plan to continue to update my boards until they are all updated.  I'll be sure to post when I "finish"- if that ever happens.  I do plan to not add any pins until I'm done, unless I see something I absolutely can't bear the thought of forgetting about.