Before I get into this here printable, don't forget:  Clean Up Your Pinterest Boards Day is THIS THURSDAY!  Yahoo!  I can feel the organization and inspiration coming back to me now….
I hate cleaning.  You can't make me like it.  I know I'm not alone in this.  My friend Ashley at It's Fitting just posted about her cleaning woes at The Trend Tribe last week.
However, I have recently come up with a system that works for me.  It's more of a maintenance thing.  I still have to do a deep cleaning every once in a while, but sticking to this keeps things presentable and manageable.  And…. If I keep up with it then I don't have to do much on the weekends, which is so nice!
Each day I have one task, Monday through Friday.  If I get that one thing done, I'm golden.  This does not include laundry- I do laundry when it has to be done, and no sooner.  The kids have to be on their last set of PJs before I will toss in a load.  It also doesn't include things like dishes.  Dishes are never ending around here.
I respond very well to checklists.  So for this printable, I gave myself space to check off each day's task so I can at least have one satisfying "Check!" during the week.  I also like that the frame blocks all the crap behind it.  Doesn't it look so neat and tidy on this shelf?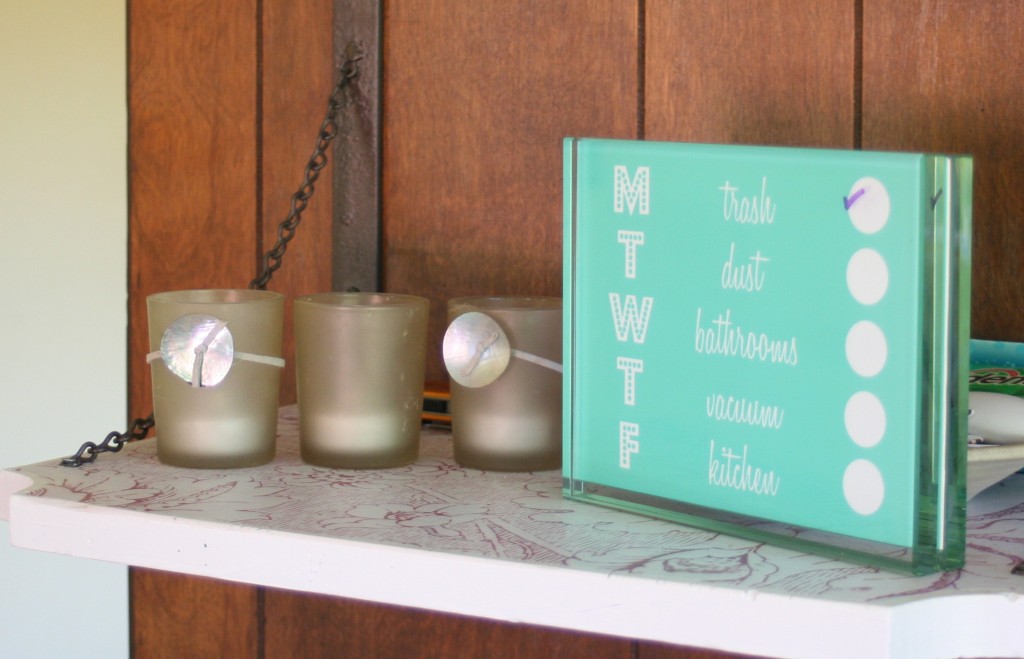 As you can see below, I did okay this past week.  Vacuuming is so hard around here because all three of my kids- ALL THREE- are TERRIFIED of the vacuum.  It's ridiculous.  And sad.  It makes me sad to make them cry just because we need clean carpet.
Below is the printable.  I hope you can use it!