Just a reminder to check out my post from Monday about Clean Up Your Pinterest Boards Day on April 26th!  Hope you can join us!
I have a love-hate relationship with meal planning.  When I do plan our meals, things go so much smoother during the week.  I don't have to think when 4:30 rolls around and it's time to start putting something together.  I can go into autopilot mode because I already know what's happening in that department.  However, the process of picking what to make for the week can be tiresome, challenging, and sometimes annoying.
To that end, I decided to spruce up my menu planner.  My old one wasn't working.  It was an old green frame (you'll see it soon in an upcoming post), too small to write on, didn't stay on the wall because the hanger on the back wasn't that great- it needed to go.
I was at Michael's Crafts getting a few things and saw a simple, flat glass frame and I knew it was what I needed.  It's super cheap, too- only about $5.  I played around in Photoshop and came up with this.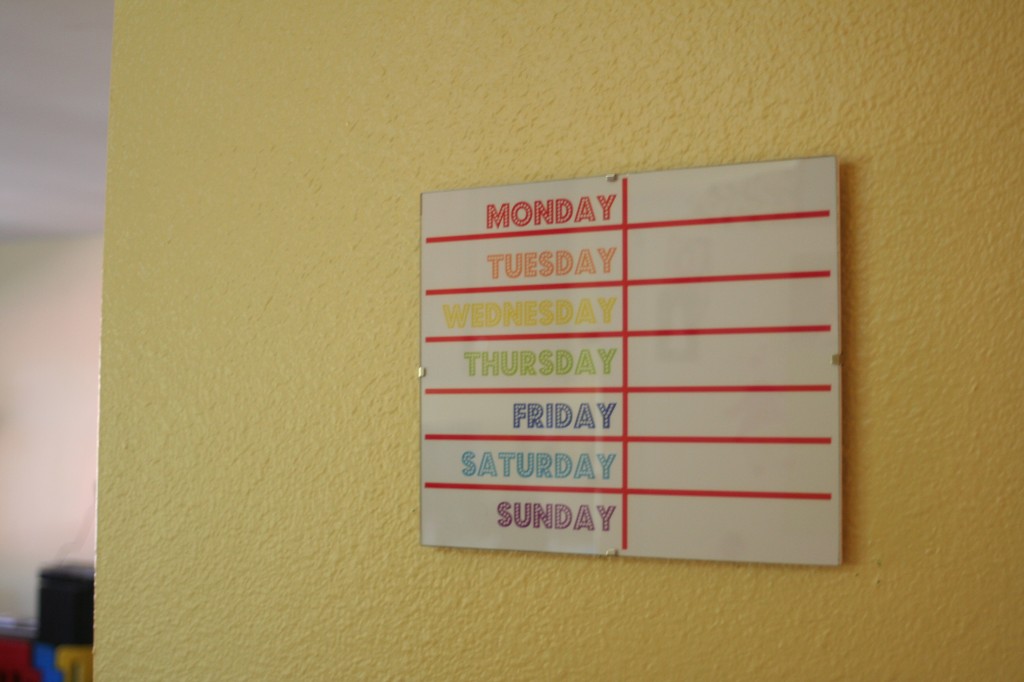 (Clearly I have not mastered my new camera yet.  More about that later.)
I just love Budmo.  It's such a fun font.  You'll see it again in a few days when I post another printable.  And rainbows.  Maybe it's because I have a four-year-old (almost 5…) but I am loving anything colorful and rainbow-y right now.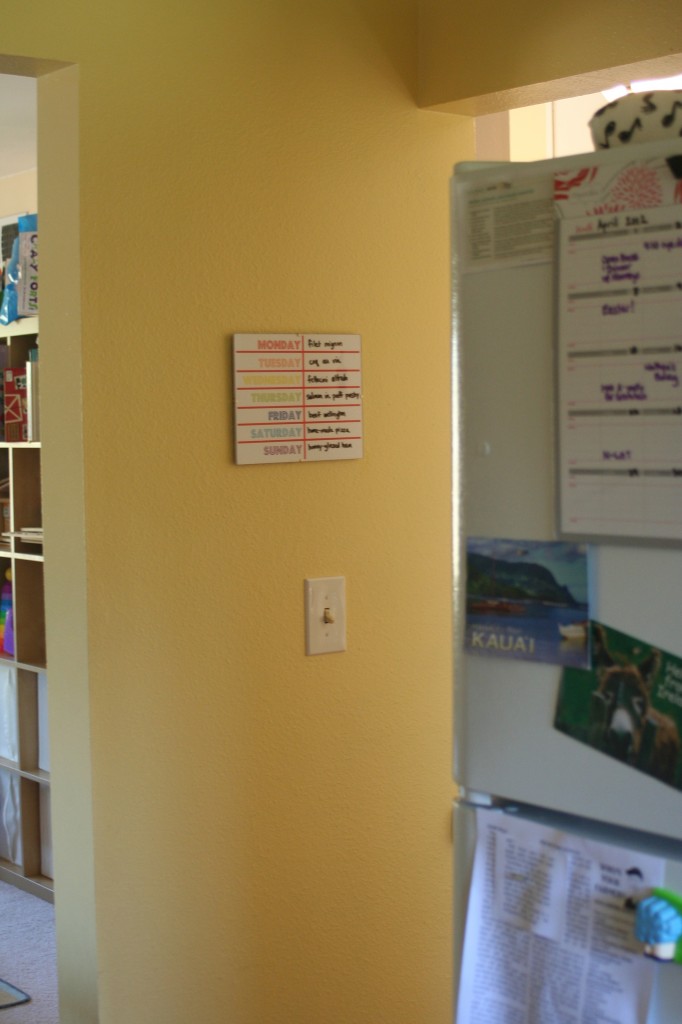 Our kitchen has a very awkward layout (to me) so this picture above shows you where the planner 'lives' just next to our fridge near our front hall.  It's so easy to write on because there's no frame to get in the way.  I hung it on the wall with a nail, and then used some museum putty to anchor it in place so it doesn't move when I write on it.  And I can easily write what we're having- see here: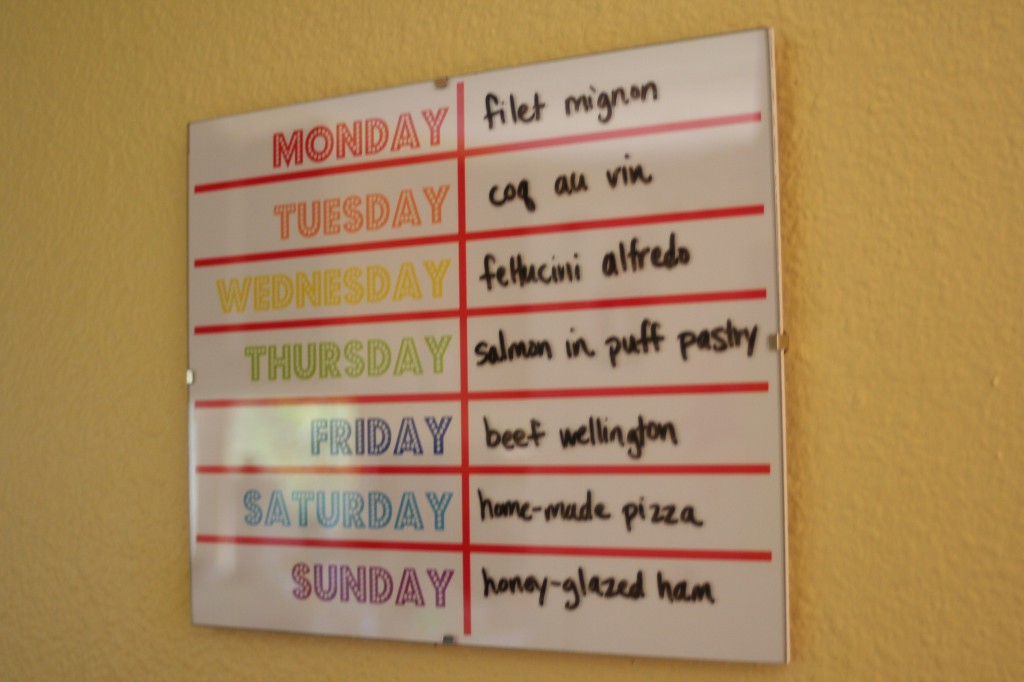 (Yes, I make food like this every week…ahem.)
Here's the download for you.  It's sized to be 8×10.  It's actually slightly different than the one photographed so fuzzily above, because I noticed that the red lines were a bit uneven, so I fixed that for you.  Note:  This will probably not work with traditional frames because the words may get covered up a bit.  Be sure to check your printer settings- mine printed best when I used iPhoto and selected "borderless printing."  It may be best to print a draft in black and white before doing the real thing to save yourself ink.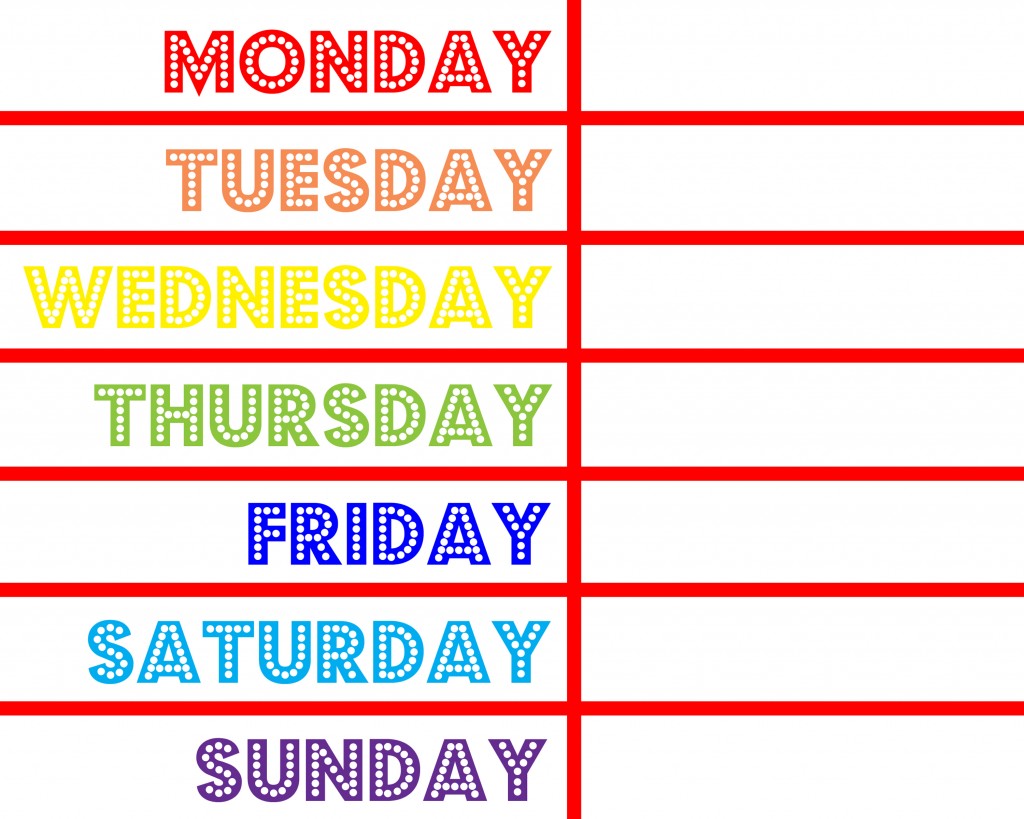 You should be able to click on this and save to your computer.  Please post a comment if you download it- I'd love to know it's getting used!