For our final installment of Jack's party, we'll talk food, treats and I'll give my thoughts on throwing a "real" party.

So let's start by saying that I am not a party-food creator.  I have serious personal issues making a bunch of pretty food that is only going to be chewed up and digested.  Yes, it must taste good, but that's sort of where my sense of obligation ends.  Presentation of food is not my strong suit.
Given the number of people we had attending, we ordred giant pizzas.  That was our "main course."  They came shortly after the scavenger hunt ended.  We also had some snack packs of goldfish crackers and snack mix available for empty tummies.
I also made fruit kabobs.  I went to Costco, bought a bunch of fruit, and skewered it up the day before.  One tray was all the same, with a little bit of everything.   When I got tired of making those I made another tray that had a bit more variety so people could pick and choose.  What I love about these is that you don't need utensils. I'm all about the finger food.   Also, Costco had 12-packs of old-school soda- I couldn't resist.  Everyone seemed to like them, too!  The kids had juice boxes, and we also had water available, and some Izze drinks, too- love those.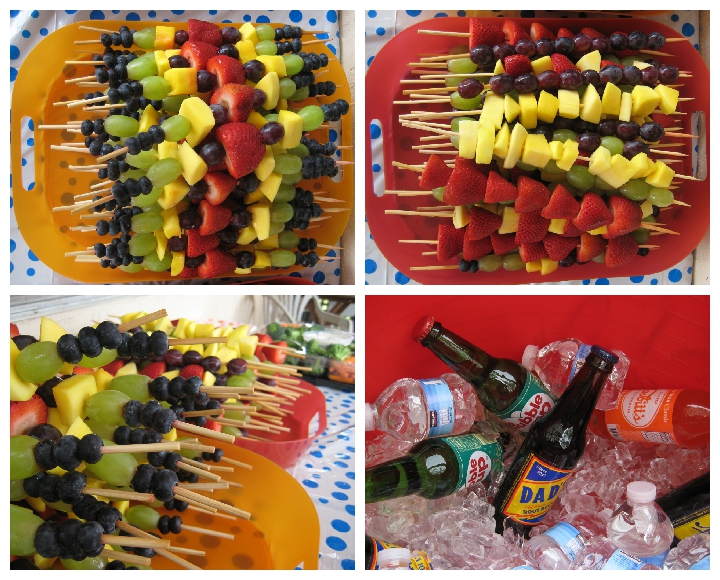 For cake, Jack was sooo easy.  I didn't really give him a choice on the cake vs. cupcake front.  We were having cupcakes.  But when I asked him what kind of cake, he said (in his adorably funny voice), "Ummmm, I fink… I waaaaant.. chalk-a-LOT!"  Done.  "What kind of frosting?"  "Ummm, I fink…..  white." Done and done.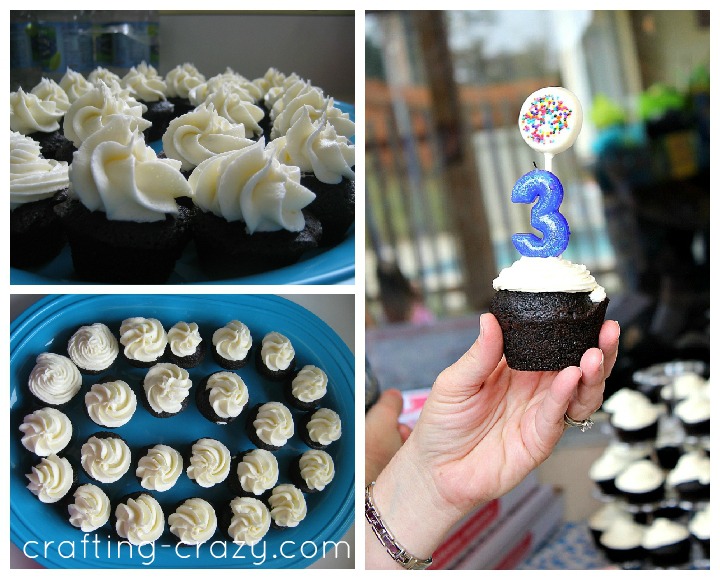 I followed most of what I described in my mini-cupcake post.  This time I tried Trader Joe's cake mix and I have to say I will not be using it again.  They didn't taste bad… they just didn't taste that great. I saw lots of cupcakes with the frosting licked off and just a bite or two of cake.  Bummer.  Back to Duncan Hines I go!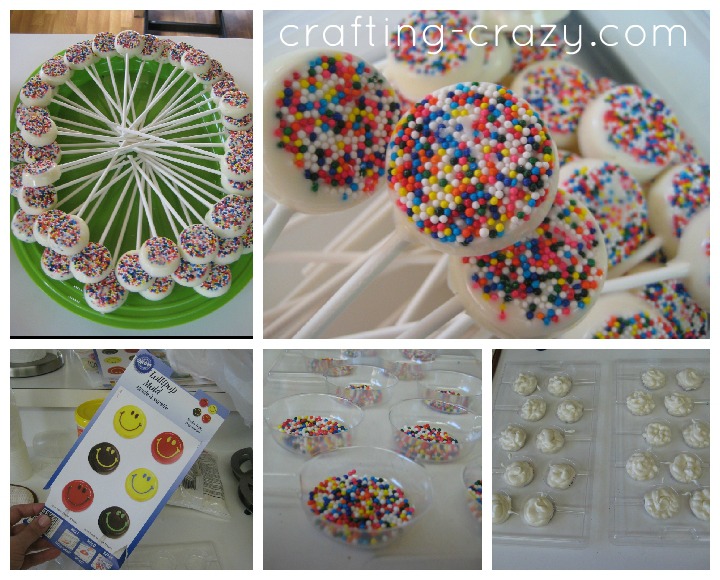 I made candy-pops just because.  Yup.  Just because.  They were SO. EASY. TO. MAKE.  For reals.  Check it out:
Buy a mold (or two to make it faster), candy melts, and sticks (mine were 6″).  Sprinkles worked very well for these, too.  I got it all at Michael's.
Melt candy melts and put in a pastry bag or a ziploc bag will do just fine- cut off the tip.  You may need to let it cool a bit as (duh) you did just melt it over the stove.
While it cools, put sprinkles in the bottom of each mold.  Make sure the bottom is covered well- not too much, not too little.
Fill the molds with the melted candy, smooth them over with the back of a spoon.  Doesn't have to be perfectly smooth.
Place the sticks and put them in the fridge or freezer until solid.
*Important:  check the sticks a few minutes after you put them in the fridge or freezer- sometimes they come up a bit, and once the candy starts to solidify (ooo- I just said solidify) you can push them back in and they'll stick better.
Pop them out and store.  Put on a cute tray to serve, or wrap them up in little bags for take-home treats.
Lastly, each kid got to take a little treat bag of M&M's home.  I got the ribbon at Dollar Tree, and the bags are from Shop Sweet Lulu.  I LOVE these little bags.  They are so stinkin' happy.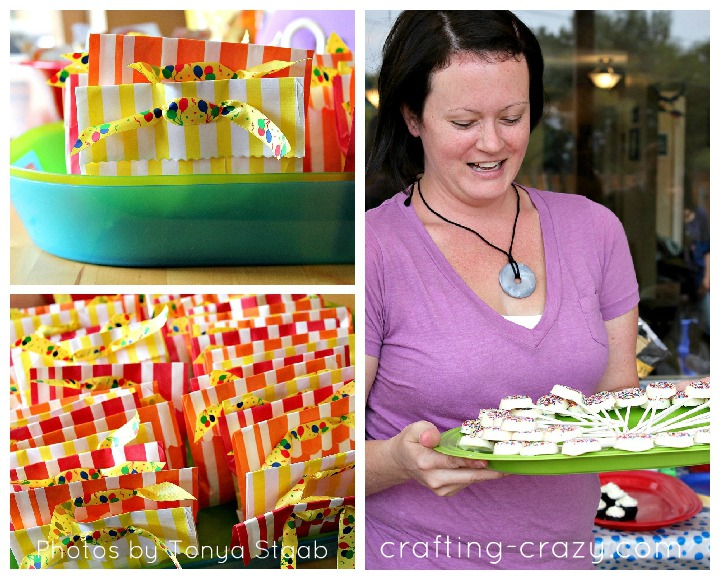 I got all of my trays at WalMart for ONE DOLLAR EACH.  Go now!  They are cheap but they are colorful and perfect for whatever.  And I don't care about what happens to them because they were only…. a DOLLAR.
And now… the wrap up. Will I do this again?  Maybe.  I think if I do another party like this it will be next year for a different child, that way everyone gets a super-special party once every three years or so.  March is a huge birthday month for us- 10 people in my family/extended family have birthdays, so we have a lot going on.  But it was so fun to have happy, cheery decor and everyone seemed to like it a lot.
I have the utmost respect for anyone who can do this for every child's birthday, especially if they have more than one child.  I'm also thankful that Anna doesn't seem to expect the exact same party for her birthday, and we will keep it much more simple (I hope).
I will be back later today to create a "Jack's Party" page and get everything properly linked up so you can go between posts easily.  Thanks for reading!
Here's one last shot of the birthday boy…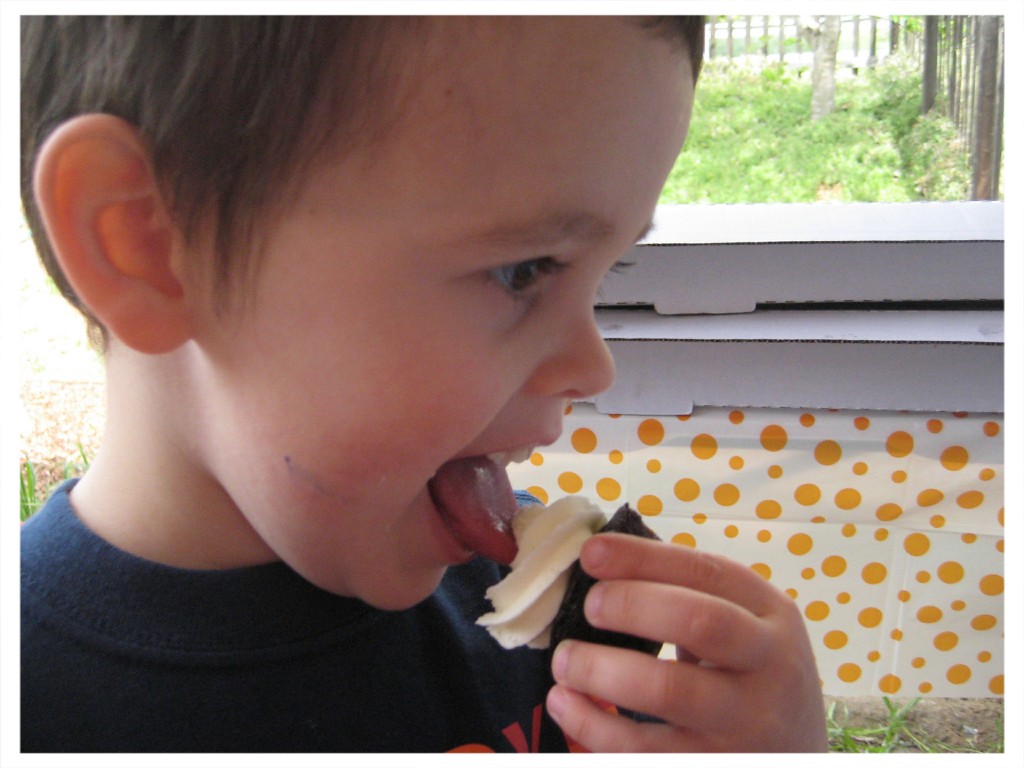 And again, many thanks to Tonya for sending me so many photos, including this one of my  husband and my daughter, Em.   These posts would not have been the same without her photos.  You're wonderful, Tonya!