I've had it on my mind for a while to do a large post about changes Michael and I are trying to make in our eating habits (there are tons), but that post is never going to get written.  I can just tell.  So instead, I'm going to share tidbits of things we're doing that I'd consider "small steps."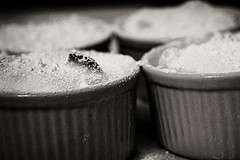 If you know me, you know I love sweets.  I'm a person who leans towards creamy, sweet, and rich.  Those are my vices.  I go nuts for brownies, rich ice cream flavors (no vanilla for me unless it's covered in something decadent), and glorious cakes.  I love sugar.
For that reason, I knew I needed to give up some things because I'm not getting any younger, and my metabolism is certainly not where it used to be.
The neat thing (for me) is that my body actually made my mind up for me.  Throughout my last pregnancy I drank a Diet Coke nearly every day at lunch.  It was my afternoon caffeine shot to get me through the rest of my teaching day.  I new it wasn't good for me, but it wasn't like I was downing a six pack every day- just one.  As soon as I gave birth to Emily it was like a switch went off.  Soda no longer sounded good to me.  I think I had one a few days after I came home from the hospital out of habit, but I didn't enjoy the taste at all.  It was weird.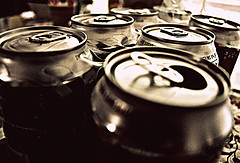 I decided to try natural sodas.  But after a few weeks of that I just asked myself, "What's the point?"  I was failing to see any reason to consume something that had zero nutritional value whatsoever.  At least with a bowl of ice cream I'm getting some calcium- what's soda givin' up these days?  Nada.
I haven't looked back since.  And even better, I'm now one of those snooty people who likes fizzy water.  It's delicious.
I haven't dropped tons of pounds or anything, but I do feel better knowing I'm not drinking it.  I don't miss it, I don't crave it.  Every once in a while I'll have a 50/50 lemonade/Sprite combo if we're out to lunch or something, but that's it.
And what I really, really don't miss is the oodles of soda cans in the recycling bin, as well as the unpacking of the soda after grocery shopping.  That was always a pain in the ass.
Have you given up a vice?