To all of my lovely readers:  thank you for visiting my blog as often as you do!  Would you help me out?  I'm working really hard on my blog and I'd love you to help if you have a few seconds.  If you like what you read, if you find it interesting or useful, please pass it along.  You could leave a comment below (be sure you've clicked on the post title if you're on my "home" page), you could pin a photo to Pinterest (there's a "Pin it" button at the bottom of this post), or you could share a link via Facebook.  Anything helps.  If you're not a blogger yourself you may not know that the world of blogging revolves around sharing and comments- they are sort of the currency of the blog world.  Thanks so much!  And now, back to the post at hand….
Happy Valentine's Day!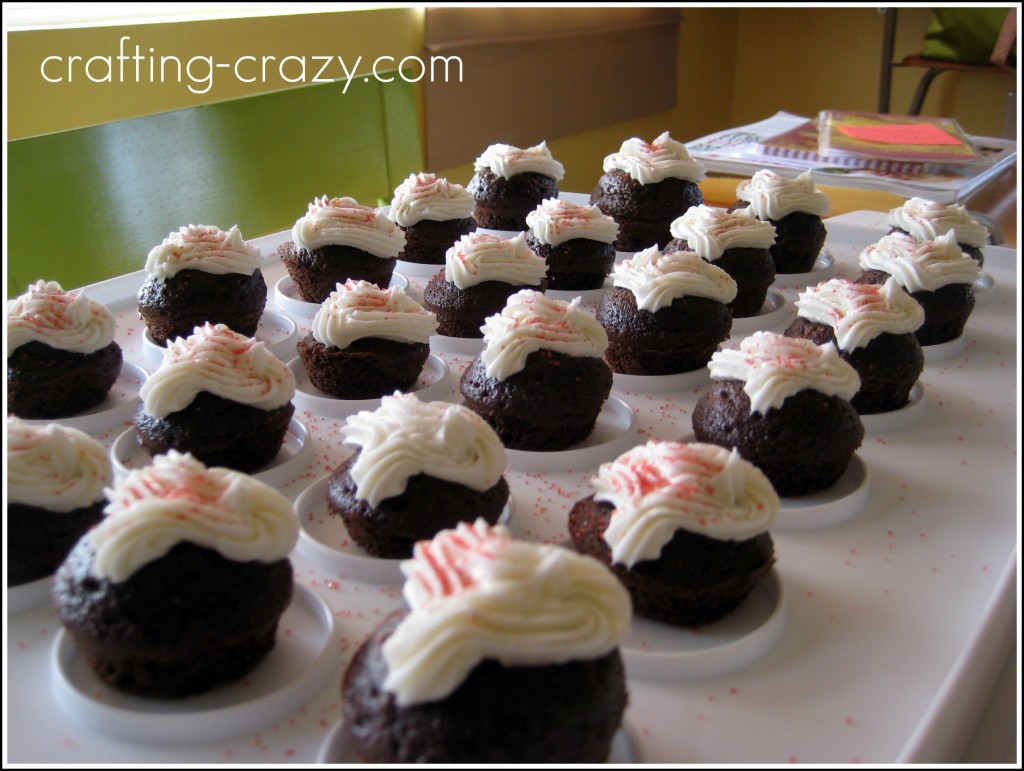 I was busy making mini-cupcakes for the kids to take to school, thus the lack of posting yesterday.  I'm capitalizing on the fact that one teacher just said to bring something, and I did not specifically hear the words, "healthy snack," so I'm bringing mini-cupcakes.  That way, if it was supposed to be healthy, it's just a mini-cupcake rather than a full-size one, and the teachers can eat them if they want to hide them from the kids- I don't mind.  Ha!
While I love eating mini-cupcakes (or 7 or 8), I loathe the batter process.  All those tiny cups that have to be filled "just so," the washing of the pans….  Today I discovered a new trick that I'll share with you to hopefully make it go faster and neater for you, too.   I'll also share some other tricks of my cupcake trade.  They aren't revolutionary or anything, but if you're a new cupcake-making person, hopefully they will help.
As I said, my issue with the process was getting the batter into the cups.  I didn't want to waste a pastry bag, but… pouring the batter from a measuring cup into those little tiny cups was also too messy.  Spoons don't work well- the batter falls off the spoon and doesn't always go where you want it to.  Yesterday was my "a-ha" moment.
Here's what you do:
Make your batter.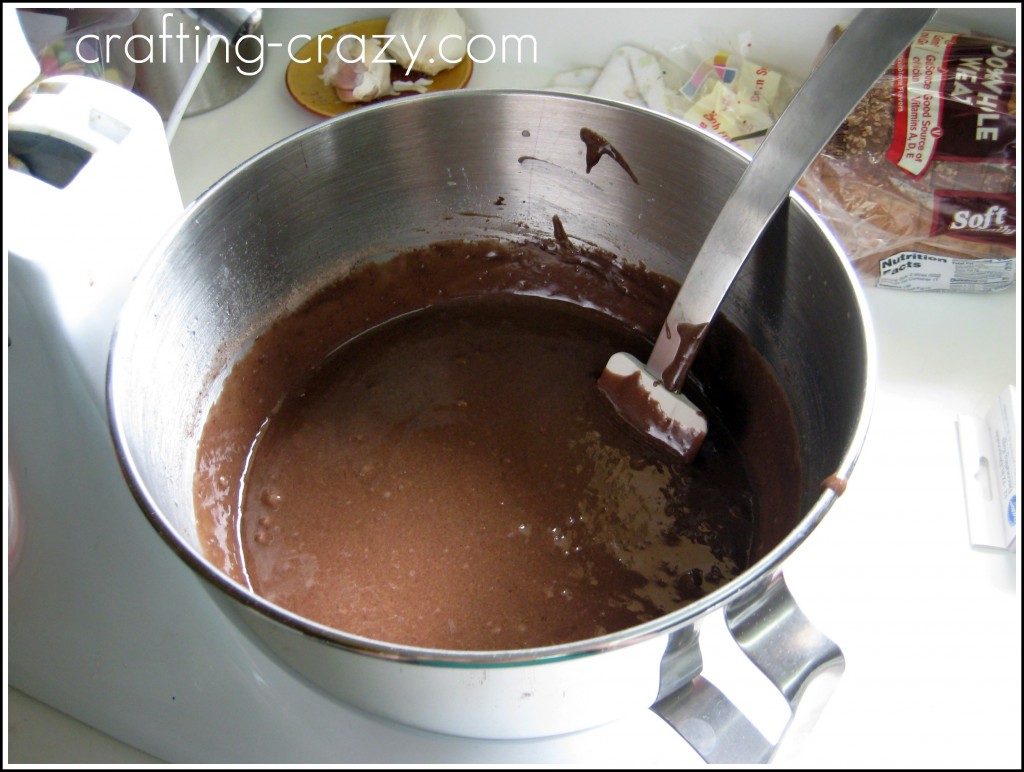 Also (not pictured) prep your mini-cupcake pans.  Either line them with paper or spray them with a non-stick baking spray.  Or if you're REALLY good, smear butter all over them- I'm a spray person these days.
Line a 4-cup measure with a gallon food storage bag, preferably one with two layers of zips.  You may have to use something else if your measuring cup is too wide.  My cups are the "OXO" brand and it fit perfectly.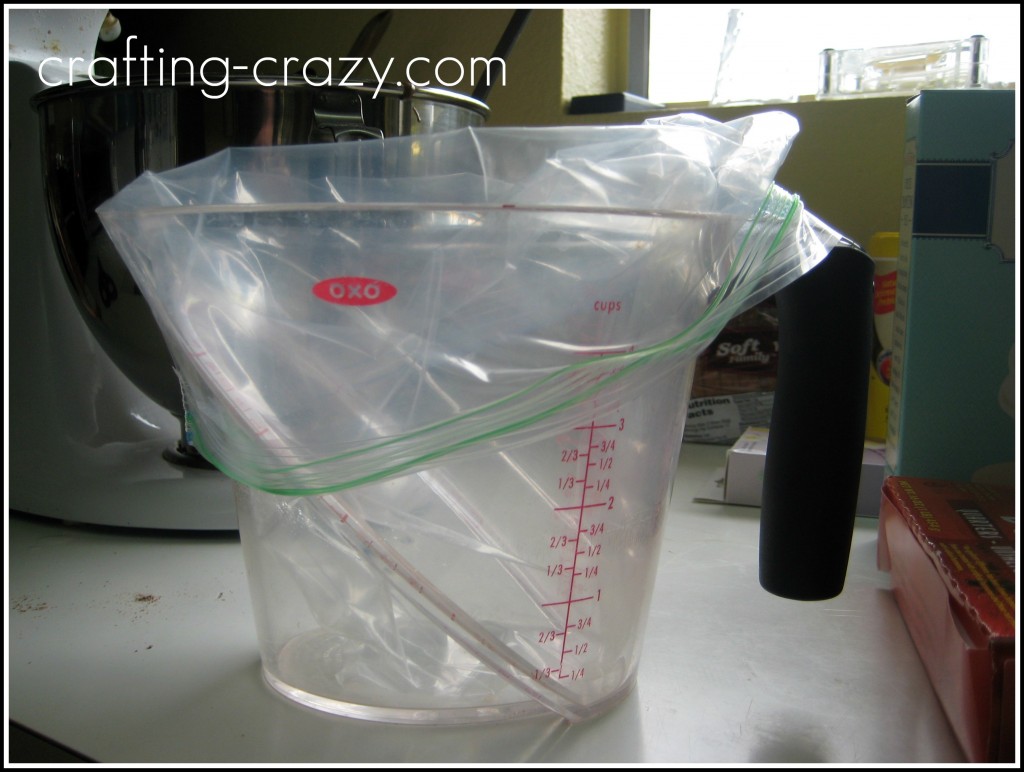 Pour in your batter.  (Are you impressed?  I took the photo with my LEFT hand while pouring with my RIGHT.)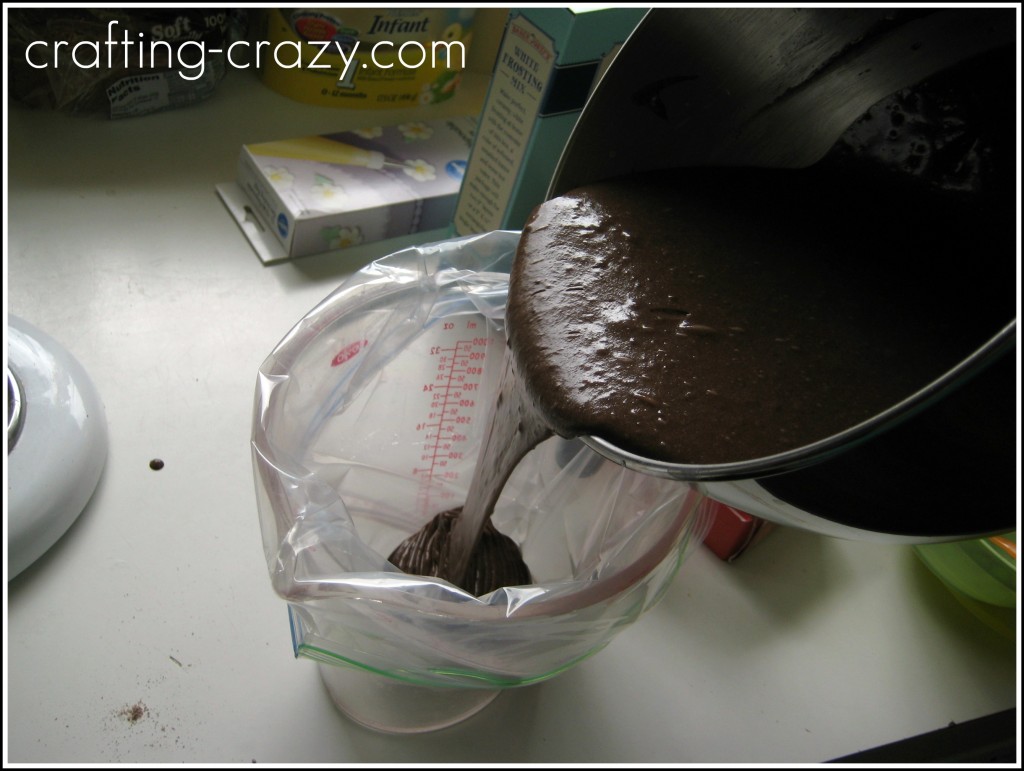 Zip up your bag.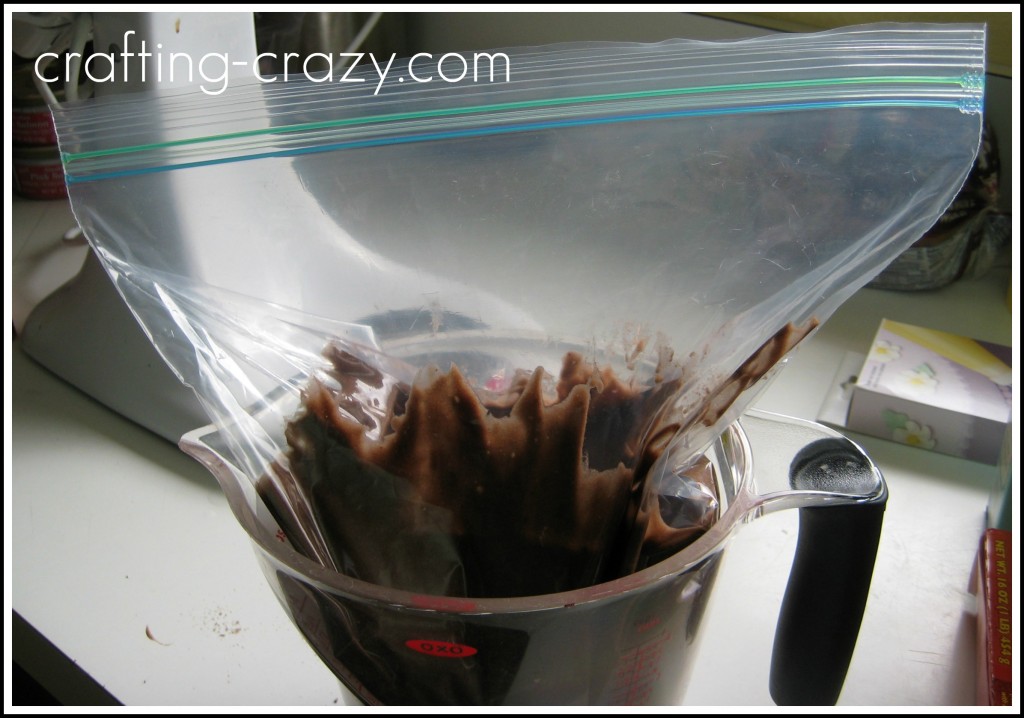 Turn your bag and smooth all the batter away from one of the bottom corners.  Snip the corner of the bag.  Make it small- you can always make it bigger.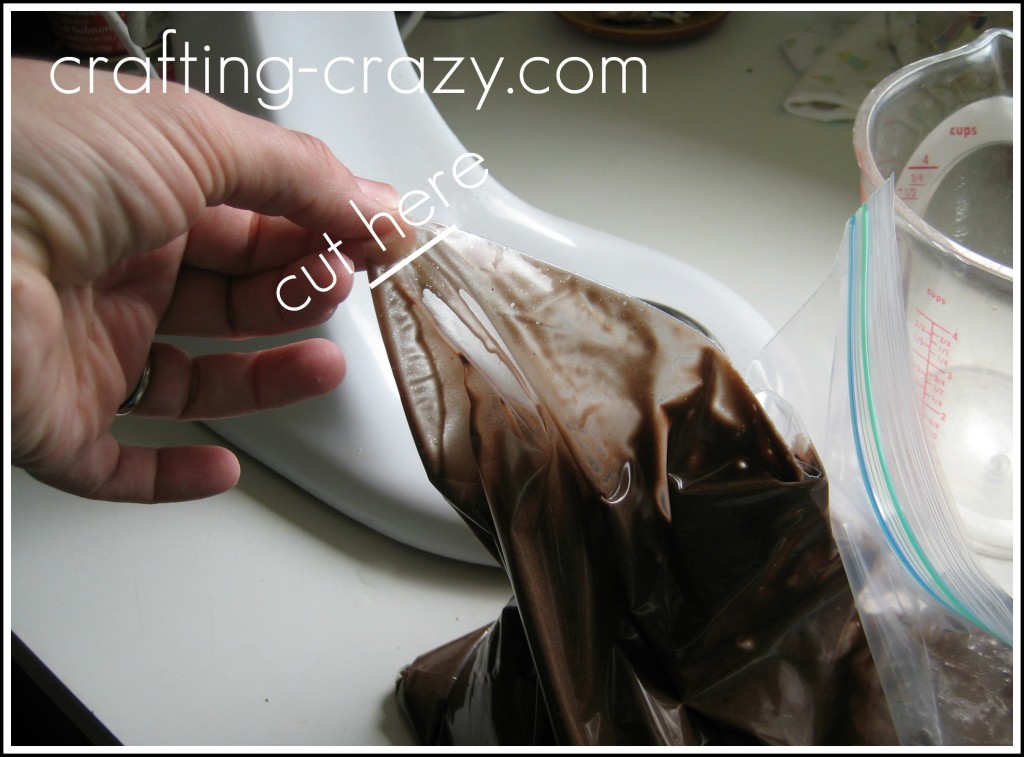 Mine was actually a smidge too big, and it was probably about an inch wide, so next time I'll make it 1/2 inch and see if that helps.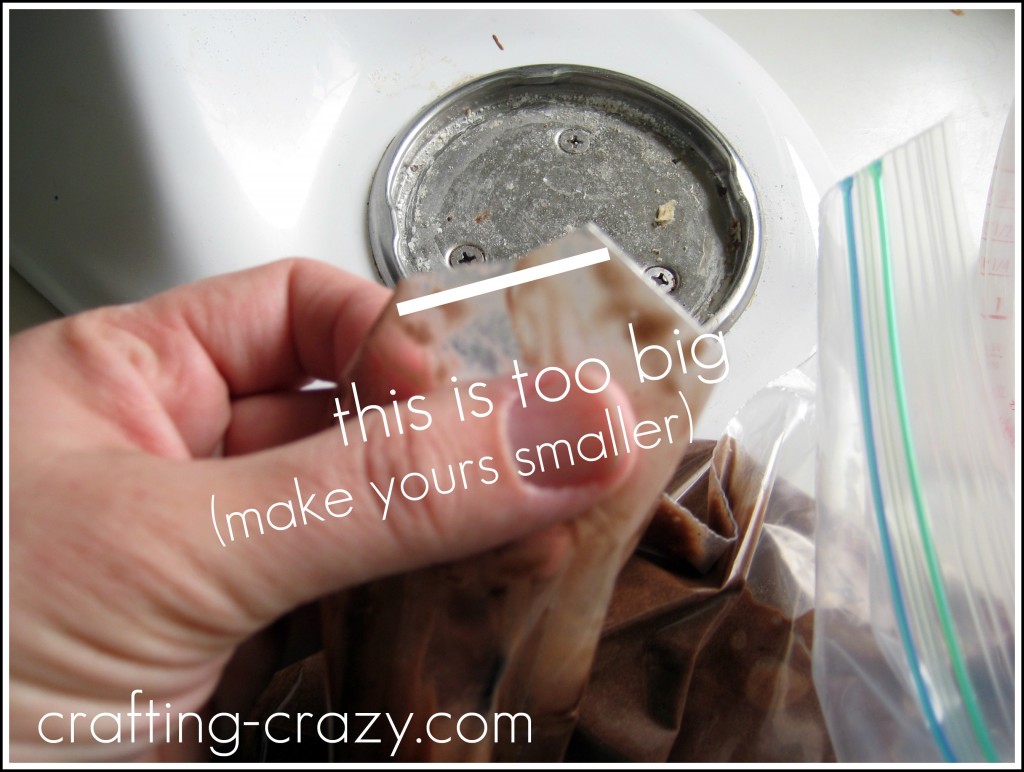 Carefully move your bag over your pans and start squeezing!  The batter comes out fast unless it's a thick cake batter, but you'll get a rhythm going and pretty soon all of your pans will be full.  Love it!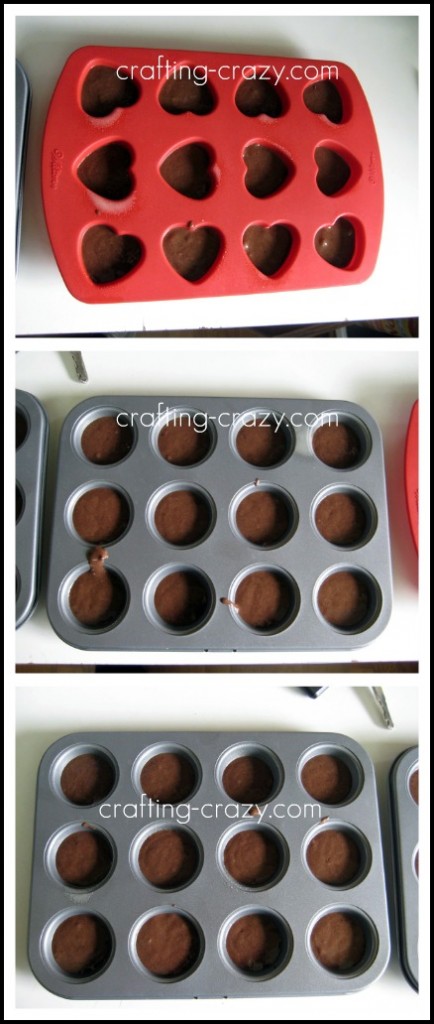 Here's that red one up close: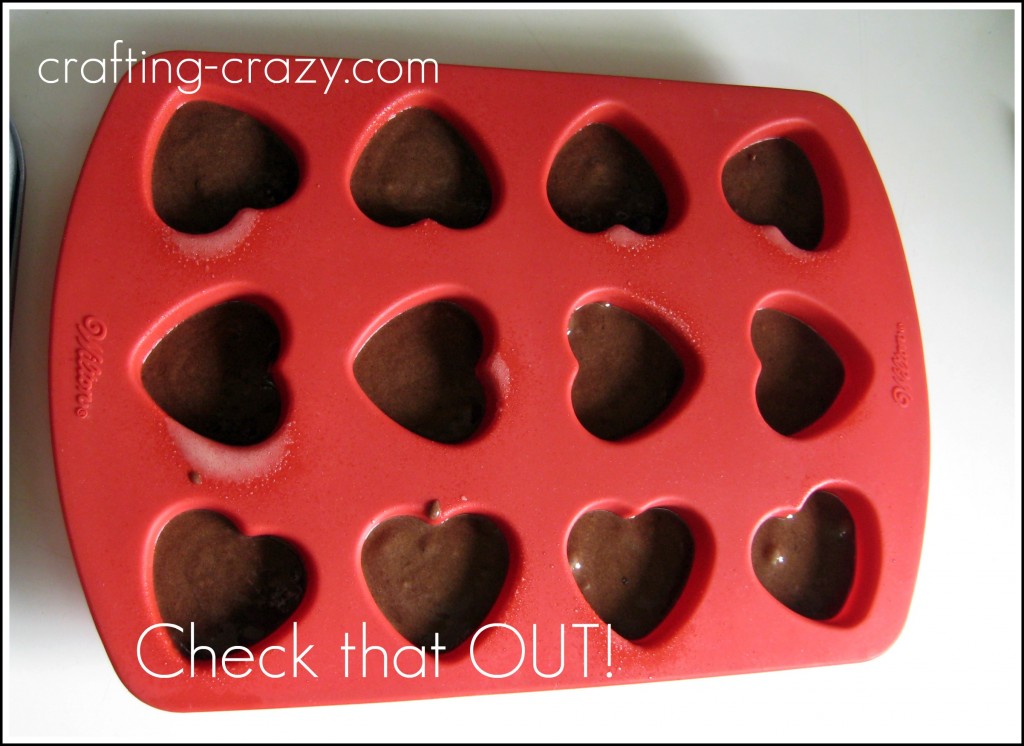 This made the process of mini-cupcakes sooo much easier.  And here are my finished products: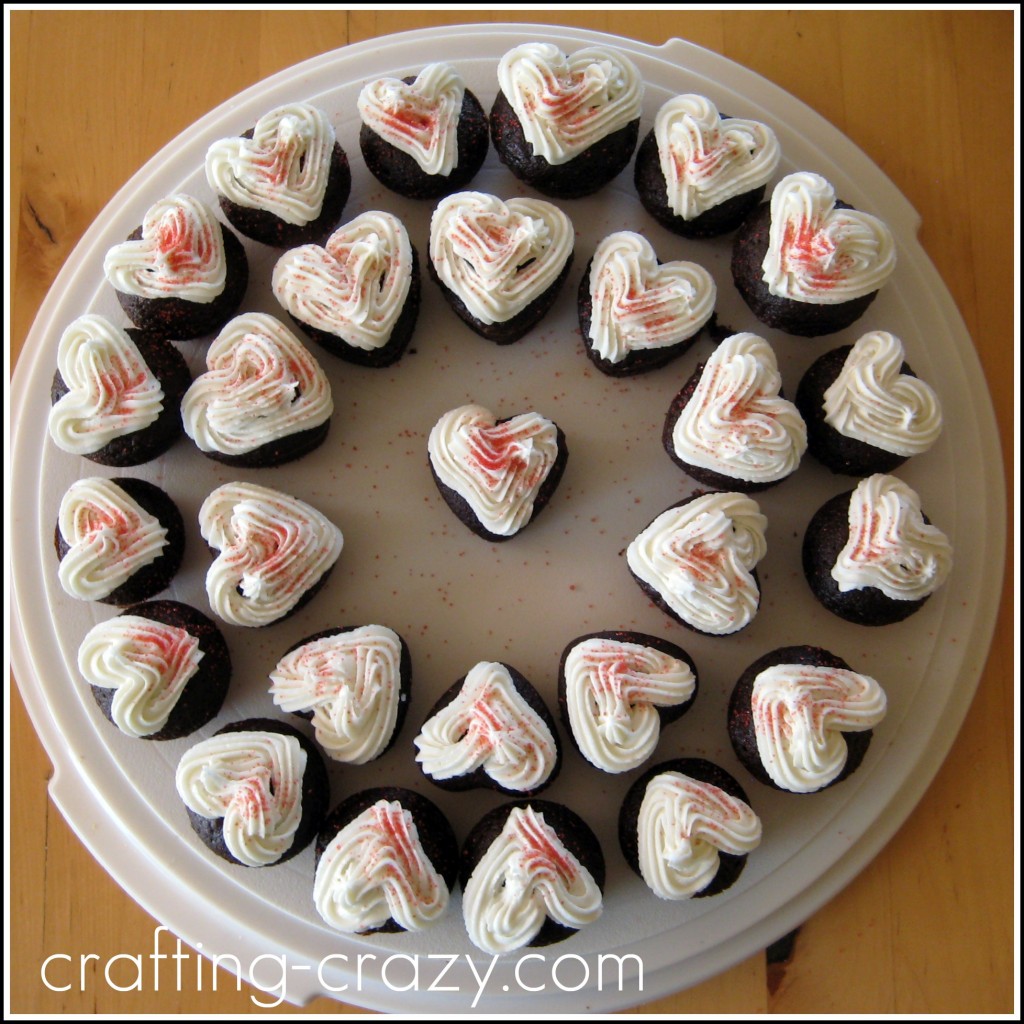 Now some other tips:
To frost cupcakes, regular or small, the fastest way… I always use a pastry bag with a #16 Wilton tip (or some other star tip).  It is so much faster to use the pastry bag, and it really doesn't take that much practice to make them "pretty."  All frosting is pretty, really.  If you find yourself reading this and thinking, "No way.  There's no way I can do that…"   If my girl scout troop leader could simultaneously teach 8-12 girls scouts, all sixth graders, to decorate cakes, then you can try it.  Just try it once.  You'll thank me.  I frosted about 50 mini-cupcakes in 15 minutes yesterday.  Boo-yah.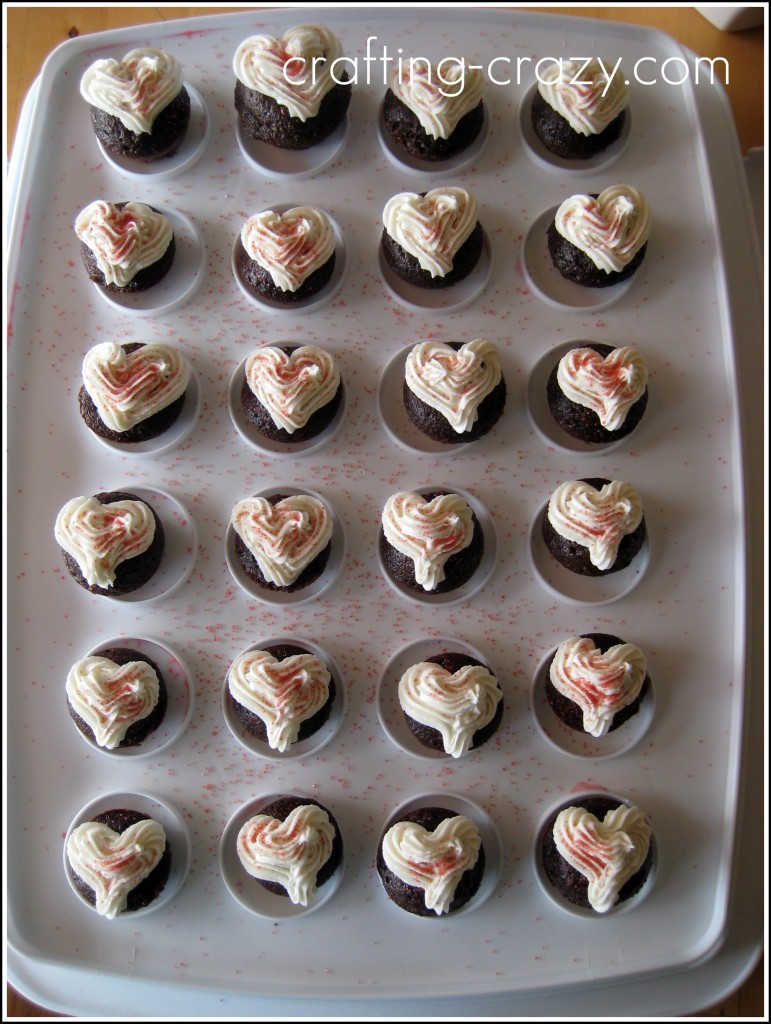 If you're displaying your cupcakes and it's possible, frost them AFTER you position them.  For example, I'm taking these cupcakes into school today.  I frosted them after I placed them in their containers.  The less you have to move something after it's been frosted, the less likely it is to get messed up.  This is impossible with a cupcake stand, but with platters it works great.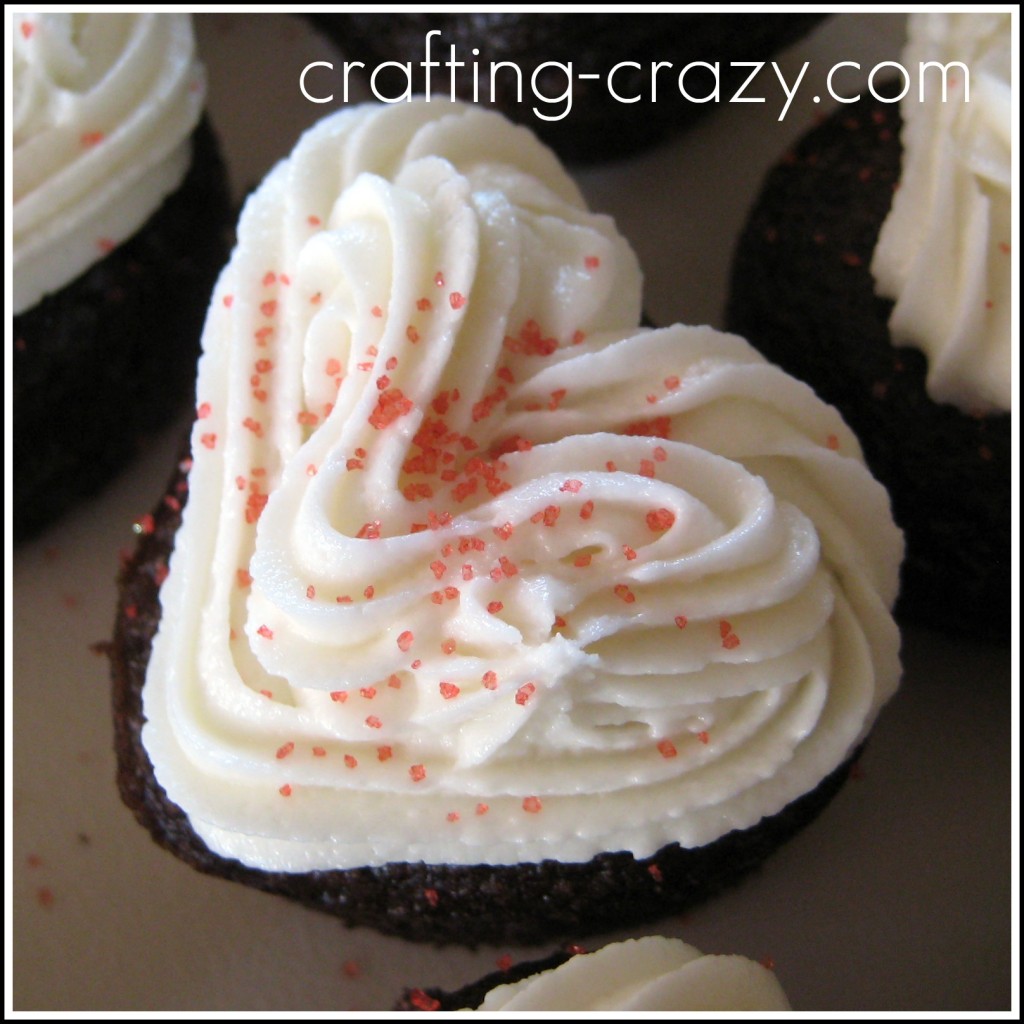 For the best tasting cupcakes on little time, I use a box mix of cake but I always make fresh frosting from scratch.  If you think about how long canned frosting sits on a shelf waiting to be used…. it's really just shortening with sugar.  Bleh.   Buttercream or whip cream frosting is yummy and preservative-free.  My favorite is buttercream, and I love this recipe– it's super easy.   For some reason dry ingredients sitting around doesn't bug me as much as frosting on the shelf.  Just me.
I used that red silicone heart tray for the first time today.  For me, the jury is still out.  I was expecting them to just fall out of the silicone, but they didn't.   Anyone love them and have any tips?
Do you have any cupcake tricks?  Please share!  I also wrote a post about making a hat cake- you can read it here.