I realize that this is not rocket science.  It's a simple plastic bin with labels.  But I LOVE to see how other people organize their crap, so I thought I'd share what I did in this situation.
I was going absolutely bonkers.  For reals.
As I mentioned in my recent post about Anna's mail slot, she is a very creative little girl.  She comes up with crazy Tinker-Toy creations, she builds amazing things with blocks (engineer, architect perhaps?), and loves, loves, loves to draw.  She loves art so much that I have to throw things away on the sly, lest our house become a fire hazard of paper.   I'm still working on a system to determine what stays and what goes, but what was more pressing was how to contain her supplies and her completed work.
I mention in my "About Nat" page that I am a practical crafter.  While I LOVE looking at DIY art stations with cute, color coordinated tubs, repurposed antique holders and such, that is not me.  If I put a lot of energy into something that is likely to get used, abused and tired, it will make me mad/frustrated/annoyed if it doesn't hold up, stay perfect and pristine.  So with something like this, I like to go with easy, plastic bins from Wal-Mart.
I think this thing cost about $17.  I may get another when Jack gets more into art, but right now I'm lucky if I can keep up with the sticker trail he leaves all over our house.  He has one coloring book right now.  That's all he needs.
What I like about this thing is it can only hold so much, so every once in a while I go through and downsize to prevent further insanity.
I started with simple labels on the drawers.  From top to bottom they read:
All done!
Not done & Blank Paper
Coloring Books & Stickers
Art Supplies
Activity Books
The labels however, did not stick to the plastic bins- they kept curling up.  So I sliced up a scrap of paper and stuck them to the paper.  Then I used some adhesive squares to stick them to the drawers, and now they stay nice and flat.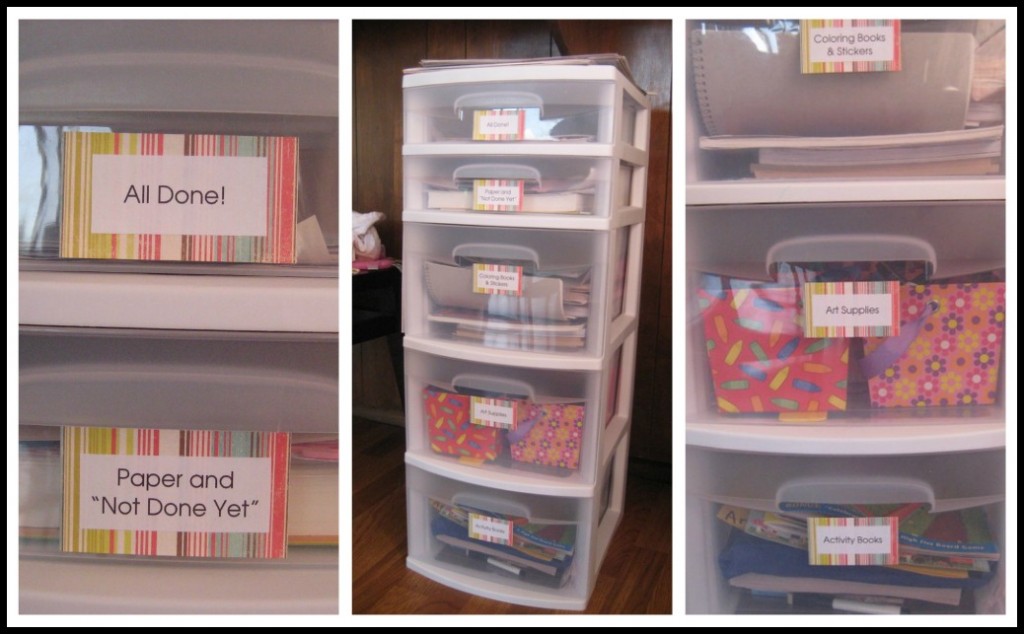 The art supply drawer is great: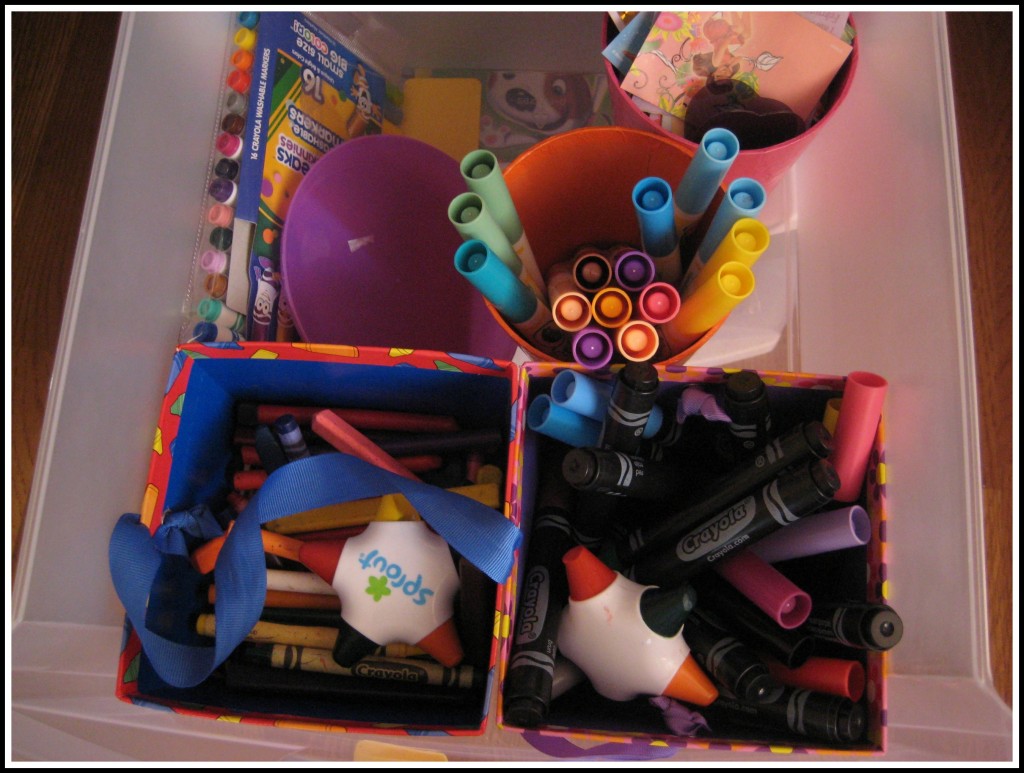 The kids can pull out a tub (Target $1 section- they always have these) of crayons or markers, take them to the table, and then put them away easily (in theory).  Or, in reality, when it's time for dinner, it doesn't take me forever to get their crap out of the way. 😉
I'm sure there are cuter ways to do this- if you have one, please do show me.  If I see something too cute to resist I may do something different, but for now, plastic bins rule this particular roost.