My daughter, Anna, loves two things:  art and mail.  She's a very creative little soul, and she likes nothing more than the thought of sending one of her creations to someone far away, whether it's a friend in town or her cousin, Paul, in Kansas.
We were getting to the point where I needed to have a system for her because she would give me a piece of paper and tell me it needed to be mailed to (insert name here).  I'd set it down, and then days later she'd ask if I sent the paper, and I'd have no idea which one she meant.  So I whipped up this little mail slot and stuck it on the side of her art station, which I'll talk about more later.  I love it because it works AND it doesn't take up a lot of space.  Would a little mailbox be cuter?  Yes.  Would it get lost, in the way, trampled and tripped on, too?  Yes.
Now, when she has something to send, she gets to stick it in her mail slot, and I can ask her who it's supposed to go to when I get mail ready to send.  You'll see in the photo on the right she's stuck in a special drawing for someone.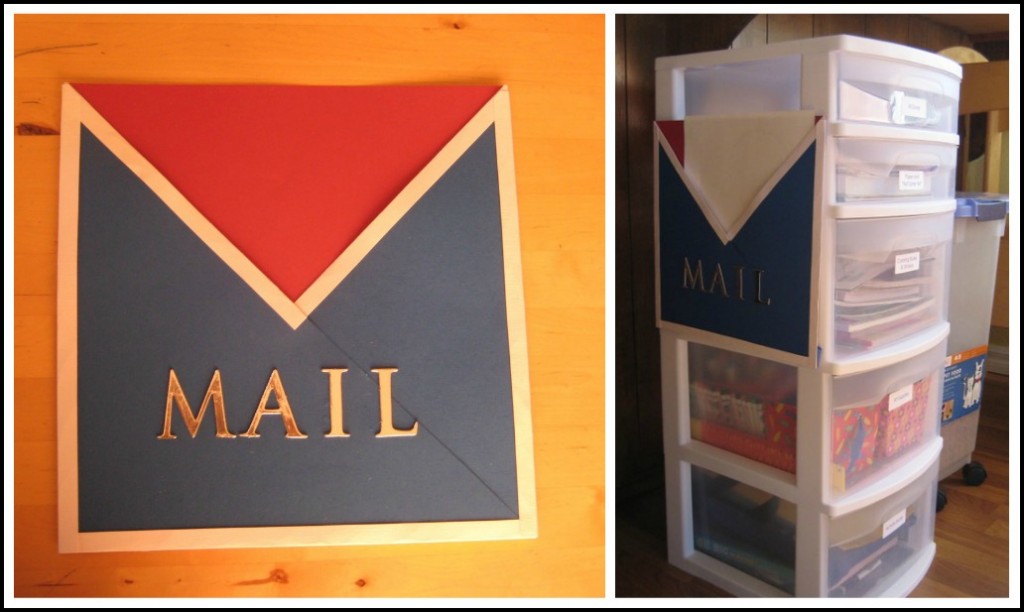 I'd like to say this is a tutorial, but I came up with it so fast that I didn't take totally detailed pictures.  The light is very wonky, too- it was too hot to have the kitchen shades up (in January!) so the light is very yellow.  Better to have weird lighting than no lighting at all…
You will need:
three sheets of 12×12 scrapbook paper (ignore my four sheets there- I had one extra).  I went with traditional red, white, and blue to mimic our postal service, but you could make them whatever color you like.  (I really wanted to find some air mail paper but had no luck.)
You could easily do this with glue or a glue stick, but I found zips adhesive strips to be super fast and less messy in this case.
I also used adhesive squares.
Some decorative letters are also nice, but not necessary.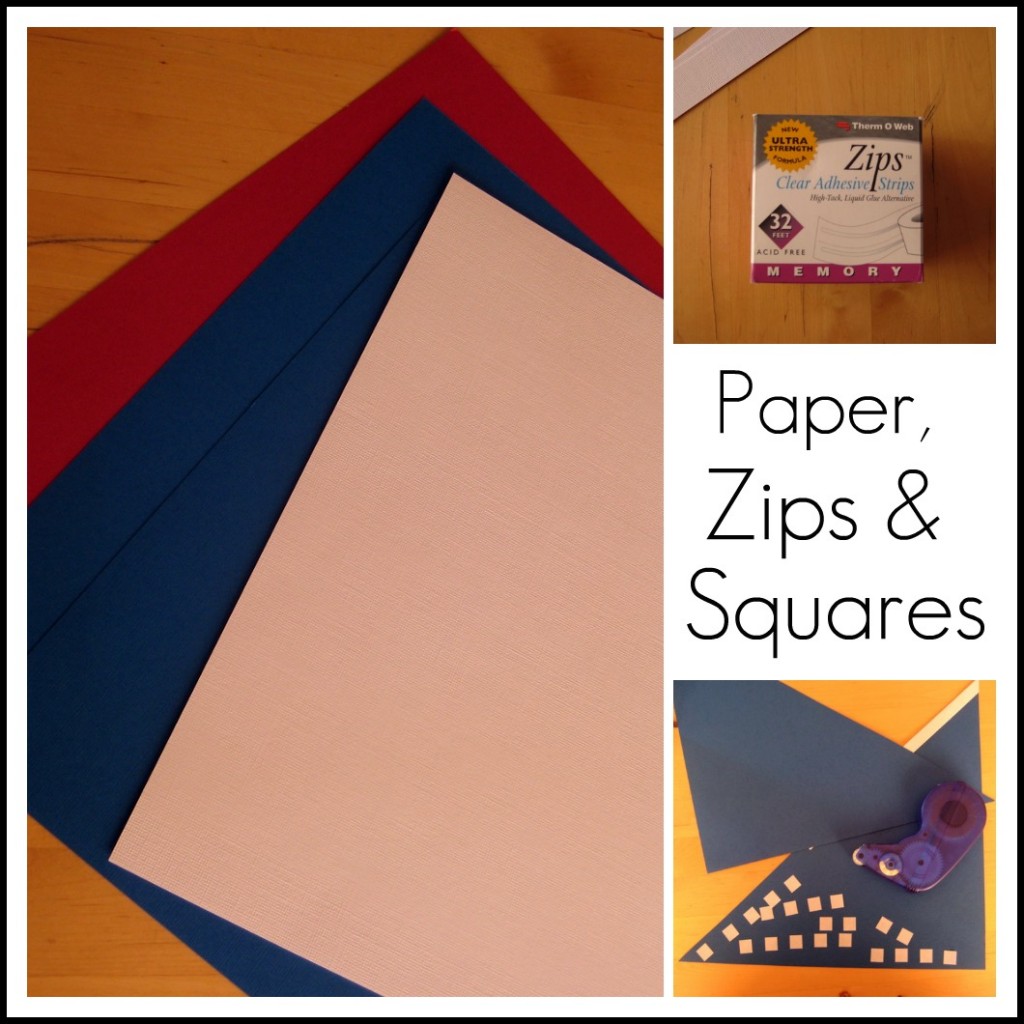 Take the paper that you are going to use as the front of the slot and cut it in half diagonally as shown below.  I used a ruler to eyeball it because it won't fit in my paper cutter.  Do NOT paste them together yet.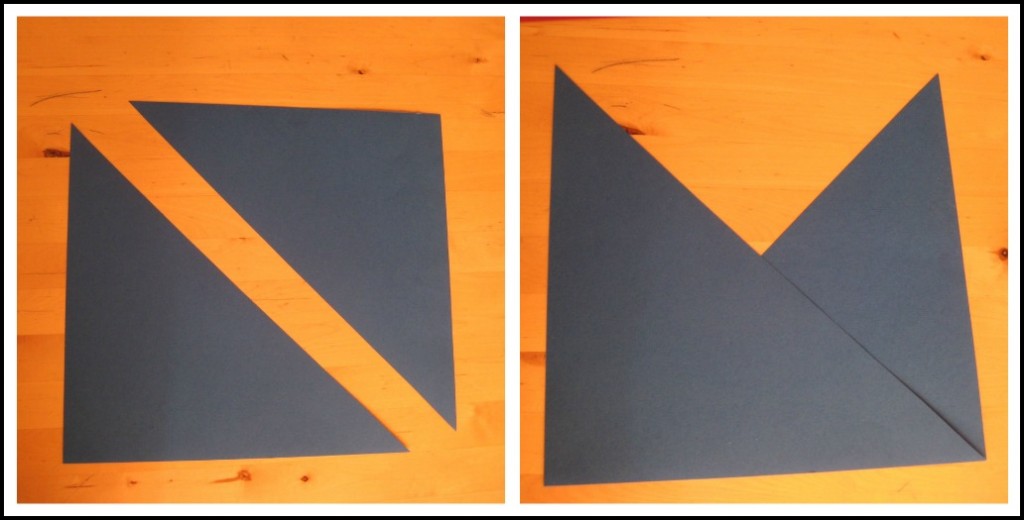 With your trim color, cut yourself five (not four as shown below- see?  Horrible tutorial!) 1-inch strips, and fold them in half.  Crease them so that they are folded very precisely.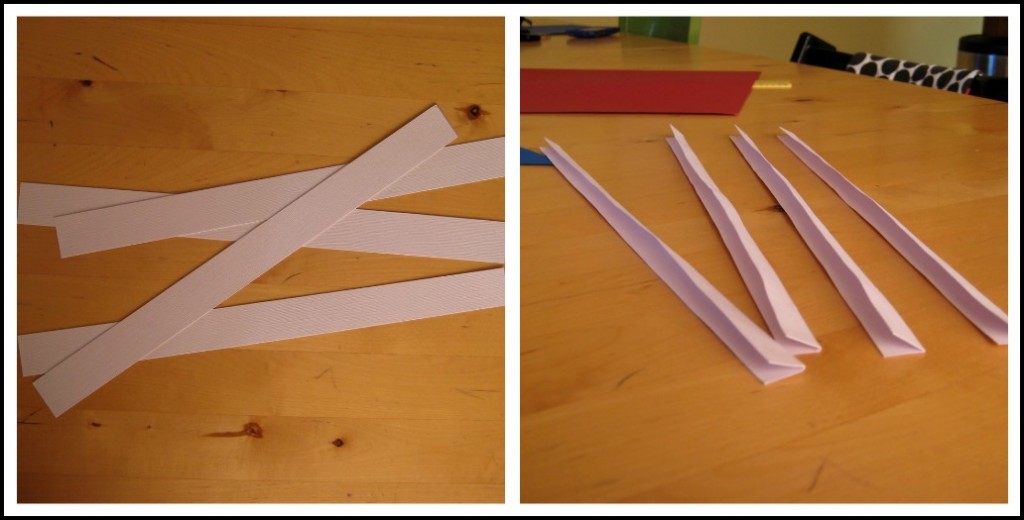 If you're using a glue stick you'll take the diagonal edge of one of your triangles- the edge that will go where the mail will enter the slot.  This will be the covered-up edge, so you don't need to cover the whole edge.  I would probably apply the glue to the white strip (nice and thick) and then press down. Let dry, flip it over, and glue the other side of the white strip down.
For the zips, you can see I cut a length just a bit shorter than the white and then pressed it down.  Turn over, repeat.
Either way, trim the extra off after it's set.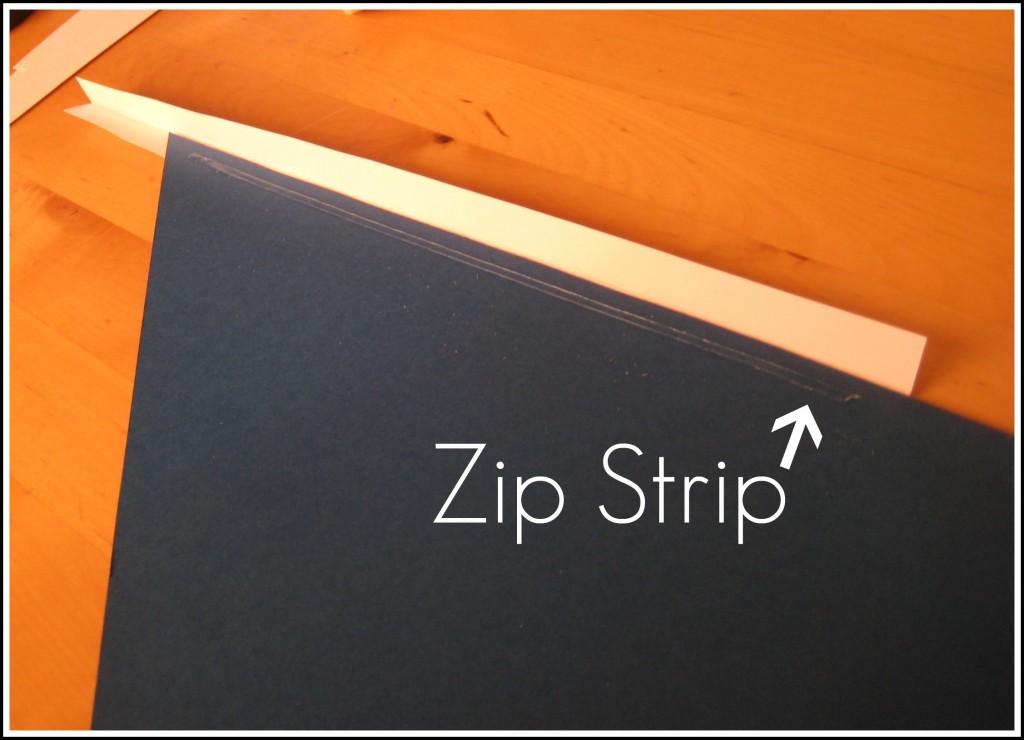 This is what you end up with: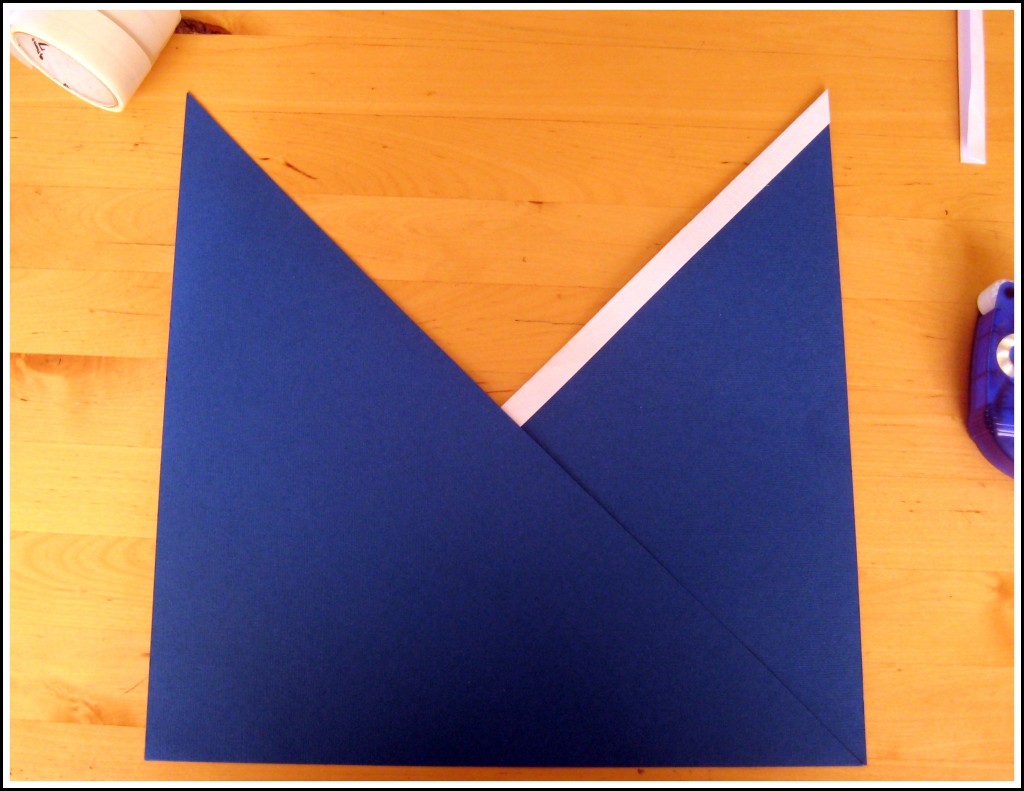 Now you can adhere the blue/front pieces together at the bottom.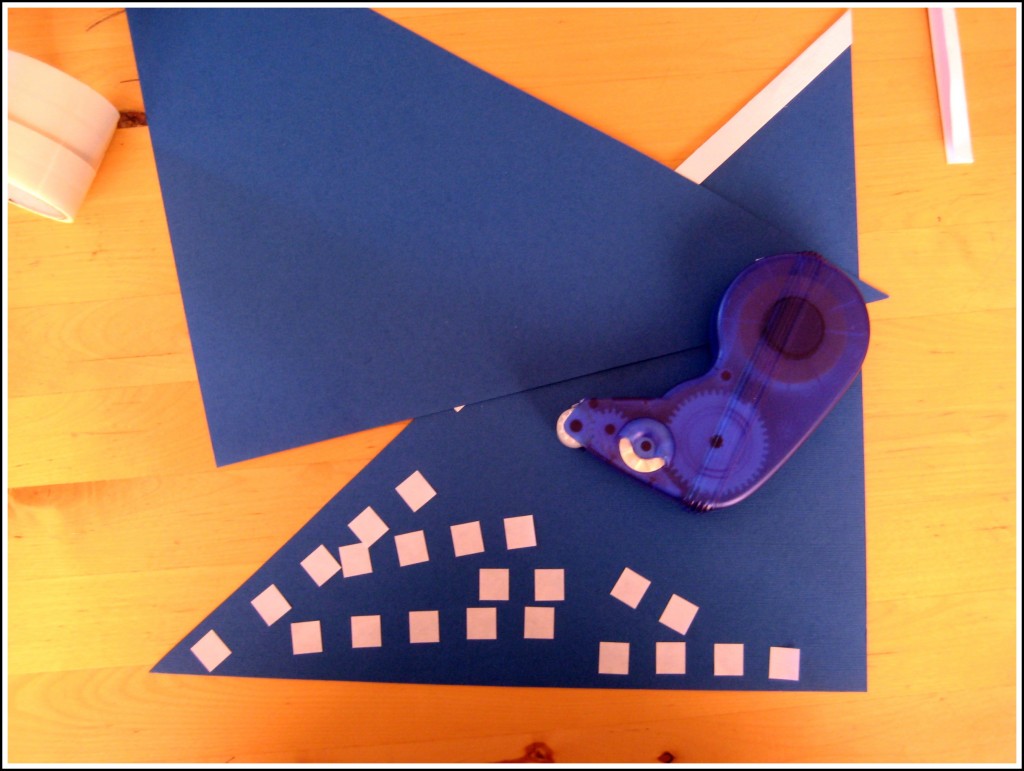 Put your red/back piece behind the blue/front pieces that are now glued together.  Use your remaining white strips to trim the bottom and sides.  You will have to trim here and there to make it all flush at the corners.  This is where the zips came in super handy, but if you don't have them, I'm sure glue will work fine.  Just be sure to use a heavy-duty glue in case your kid wants to send lots of mail.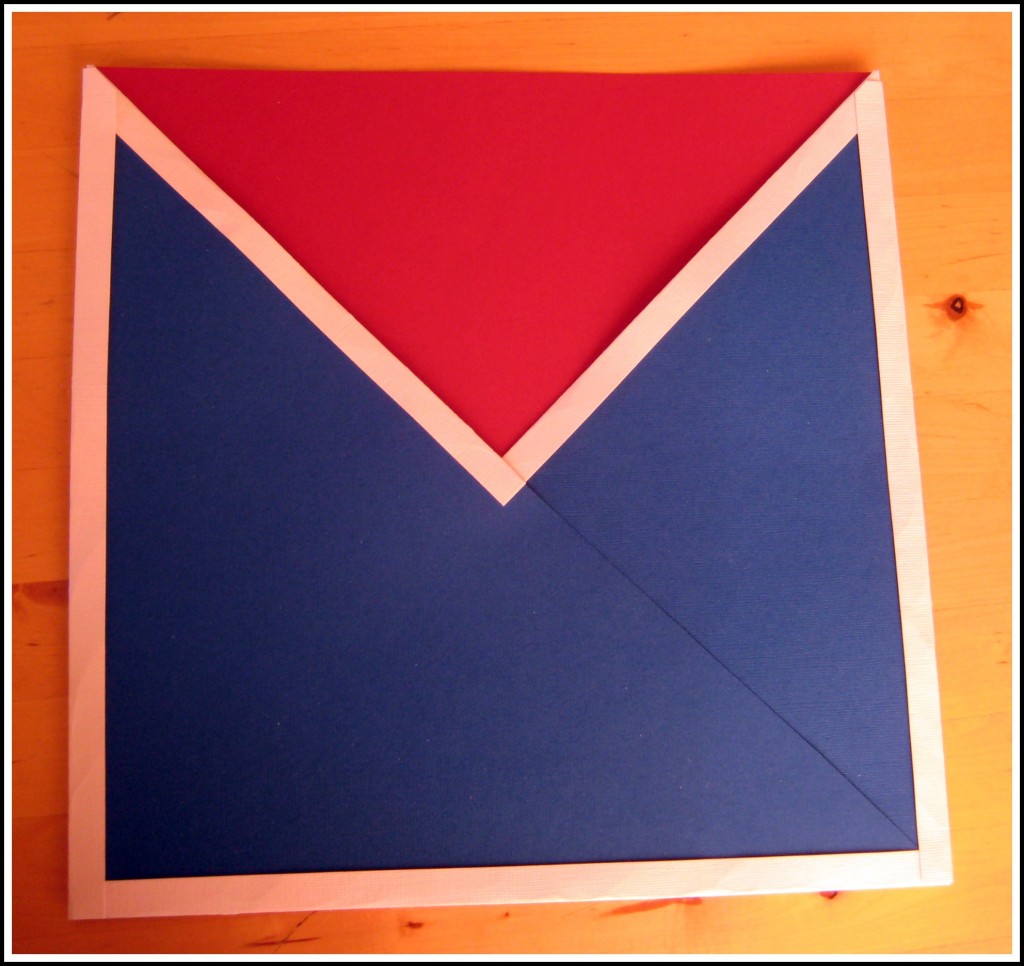 Stick some letters on if you want/have them,  and you're done!  Anna loves having this, and it has taken one more thing off the counter.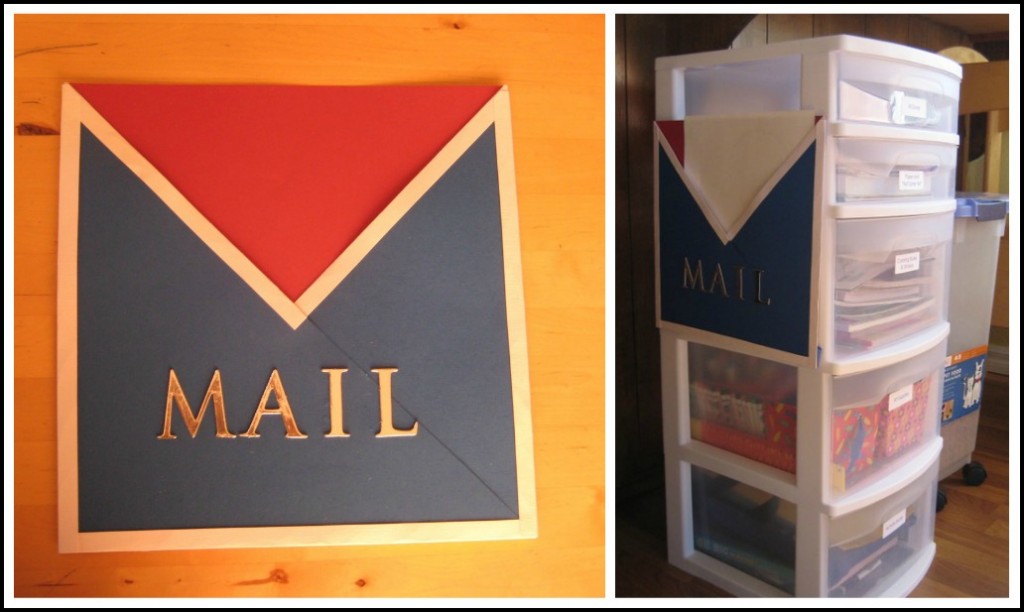 Do you want some fun mail?  I have about a bazillion pieces of art I could send you….
Today I'm sharing on: