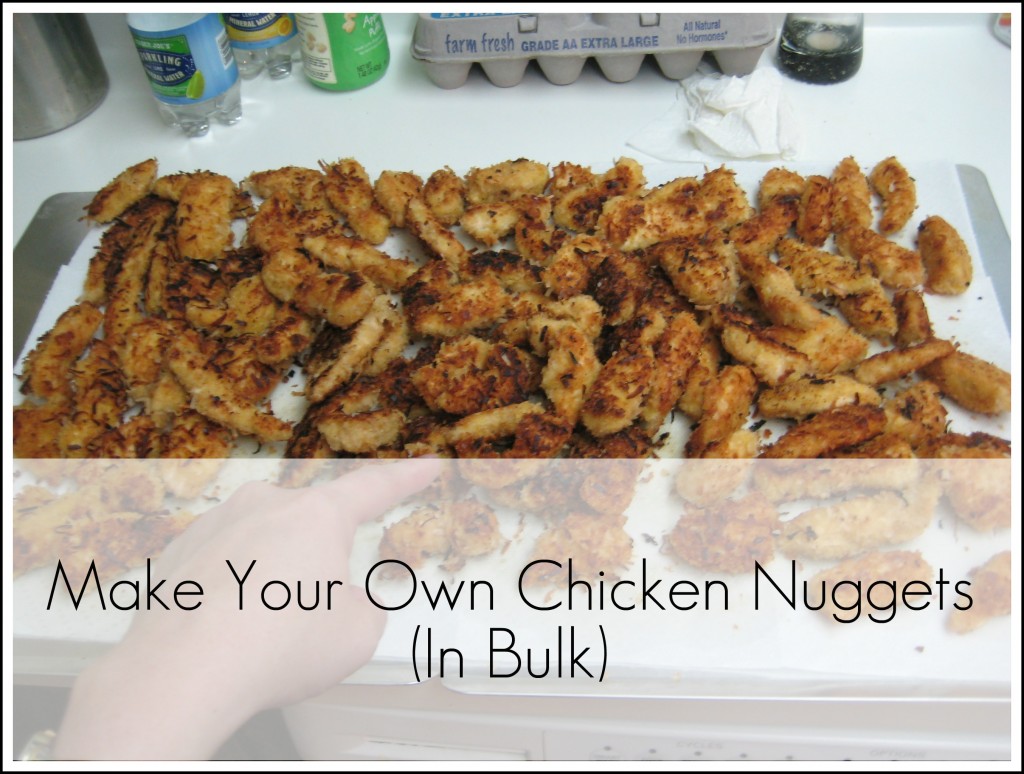 One of my goals recently has been to find good, tasty recipes that my whole family will eat.  No more short order chef!  Paired with that is that I want to cut out a lot of processed foods, especially meats.  My kids LOVE chicken nuggets.  I, however, found myself cringing every time I put them in the toaster oven because I know too much about chicken nuggets now.  They gross me out.
I recently bought this cookbook and I love it.  I'm still working my way through it, but I have tried several recipes.  So far, this one is our ultimate for a chicken nugget replacement.  It tastes AMAZING.  And here's the thing- I do not like coconut.  But I LOVE this chicken recipe.
I decided to take it one step further and make it in bulk so that I could freeze a bunch and have them ready for an easy dinner. I am so happy I did this- it was a bit of a process, but now we have a ton of these in the freezer.  I learned a lot the first time around, so hopefully I can pass on some tips to you so you can do this with the same recipe or one that is similar.
Here's what I recommend if you think you want to try this.
1)  Try the recipe for dinner sometime soon.  Just make one batch. (recipe below)
2)  Love it?  Move on.  Make it in bulk.
3)  Hate it?  Something is wrong with you.  Try again. (Just kidding!)
So here is the recipe in it's original state.  See below the recipe for a few notes from me.
Coconut Chicken Fingers
by the Meal Makeover Moms
1 pound skinless, boneless chicken breast halves
1/2 cup sweetened shredded coconut
1/2 cup panko bread crumbs
1/2 teaspoon kosher salt
1/2 teaspoon ground ginger
1/4 teaspoon garlic powder
1 large egg, beaten
3 tablespoons all-purpose flour
4 teaspoons canola or peanut oil, divided
Place the chicken on a cutting board and slice each breast into 1/2-inch thick by 4-inch long strips (to yield about 7 strips per breast).
Place the coconut, bread crumbs, salt, ginger and garlic powder in a medium bowl and stir to combine.  Use a fork or your fingers to break up any clumps of coconut.
Place the egg in another bowl and the flour on a plate.  To bread the chicken, coat both sides with the flour and shake off excess.  Dip in the egg and then coat evenly with the coconut mixture.
Heat 2 teaspoons of the oil in a large nonstick skillet over medium-high heat.  Add the chicken and cook until the bottoms are golden brown, 4 to 5 minutes.  Reduce the heat if the coconut browns too quickly.  Flip the chicken strips, add the remaining oil, and cook until the meat is no longer pink and the bottoms are golden brown, about 4 minutes.
My notes on just the single-meal recipe:  I used more egg and flour.  I think in the end I used 3 eggs and about a 1/4 cup of flour.  The key to this recipe is in the breading, though, which I also doubled.  I must have macho chicken pieces or something. Also, you'll see in some of my photos below that the coconut browns very easily.  Unless it's totally black and singed, this does not affect the taste at all, so don't feel like you'll ruin them if there's some dark brown coconut- it's still delish!
Another Note:  you can watch these ladies make a version of this recipe in a video here.  In the video online they add flaxseed meal to the breading- I will do that next time and will update the bulk recipe after I do so.  Totally wish I had watched this video first!  It does bother me how neat they are, though- I made a complete mess when making them.
 Now make them in bulk!
Okay, so, now if you've tried the original recipe and you love it as much as I did, then you've come back and are ready to make it in a big batch.
Some things to think about as you plan when and how you're going to do this.
Don't plan much the day you do this.  It is straight forward, but it's time consuming.  If you have really small kids like me, then I would recommend doing this when your partner is home to keep things less stressful.  You're going to be dealing with a lot of raw chicken and you don't want to mess it (or your family) up.
Give yourself plenty of time.
Wear some good shoes.  I know-weird, but you'll be standing a lot, so you should be comfy.
Make space in your fridge just in case you need to throw the chicken in while you take a break or if you feel like it's getting too warm.   You don't want to have to rearrange things mid-process, believe me.
Here are some basic things you'll want to pull before you get started
at least 4 cookie/baking sheets- 2 for raw chicken and 2 for cooked
parchment paper
foil
disposable gloves (if desired, for working with raw chicken)
meat mallet/pounder (if you like to have flat chicken- not totally necessary)
large freezer bags
paper towels
lots of clean bowls
a good pair of tongs for turning over the meat
a good sturdy cooking pan- bigger is better
cutting board
patience and a desire to eat this totally awesome recipe again
Here is the adjusted recipe, followed by the process I followed.  I'm sure one could do this faster, but I didn't want to mess it up.  After you do it once you'll have your own process down in your head and you can make your own changes.
Recipe Adjusted for Large Quantities*:
You'll see below that I bought two bags of all-natural, whole chicken breasts, rather than using chicken breast halves.  These two bags combined had seven whole breasts in them.  I got mine at Trader Joe's, but this is cooking, not baking, so you don't have to be too precise with most of this- the breading is the only thing.
boneless chicken breasts; about 7 or 8
4 cups sweetened shredded coconut
4 cups panko bread crumbs
4 teaspoons kosher salt
4 teaspoons ground ginger
2 teaspoons garlic powder
6 large eggs, beaten
2 cups all-purpose flour
a bottle of canola oil (or peanut if that floats your boat)
*In general, make sure you have extra of all of these ingredients.  If you run out of something, you don't want to be scrambling for it right when you need it- no fun.  If you run out of the breading, you can refer to the original recipe to make a smaller amount, but the ratio of panko crumbs, ginger, garlic and salt is sooo important, so be sure to stick to it!  Also, as you work, pay very close attention to your chicken.  You don't want it getting too warm or you run the risk of making yourself or your family very sick.  When in doubt, stick it in the fridge for 30 minutes.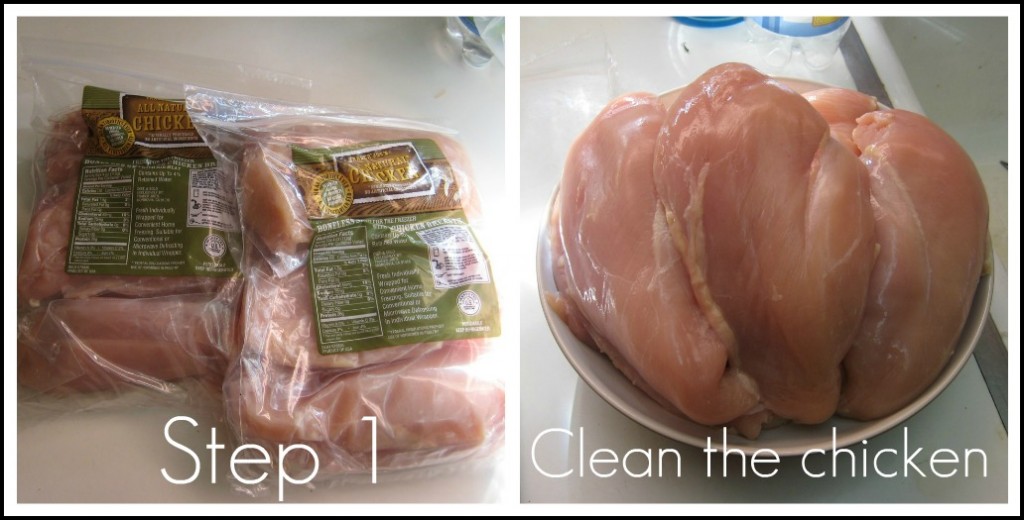 Rinse and pat dry your chicken.  This takes away the slime (blech) and makes it easier to cut into pieces.  You can also remove any bits of fat or other things you don't want.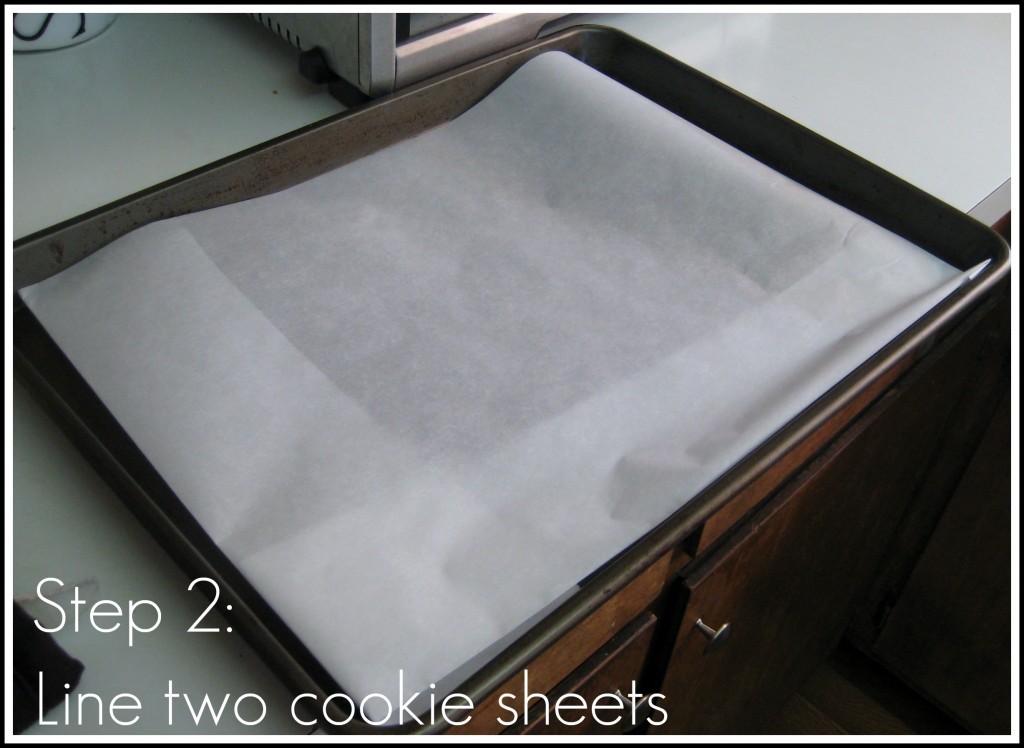 I used parchment paper.  This is for later, but best to do it while the chicken is still cold.  It just felt better than putting them directly on the sheet.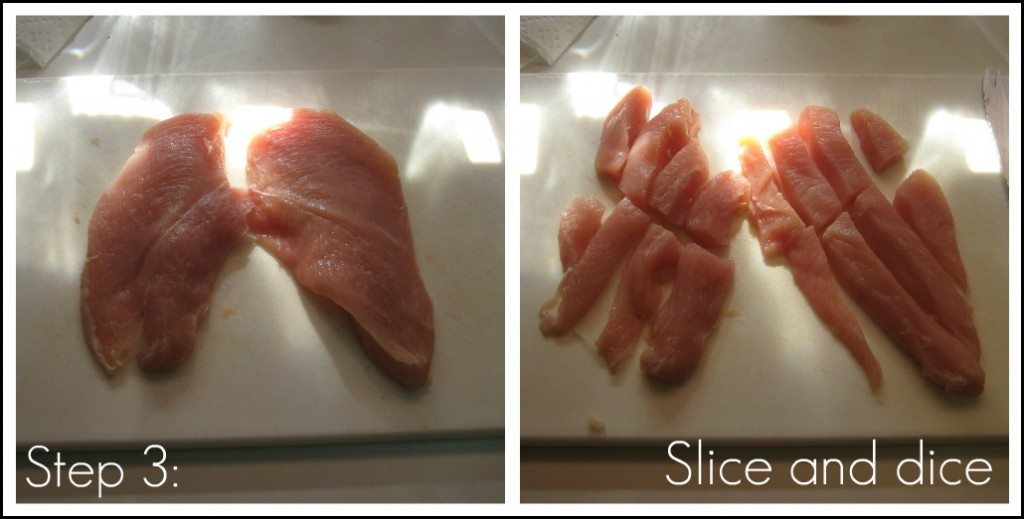 You can see above how I handled the really big breasts (tee hee).  I butterflied them, and then each half was cut into about 8 pieces.  I did end up cutting some of those really long pieces again, so sometimes I had as much as 20 pieces per breast.  If you want, while you prep the chicken you can pound it so that it's all the same thickness.  I started with that in mind and then sort of threw that idea out the window after the second or third chicken breast.  To each his own.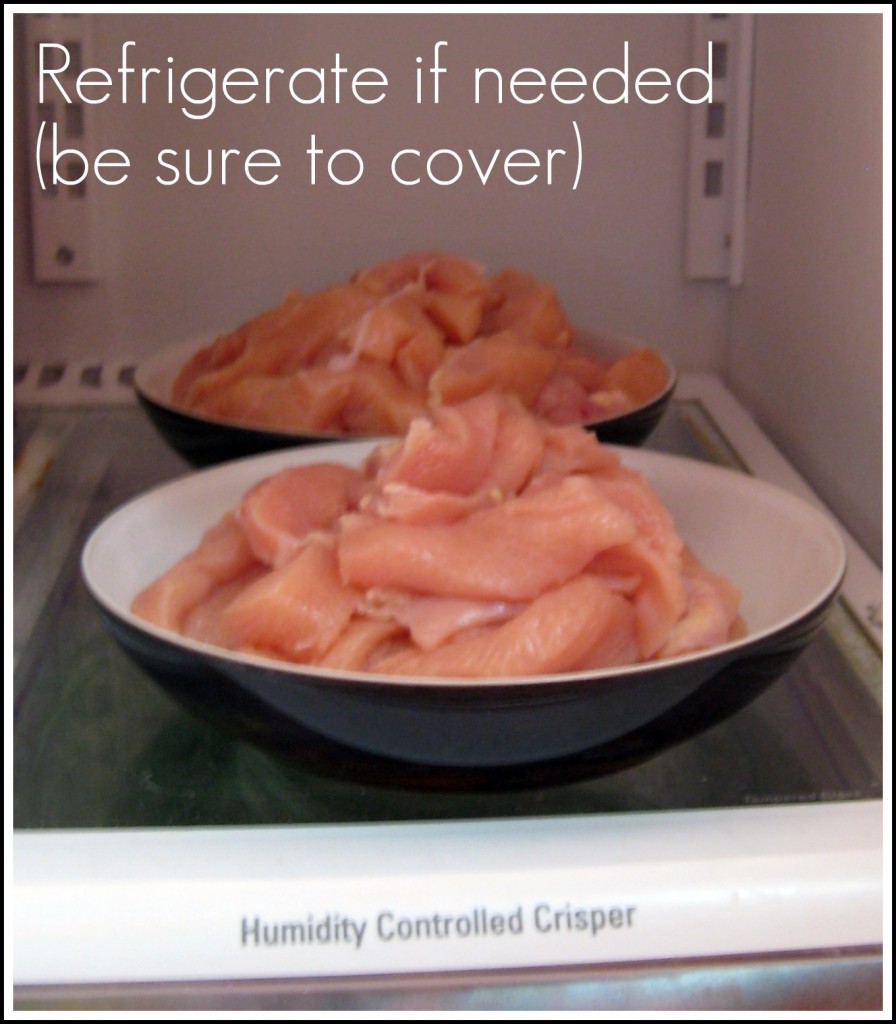 This is a good stopping point if you need to take a rest. I did.  If you're going to take a long break, be sure to cover your chicken with some saran wrap or it will dry out.
Step 4:  Dredge the chicken pieces in flour.  I didn't take any pics of this process because it was very hands-on and I didn't want to get my camera all covered with flour and chicken.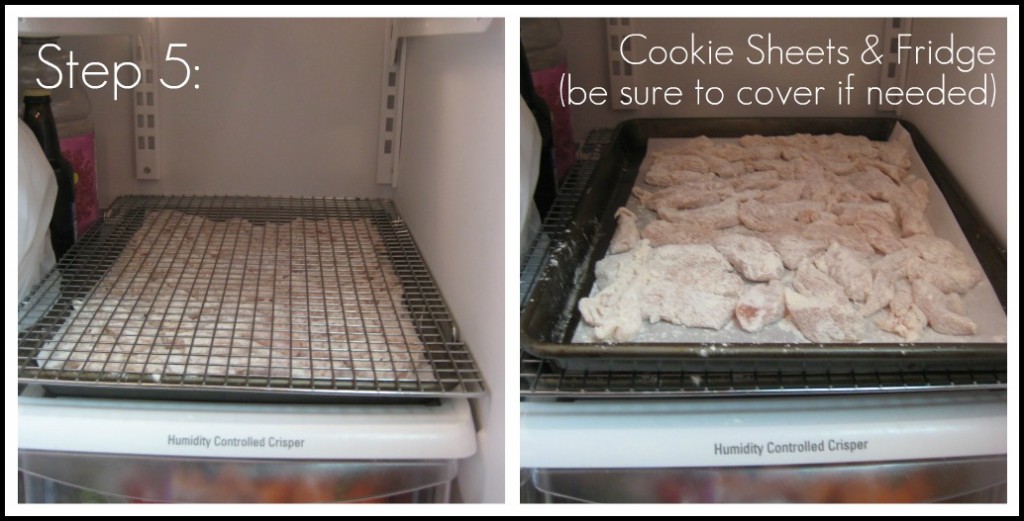 This was a great space saver.  When I filled up the first parchment-lined cookie sheet, I placed a big cooling rack on top of it so that when I filled up the 2nd sheet, I could just slide the first sheet on top of the second.  This way I could keep the chicken cool while I put together the breading and got the eggs ready.   If you're going to take another long break, be sure to cover them up.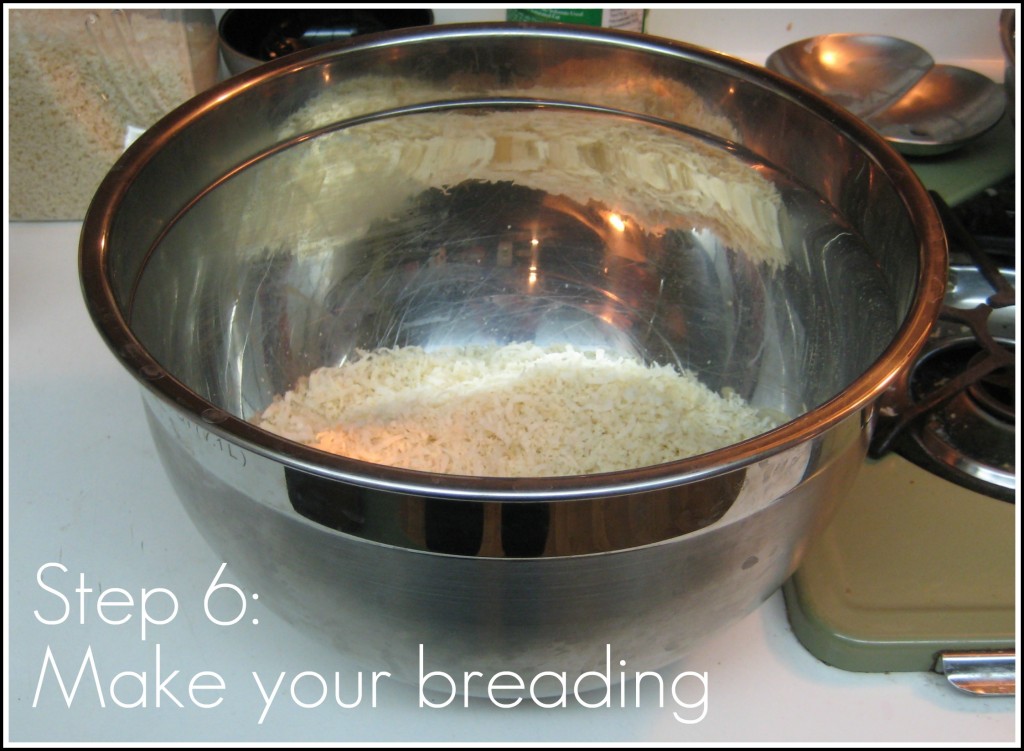 You could also do this ahead of time, but your chicken will likely need to cool down a bit if it took you a while to dredge it in the flour piece-by-piece.  This breading is the magic of this recipe.  Do not mess with it- it's awesome!
Step 7:  Beat your eggs.  Don't have a pic.  You can beat your eggs without referring to a picture, right?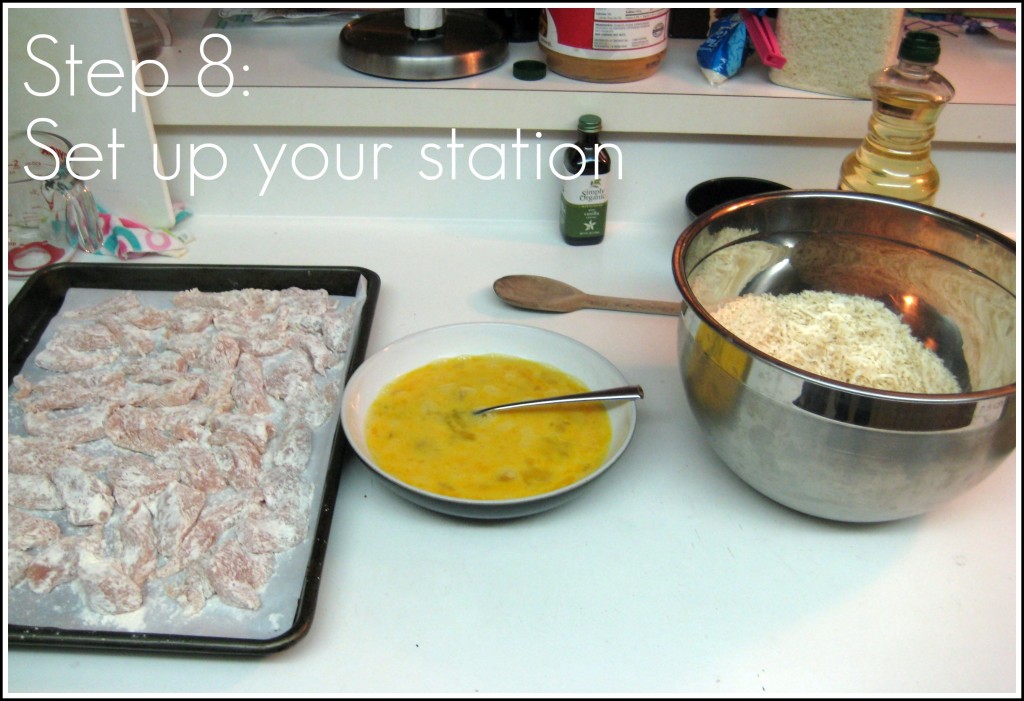 This is what worked for me:  I like working from left to right, so I set up the tray of chicken, the eggs, the breading, and then got my cook top ready to go.  I made sure I had extra ingredients at the ready- especially the canola oil because you need to replenish it often while cooking.  Here's another view: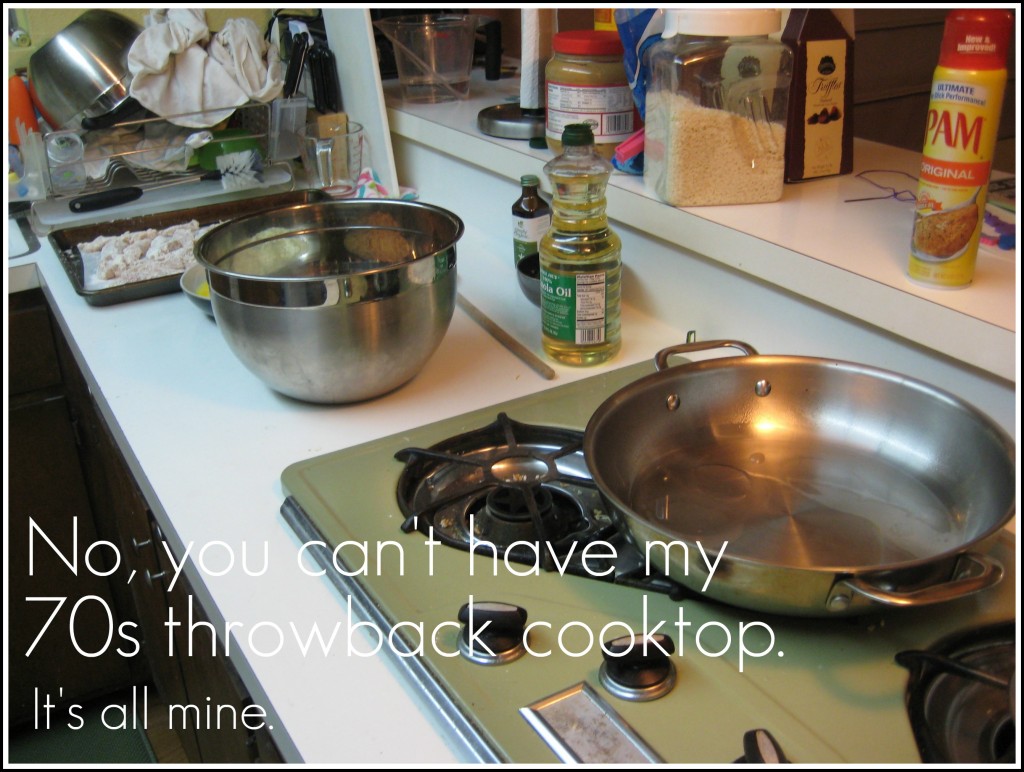 Start your process.  I worked really hard this time to figure out a way to prevent both hands from becoming nasty, flour/egg/breading messes.  Here's what worked for me:
Left   hand:
Use a fork to place flour-coated chicken pieces in the egg.
Transfer egg-coated pieces to the breading bowl.
Right   hand:
Use a different fork to coat the chicken in breading.
Transfer the chicken to the pan to be cooked.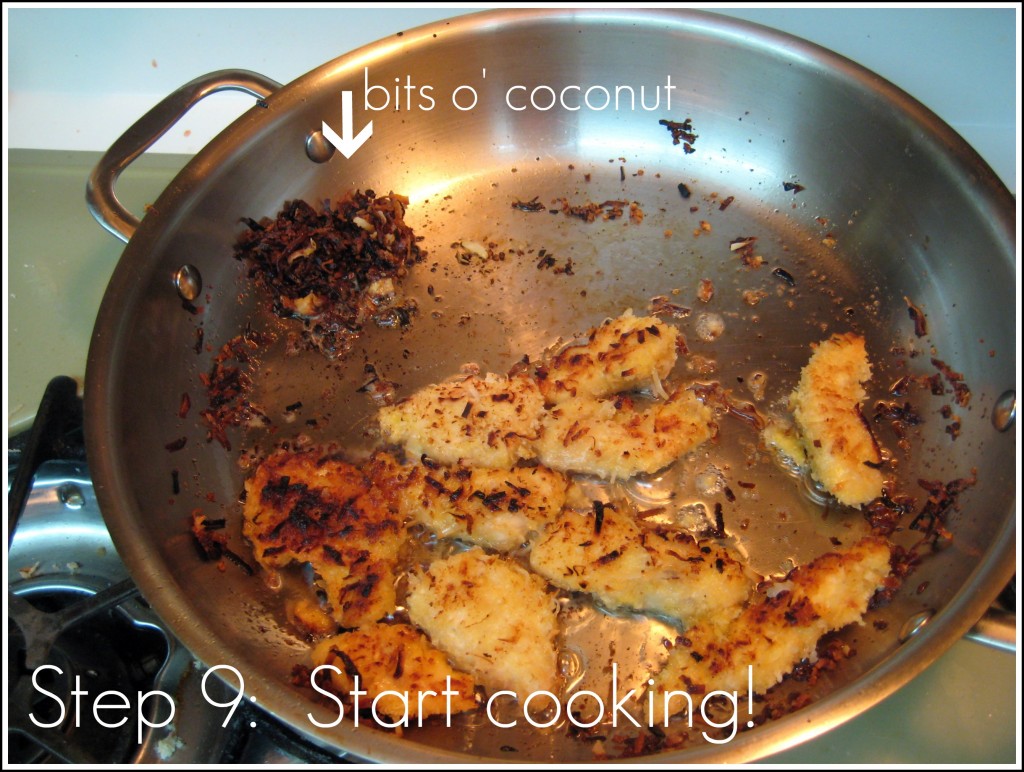 You'll see in the picture above that there are little bits of coconut everywhere.  You need to turn your chicken carefully or your tongs will essentially peel off the breading, so be very gentle when flipping them over.  Regardless, you will need a coconut depository or you'll have lots of overcooked coconut.  Mine was reallly fancy-  I used a paper towel, and I put it right above my cooktop so I could just grab them during the process: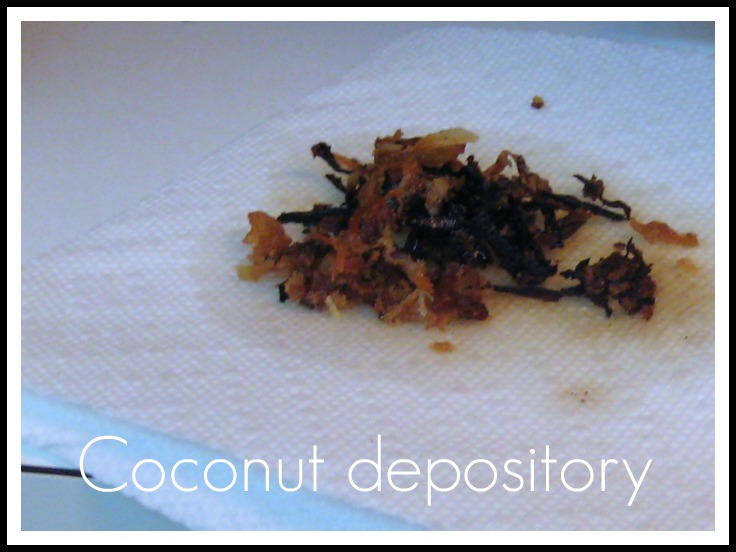 As you begin, you need to find your magic number.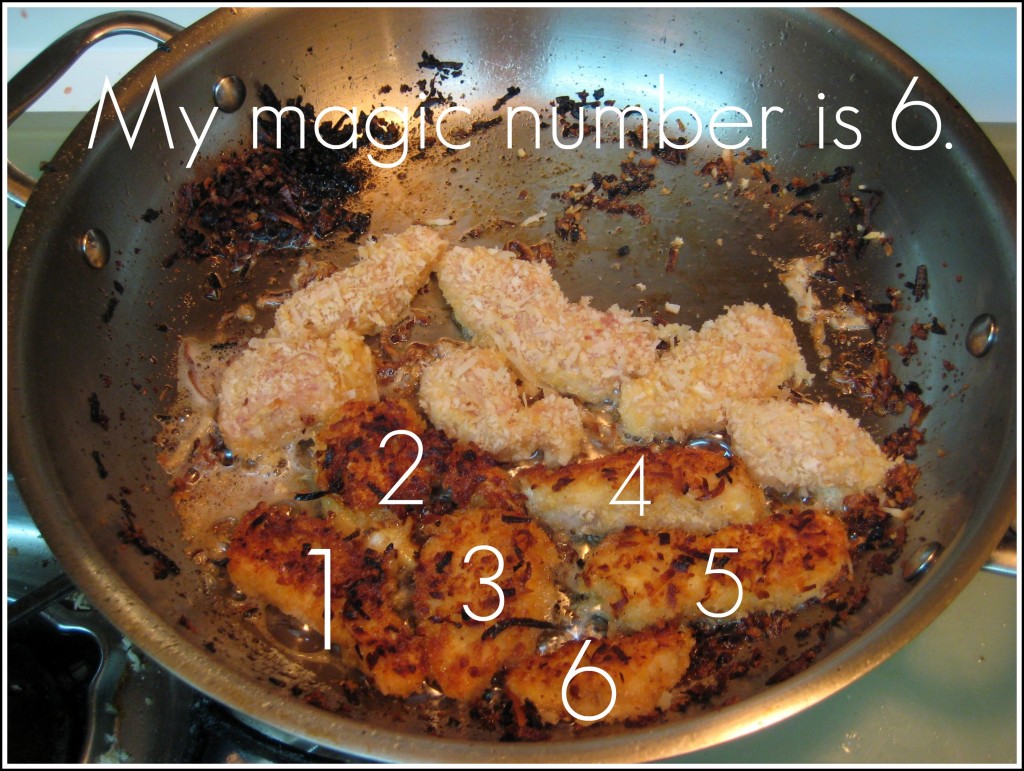 I worked with no more than six pieces of chicken at a time.  I threw six pieces in the egg, transfered them to the breading.  They are easy to lose in the breading, and you don't want to pull out a piece of chicken and wonder,"How long has this been buried in here?" or "Did I get them all?"  So I decided that six was my magic number.  Once I plopped one batch into the pan to start, I could prep another while they cooked on their first side.  Soon I had a rhythm to it.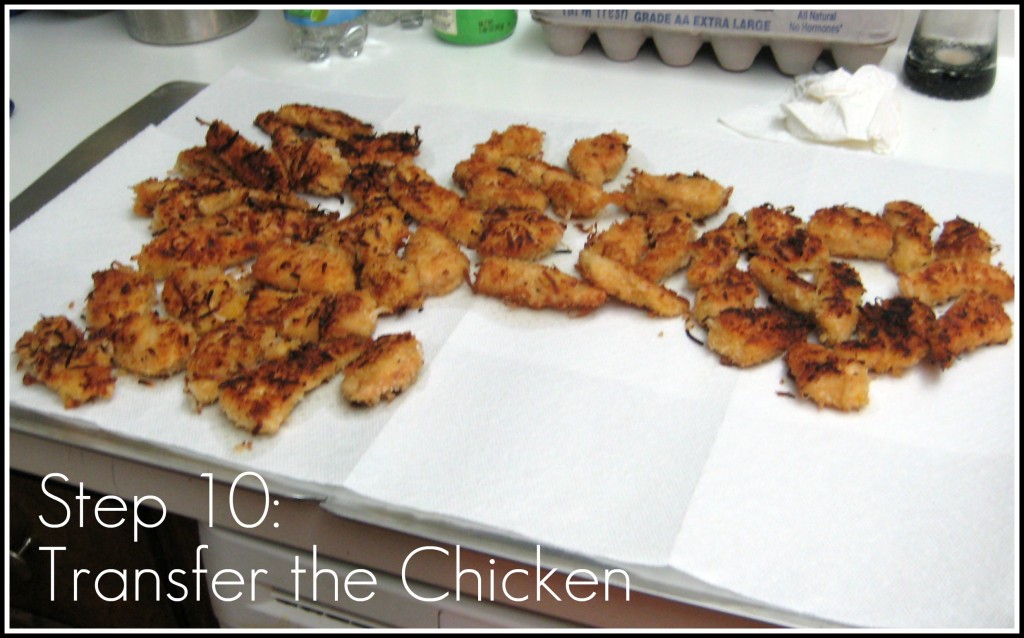 The paper towels will absorb a lot of the excess oil.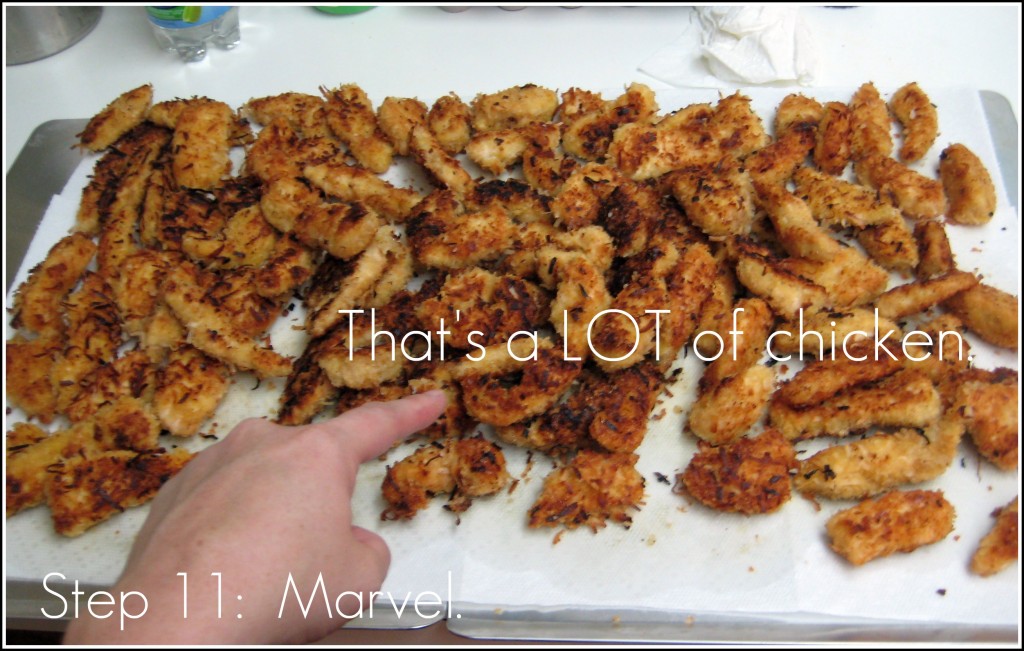 You just made a boat load of chicken.

Once the chicken has cooled a bit, bag it up for the freezer.  I filled four gallon-sized freezer bags full of this yumminess.  I didn't want to jam them too full so that the breading would stay nice.  I labeled them with the date and how many pieces were in each bag.  For our family, 25-30 pieces serves all four eating humans (7-month-old baby isn't quite there yet). I'm sure that will change, but for now it works.
To reheat, I would recommend doing them at 375 for about 15 minutes, give or take.  They reheat very nicely, but you want to get them very hot so that the breading will crisp up again.  Do not even think about reheating these in the microwave- they will not crisp up again.  And if I hear about it I will hurt you.  Okay, maybe not, but still- use your oven or your toaster-oven.
Did you get to the bottom of this post?  If so, I'd love it if you left me a comment!  I'd really love to know if you do this- I'm so excited about it because it's so much better for my family and ME.  I know what I'm eating, I know it's fresh, I know it's yummy because I MADE IT.  If you got this far, I'd also love it if you "liked" me on Facebook.  If you scroll back up to the top you'll see a "like me on Facebook" in my sidebar.  I'm trying very hard to "grow" my blog and my audience, so I'd love to hear from you here or on Facebook!  Thanks for stopping by!
*please note, I am not getting paid for this post; I dig the Meal Makeover Moms and their book, but am not making any cash-ola in singing their praises or elaborating/extending this recipe.