This post is in preparation for tomorrow's post.  You need some backstory.
Do you have a Jane in your life?  I do.  My Jane is rad.   (Hey, Jane- if you're reading this, grab your tissues just in case.)
I met Jane in Texas in 1999.  She and I were teaching at the same school in Dallas.   At first we just sort of said hello to each other at meetings, nothing huge.  I was a new music teacher, and she was a new 5th grade teacher.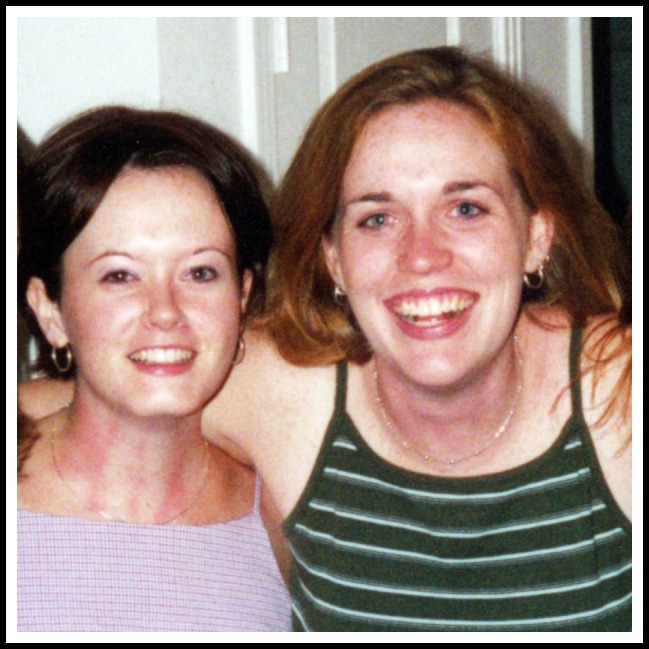 Young. Carefree.  Single.  (And perhaps a bit tipsy.)
One of my first memories of Jane is a blur.  I was on a horrible date.  Horrible.  Awkward.  Painfully long silences.  For some reason he asked me to go dancing at a country dancing bar place, and for some reason I said,"Uh…okay."  We each had a drink and then he asked me to dance.  He could at least lead, which was nice.  He was two-stepping me around the dance floor (albeit, with totally sweaty palms), when all of a sudden I saw Jane's blurry face, her big smile, go by my line of vision.  "Hey!  You two know each other?!"  She had gone to high school with him.  Neat.  We stopped and talked to her for a few minutes and soon after, the date was over.  Funny how at the end of the evening, I thought to myself, "Well, that date wasn't so great but at least I got to see Jane."
I taught music to her class, and one day, at the end of that first school year teaching together, she brought her class up to my door and said, "I hear you're looking for a roommate."  The rest, as they say, is history.  We moved into a new building that used to be where the first Dr. Pepper bottling plant was in Dallas.   We had a few mutual agreements.  She wouldn't hang her Aggie (Texas A&M) stuff in the main area, and I wouldn't hang my SMU stuff, either.  Done.  Living with Jane was as easy as it was fun.  We had just the right balance of fun together and space apart.  I learned to leave her alone if she fell asleep on the couch (grumpy), and she learned that I do my dishes (eventually).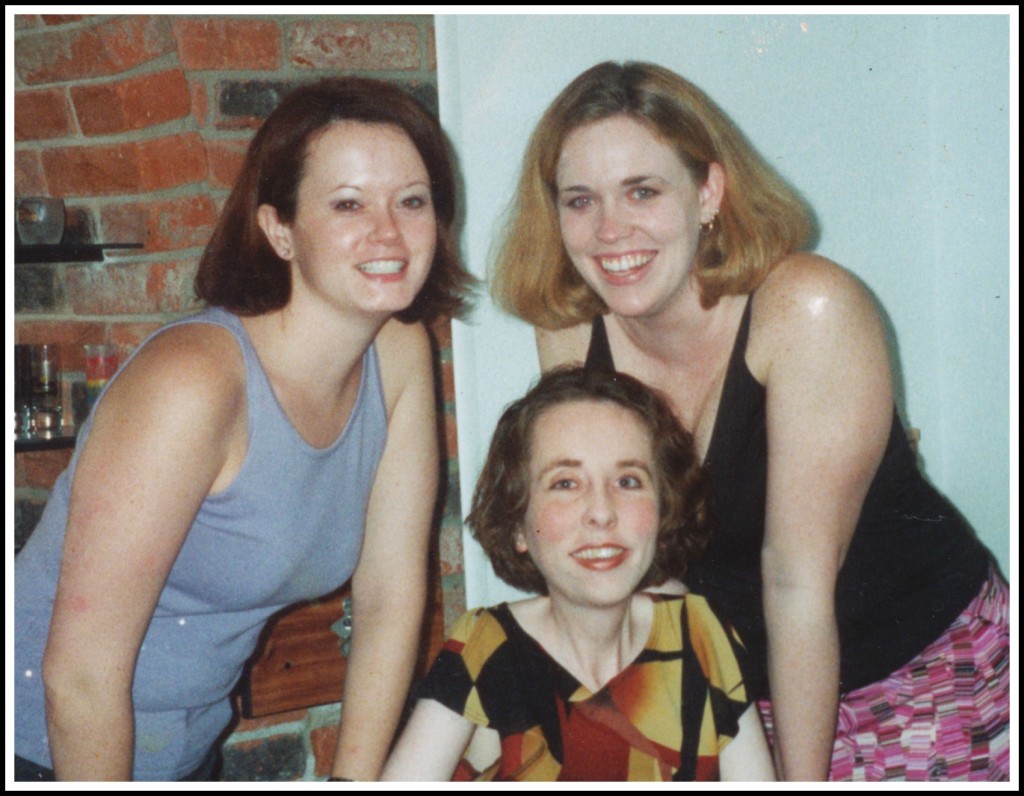 Me, Jane, and Kelley
A few months after moving in, Jane's cousin, Kelley, called her up.  A few minutes into the conversation, Jane asked me if I'd want to move to San Diego with her and Kelley.  "When?"  "This summer."  …….."Okay."  Leave the hot Texas summer for the breeze of the beach?  Done.  We embarked on an adventure that continues today, because…. we're still here.  And we have *almost* seven kids between us (did I mention Jane is due any day with baby #4?  Yeah- she's amazing.).  We've both gotten married, had kids, moved to different parts of town, but our roots are now here in San Diego.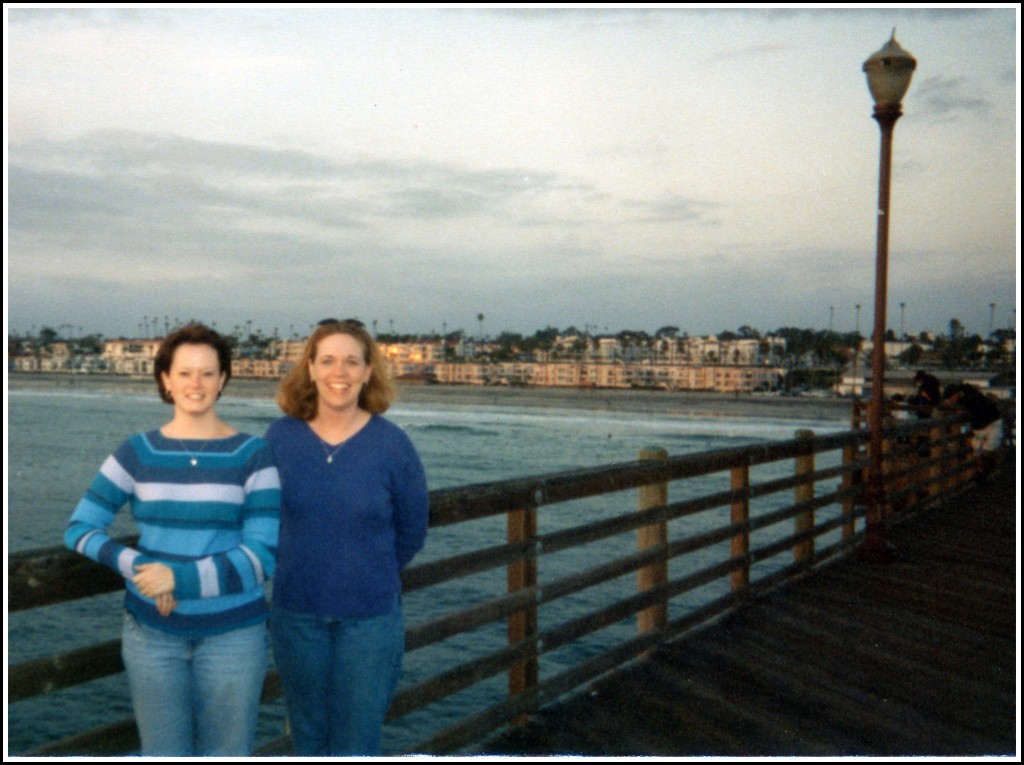 What I value most in my friendship with Jane is that she teaches me without even realizing it.  Just by knowing Jane I have learned, for example:
How to share (you don't get Jane all to yourself- she's too awesome.  She also doesn't know a stranger.  So when you're friends with her, you automatically gain oodles of other wonderful friends.)
How to parent (Jane is an encyclopedia of motherly knowledge.  Since she had her first son, Luke, before I started my family, I get to watch how she does things and see what works for her.  Then I copy what works because she doesn't mind.)
How to love (Jane is a hugger. Not a fake hugger, but a real hugger.)
How to stand up for what you believe in (Jane does not compromise her beliefs.  Love that.)
and of course…
How to party (though we don't do that nearly as much as we used to now that we have so many kids to take care of…dang it!)
If I went up to Jane and told her, prior to posting this piece, that I was going to write a blog post about how much I love her, and how wonderful I think she is, and how much her friendship means to me, she would a) turn bright red, b) tell me it's not necessary, she doesn't do anything that special, and c) immediately change the subject.  Jane is a person who focuses on others.  She does not like to be the focus of attention in any way.  Too bad, my sweet Janie.  I've just written a whole blog post about you and me, and how great you are.  I have loved being friends with you for so long. You are one of my longest held friends, and I am so blessed to have you in my life.  I'm so happy that we are both "stuck" in San Diego together.
I made something for Jane.  I'll show it to you tomorrow.