Yes, you read that right.  I miss my salad.
If you're new to Crafting Crazy you should know that I'm currently a breastfeeding mommy.  Emily is currently 6 months old, and she has now earned the title "longest breastfed baby" of my 3.  It's going really well and I love it, but teeth are on the horizon.  Teeth change everything for me in the world of breastfeeding, but that's an entirely different post.  Back to why I miss my salad.
This is my salad: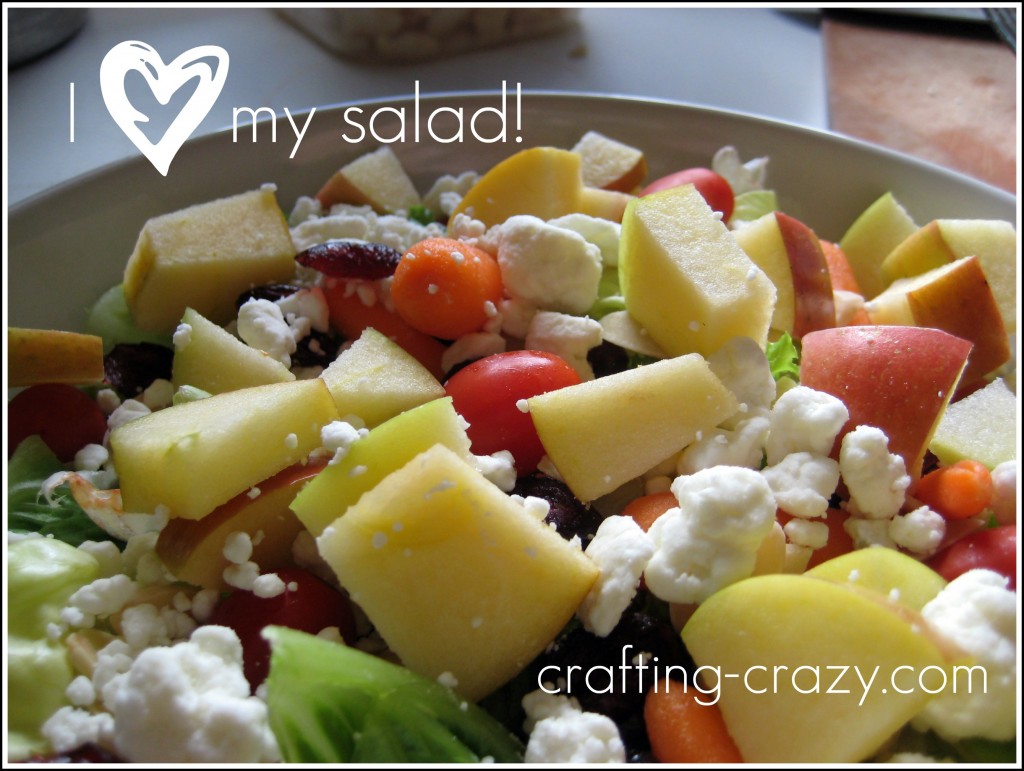 Doesn't it look AMAZING?  It is.  It's sooooo delicious!  It's my go-to salad.  My, "I think I'll have an adult lunch today" salad.  My, "DAMN.  This is good!" salad.
Why do I miss it?  I can't eat it right now. Why?  Because every time I do, it makes this little miss….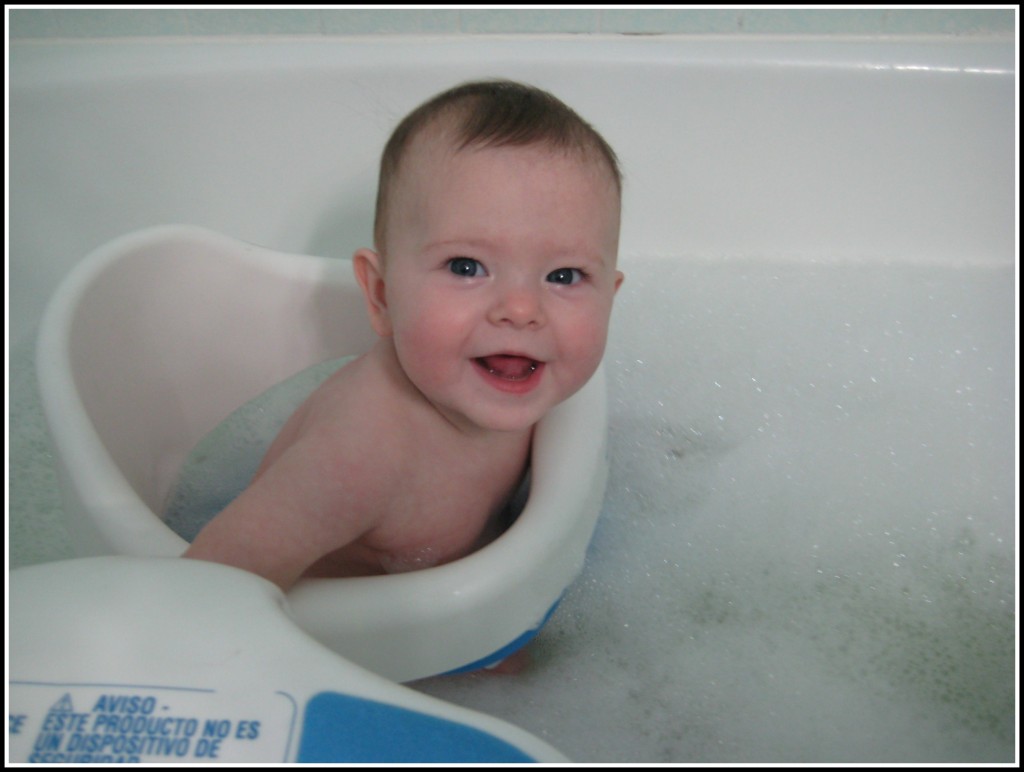 very unhappy in the tummy department.  And we're not talking just a few toots and hollers, folks- she screams in pain every time I eat it.  Boo.  I haven't had it for at least 2 months, and I think I will have to wait to have it again for a while- maybe once she's on more solids we'll try.  The sacrifices we make as mothers….
What's in it?   Well, like most salads, it's a bit different every time, but I'll give you the basics and then you can add your own spin.
I use baby spinach as the base.  I LOVE spinach.  It's my favorite leafy green.  In the photos on this post I think we were getting rid of some other salad mix so it's romaine that you see up there, but spinach is my fave.
Add to that:
chopped apple (I'm a big fan of the Fuji these days)
roasted almonds (or unroasted if that's how you roll), or toasted pine nuts if you want to get fancy
cranberries
grape tomatoes (I like them better than cherry- they are sweeter and smaller- no slicing)
avocado
shredded carrot or baby carrots
crumbled coat cheese (my husband likes crumbled blue cheese- bleh)
cooked chicken or other meat if you need some protein in there- you could even add tofu
And then, there's the piece de resistance:  my honey-dijon-balsamic vinaigrette (recipe below).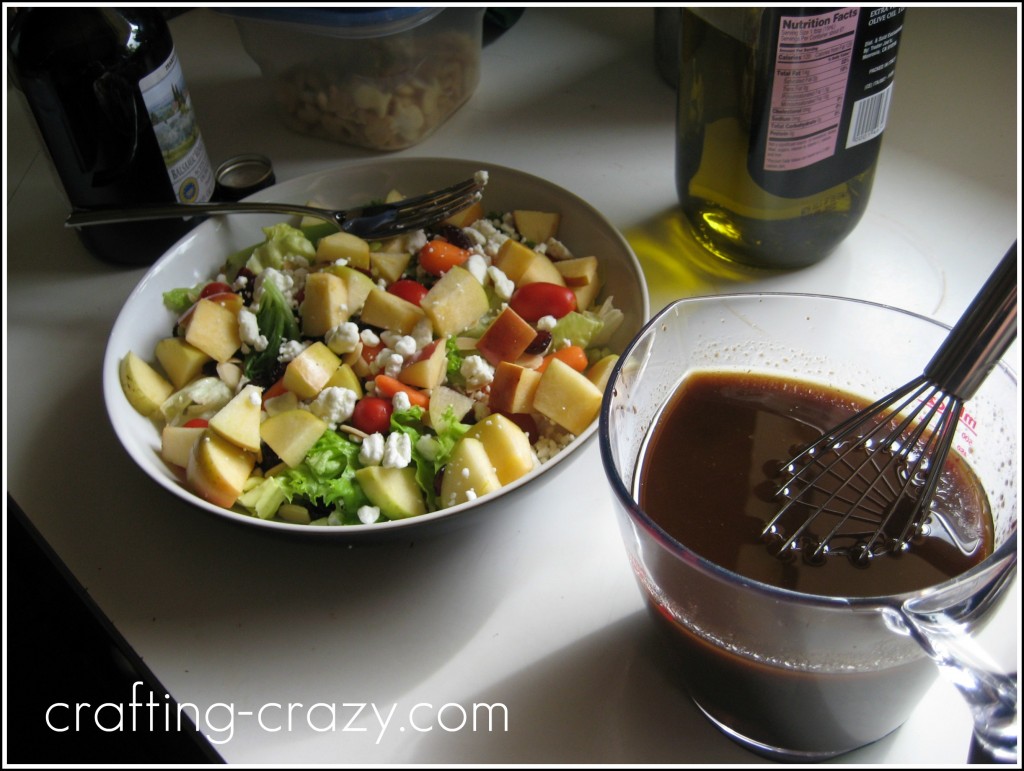 I put the salad in the bowl, I sprinkle everything else on in the quantity that I want (I probably put on wayyyy to much goat cheese because….well, it's goat cheese), and then drizzle on the dressing.  This salad does not mix well in a big bowl- the toppings are too heavy and they all sink to the bottom.  So, if you make this for a dinner party or something (it's always a big hit) I usually do a "make your own" and let people build their own salad.  It looks prettier and everyone gets what they want.
The dressing:
6 tbsp olive oil
2 tbsp balsamic vinegar
1 tsp Dijon mustard (I use Trader Joe's)
1 garlic clove, pressed
1/2 tsp salt
dash of pepper
*bloob of honey
Combine all of the ingredients and whisk until combined.  If it sits for a while before you use it you'll need to whisk it up again.
*What's a bloob ?  Depends on how much sweetness you want.  I usually hold the honey over the measuring cup and squeeze while I count to 5.  Then I taste and add some more.  I could say "honey to taste" but I think bloob sounds more fun.  Almost like boob, but not.
Let me know if you make this- it's awesome!  And one more shot: