Have you ever had a weekend you just didn't want to forget?  Everything seems to work right, things get done but you're not feeling rushed…. that was my weekend.  It was awesome.  It started Friday night- a date with my husband- a much-needed date. We didn't do anything but go to dinner, but that was sufficient because our meal was awesome, and so was our waiter (I have such an appreciation for a good waiter since I was a horrible waitress).  San Diego friends, if you haven't been to Whisk n Ladle, get there soon.  Yum!
Saturday started with working on our chairs– I'm done (post coming soon)!  My husband took the kids on a walk so I could enjoy a long shower (I also cleaned it) and get ready for an evening of fun with my friend Dana.   Just after Christmas, Dana asked me if I wanted to go to a launch party for a book called Creative Pilgrimage.  The party was taking place in Santa Ana, which is a nice little drive from San Diego.  Yay!  We drove up and got there just as it was getting busy.  Studio Crescendoh is a lovely little nook of artistic wonder, and there were so many beautiful things to be inspired by.   Some of my favorite parts….We met Jenny Doh, brainchild of Crescendoh.  She's exactly how she seems on her blog- friendly, warm, sincere.  We got to make our own bracelets: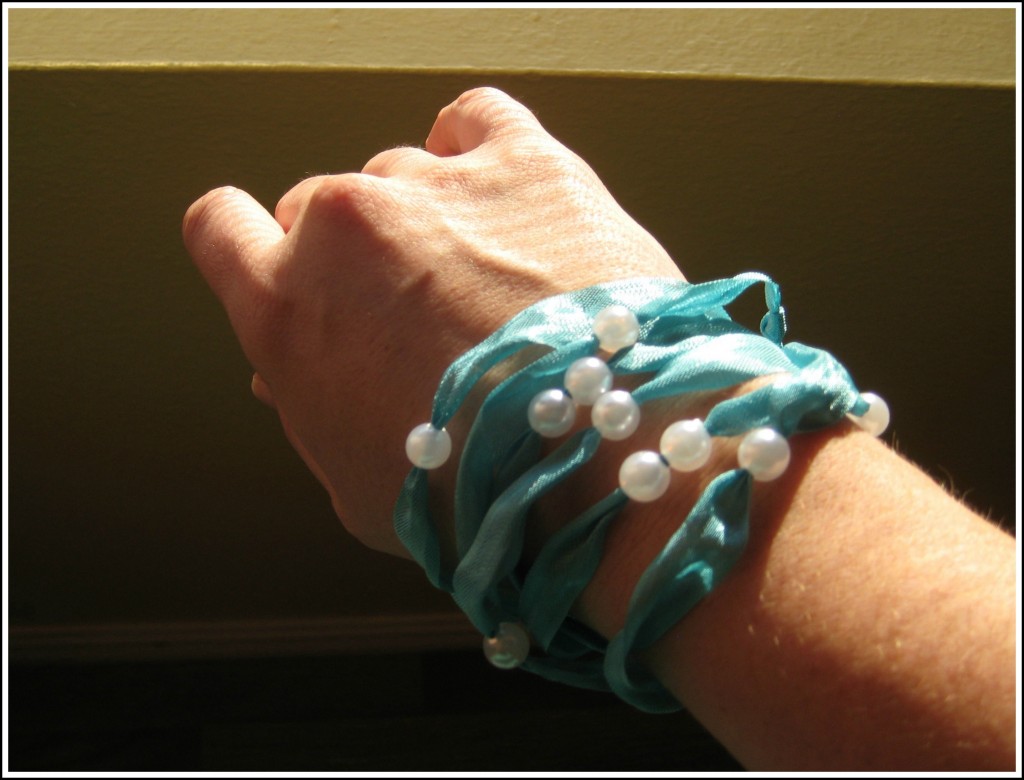 There was some simple garland strung up in the window.  It was so neat.  Here's a shot of them in the window: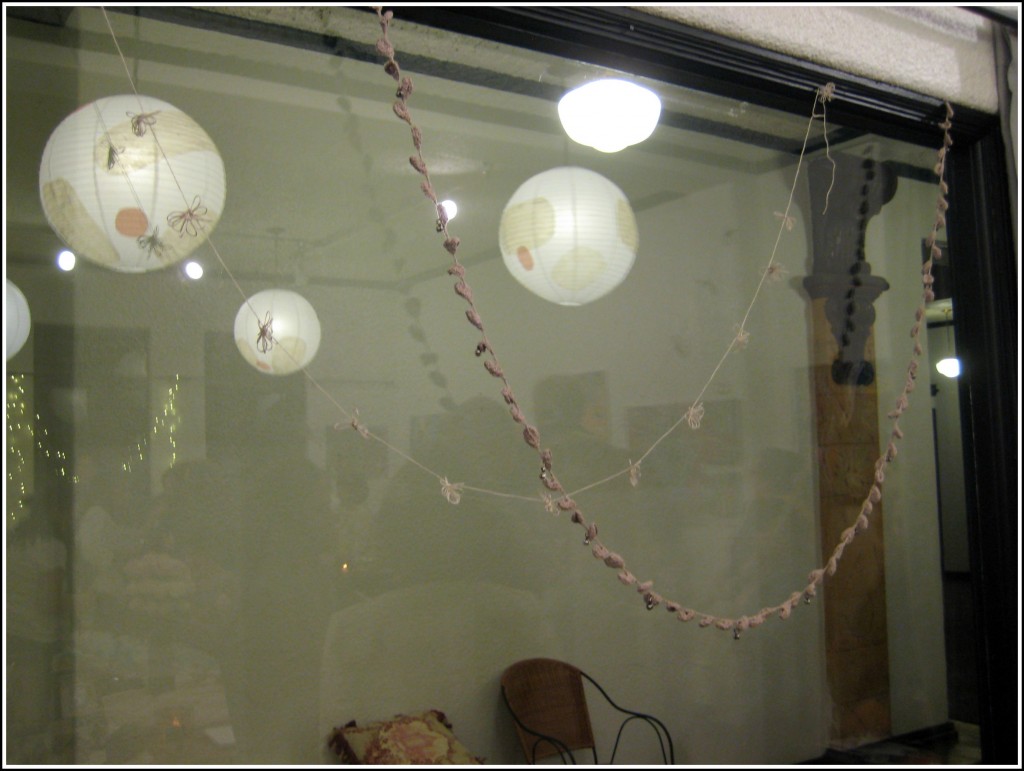 Here's my attempt at a close-up: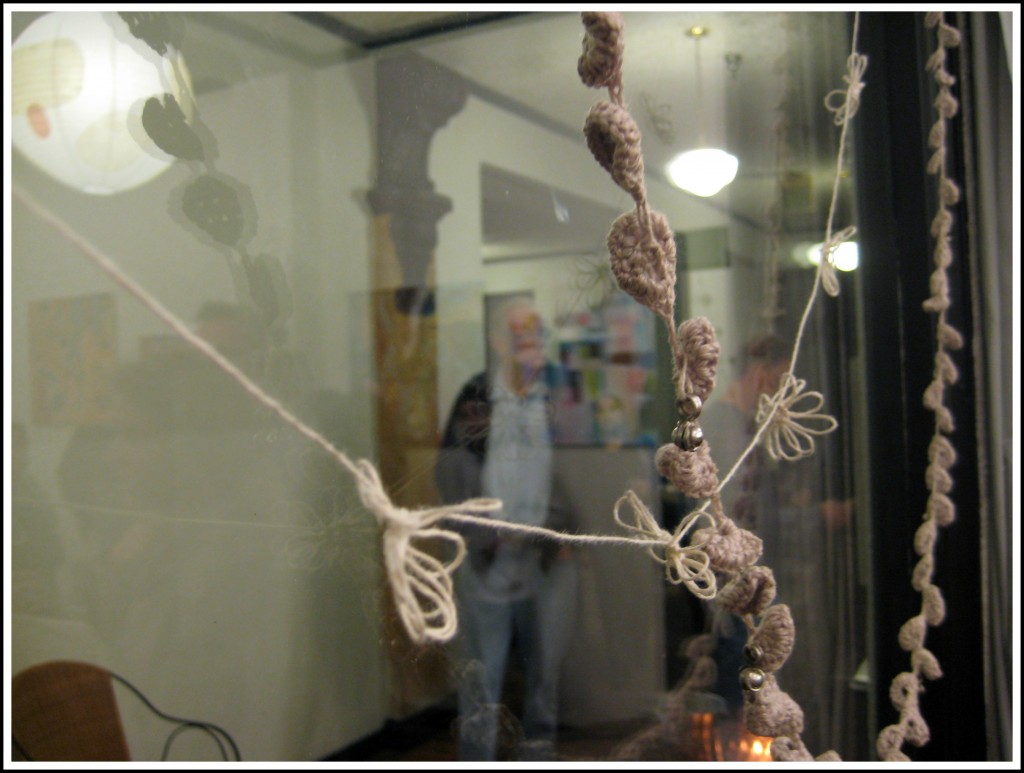 Dana is so good for me- she doesn't know a stranger, so she introduced us around as if we were supposed to be there and people should want to meet us.  I did have Emily with me, so that got lots of smiles, too.  Today I checked the blog, and Dana and I are in their slideshow (so is Em, too).  15 seconds?  Ha!
As we were leaving to have some dinner, Dana couldn't help herself.  She had to take a picture of this guy in the window of a studio next door.   In case you can't tell, he's painting a picture while wearing a spikey helmet.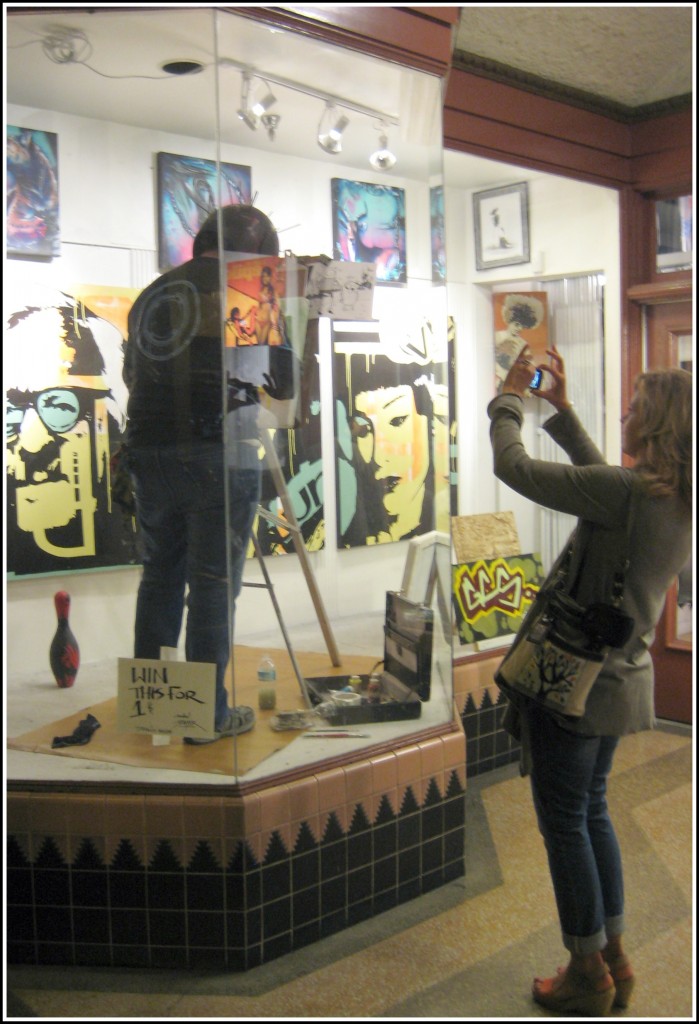 Dana and I got a bite to eat before our drive back to San Diego.  We told stories of dogs flying out of cars and remarked several times that we are so happy we are married and don't have to wear 4-inch heels and hussy dresses.  If we weren't driving a good distance I have a feeling the evening would have involved a few glasses of wine or some drinky-drinks.  We'll have to work on that next time.
Today we went to church and then had Emily's Godparents and their kids over for lunch.  Then our little ones napped, and we ended the evening with our first viewing of Toy Story 3.
Perfect weekend.
Can't wait to show off my chairs tomorrow.  They are awesome!
What did you do this weekend?  Have you ever had a completely pleasant one like this?