Finally!  We finished!  If you're new to this series, start here, then go here, here, and here.
I was horrible about taking pictures this week, AND we skipped a meal.  Just didn't make it because it didn't sound good to me (red peppers are not my thing).  BUT, to make up for it, I did make another RS meal from the magazine, and will share about that later- it was a HUGE success and part of a new thing I'll be trying for our family.
We didn't make the meals in order, but I'm labeling the way they appear in the magazine in case you're following along.
Monday :  Pan-Roasted Cod and Fennel with Spinach Couscous
(No picture- sorry!) This one was really, really yummy.  I'm not a white fish person (right, Mom?).  BUT- this was good.  I wasn't sure about the fennel- I tend to shy away from anything that reminds me of black licorice.  But I was pleasantly surprised.  What I was most pleased with was the couscous- I usually HATE couscous, but Michael bought some Israeli couscous from Trader Joe's, and it turns out that I don't hate couscous, I just hate the way it's usually prepared.  This way, with spinach, was really good, and I'd totally make it again.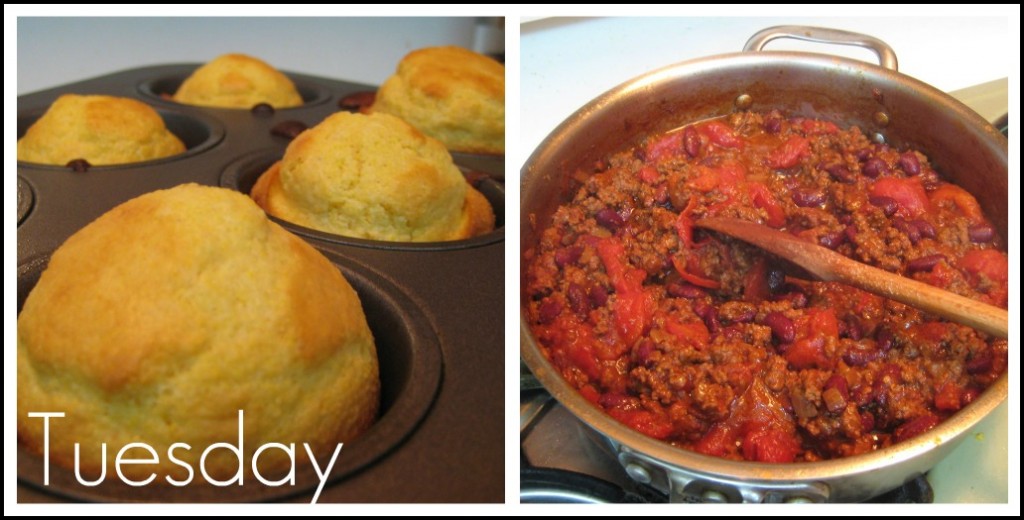 Tuesday:  Chipotle Beef and Beer Chili
Let's get one thing straight:  I'm snooty about my chili.  I did not think I could possibly like a chili that you whip up in an hour.  I was set in my ways- this chili would not be good, and I even told Michael that I was prepared for it to taste like crap.  And guess what?  I was wrong.  It was awesome.  Michael loved it, too.  I didn't do the chipotles because neither of us "need" them in our chili- we are savory chili people.  And the corn muffins….oh, who doesn't love a good corn muffin.  I think the next time I make it I will used crushed tomatoes instead of whole peeled tomatoes, but otherwise it will stay as is.  YUM.
Wednesday:  Lime and Soy-Glazed Chicken with Cabbage Slaw
(no picture- again!)  Fail.  This one was not great.  Maybe it's because we have an old, OLD oven and it just didn't do well, but it didn't taste the way I was hoping it would.  It also ruined a baking dish because the glaze scorched itself on, and no amount of elbow grease was going to get it out.  Oh well.  I think of all the recipes in all the weeks, this might be the least favorite for us.  They can't all be amazing, eh?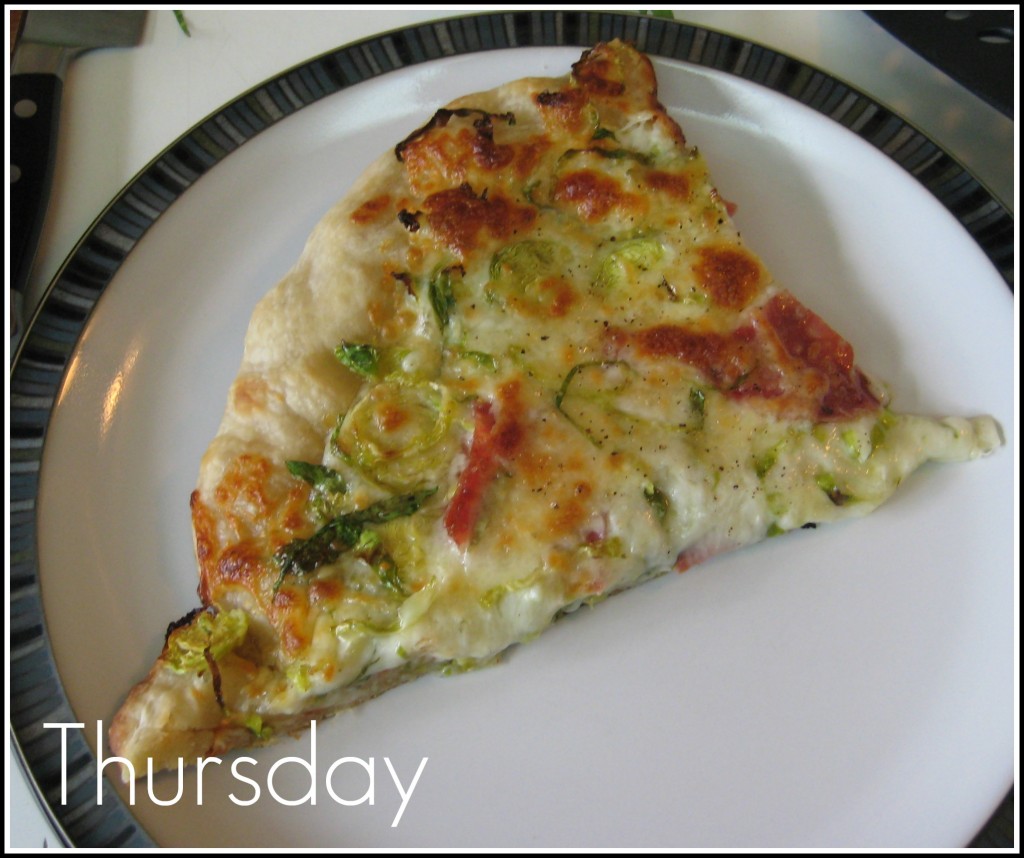 Thursday:  Salami & Brussel Sprouts Pizza
This was awesome.  We actually made it for lunch over the weekend, and it was neat to have a fresh pizza for lunch on a chilly day.   I think the key thing I learned from this recipe:  leave your pizza dough out until it's room temp!  I've tried soooo many pizza doughs, and have never liked the way they turn out- but I've also never let them come to room temp before, and this pizza dough (Trader Joe's) was amazing.
Friday:  Skillet-Poached Eggs with Braised Peppers and Onions
Skipped it.  I hate peppers.  I've tried, really, I have.  And I still hate them.  Michael even looked at this one in the magazine and said, "Honey, there's no way you'd want to eat that."  And so, we're done!
Coming up after Thanksgiving:  a RS Easy Dinners Roundup, and lots of other fun posts!  I hope you have a wonderful Thanksgiving with family and friends.  I get to make mashed potatoes and corn muffins- woo hoo!