If you're new to this series, you can start here, then go here, and here.  Now you're caught up!
Sorry for the slacking off here…
So this week we did Week #3 and it was a crazy one for our family.  This week is the same, so we're taking a break from this right now and will do the final week…next week.  But I digress…I slacked on the pictures with a couple, and the two I forgot to take pics of were actually some of my favorites this week.
One thing we tried was cutting the recipes in half since Michael and I are really the only ones eating.  We've had a hard time keeping up with the leftovers, so this week we tried cutting everything by half.  This, however, didn't work so well either- we found ourselves hungry after a few meals.  On to the reviews: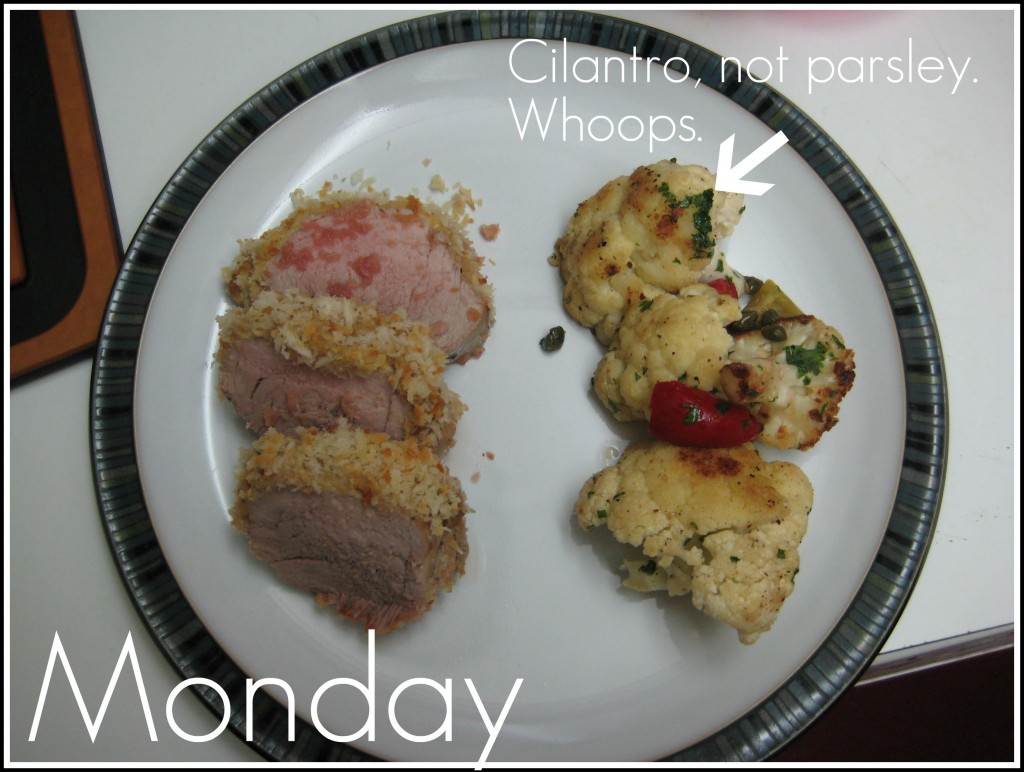 Monday:  Pork Loin with Sauteed Caulifower and Capers
One takeaway I had from this week is that I don't like it very much when a recipe calls for a very specific ingredient.  Monday's recipe called for "pickled sweet red cherry peppers, such as Peppadews."  Perhaps I'm biased because, in the first place, I don't like peppers in general.  So to traipse all over the grocery store hunting for something I don't realllly want to eat- no fun. Then, when I did finally find a jar, this is what it looked like: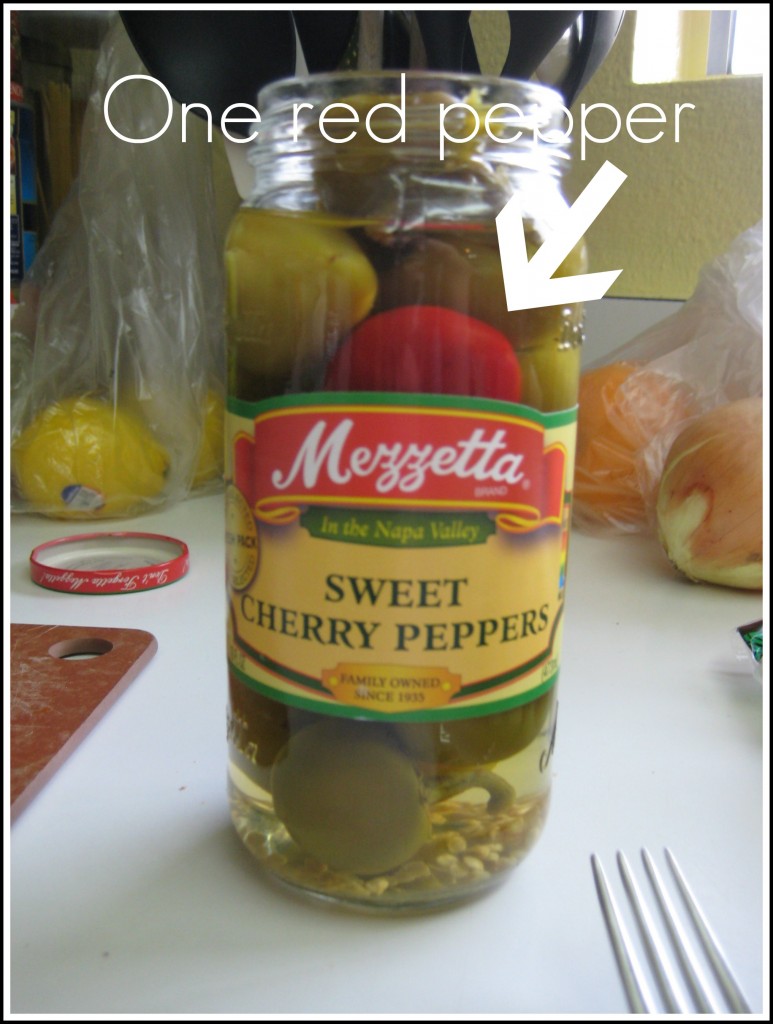 You betcha- I made sure I dug through that jar and pulled out that one red pepper.  But I still didn't like it.  I also messed this recipe up big time, though.  Firstly, I used way too much mustard on the pork- it was nearly inedible.  I would also say, though, that the amount given in the recipe is big- I'd probably dilute it with some mayo or something.  My other mess up, though, was that I didn't pay attention and I tossed all the cauliflower with cilantro, not parsley.  I didn't realize until later, which was funny because neither Michael nor I cared for the cauliflower and now we know why- cilantro!
Tuesday :  Chickpea-Spinach Curry with Cucumber Yogurt Sauce
No pic for this one- which bums me out because it was DELICIOUS!  I would make more of it, and I would also use it as a side dish- it's very versatile.  I would maybe add some more veggies or something, but it was very easy and very quick to whip up.  Yum!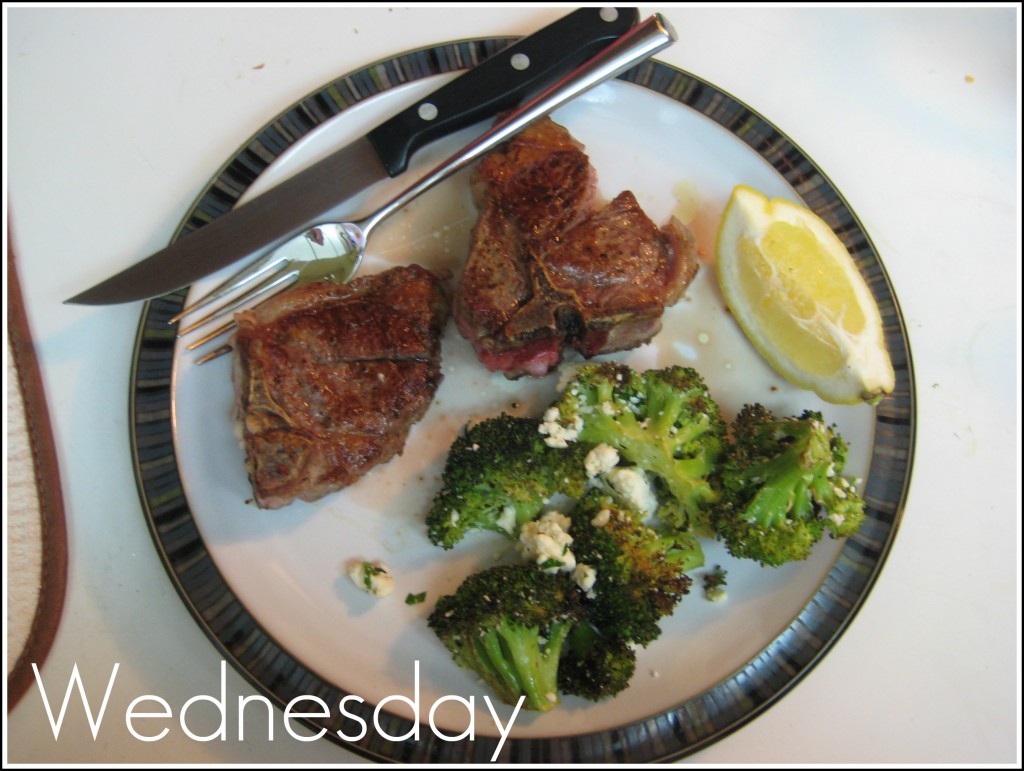 Wednesday:  Lamb Chops with Roasted Broccoli and Feta
This was excellent.  I was very surprised with how much I liked broccoli with feta- and lemon!  It's very refreshing yet hearty at the same time.  A keeper, this one!
Thursday:  Lemony Tuna and Olive Oil Pasta
Again, no pic- boo!  This was soooo good, too.  I love how they have you reserve pasta water and use it in the sauce- it kept the noodles from sticking- it was like eating something from a restaurant.  This is one that we will cook full-size next time- no cutting in half!
Friday:  Roasted Chicken with Mole Sauce and Citrus Salad
This was really good!  If I had known how easy it was to make mole sauce I would have done it a long time ago.  It was fun to tell the kids we were eating "chocolate chicken"- they thought it was weird.  I was also very proud of my citrus salad- I cut up the oranges quite well, if I do say so myself.  Yum!