If you're new to this series, click here for the intro and here for Week 1.
Whew!  This week was tougher.  For some reason my body is rebelling against fall and my allergies were full-force all week.  I thought I was fighting a cold, but it was really just my body acclimating to a new season, I think.  We made it through week 2, just not in order.  Allergies combined with an issue with carpet-cleaning led me to postpone Thursday until last night, but we still made every recipe, so I think we're still pretty rad.  Here's the scoop!
My big take-away this week:  leave the meat alone.   I always feel like I have to do something to the meat- put a rub on it, marinate it- something.  But I don't.  It's enough to just put some good ol' S&P on it and call it done.
Monday:  Chicken with Wild Rice and Grapes
This one surprised me- it was really, really yummy.  I wasn't sure about having warm grapes in anything- they are such a "cold food" to me.  But it was really quite nice.  We didn't get thighs with the skin on, but it was still really tasty.  We had lots of leftovers of this one, and it made for excellent sandwiches at lunch, too.  Definitely making it again.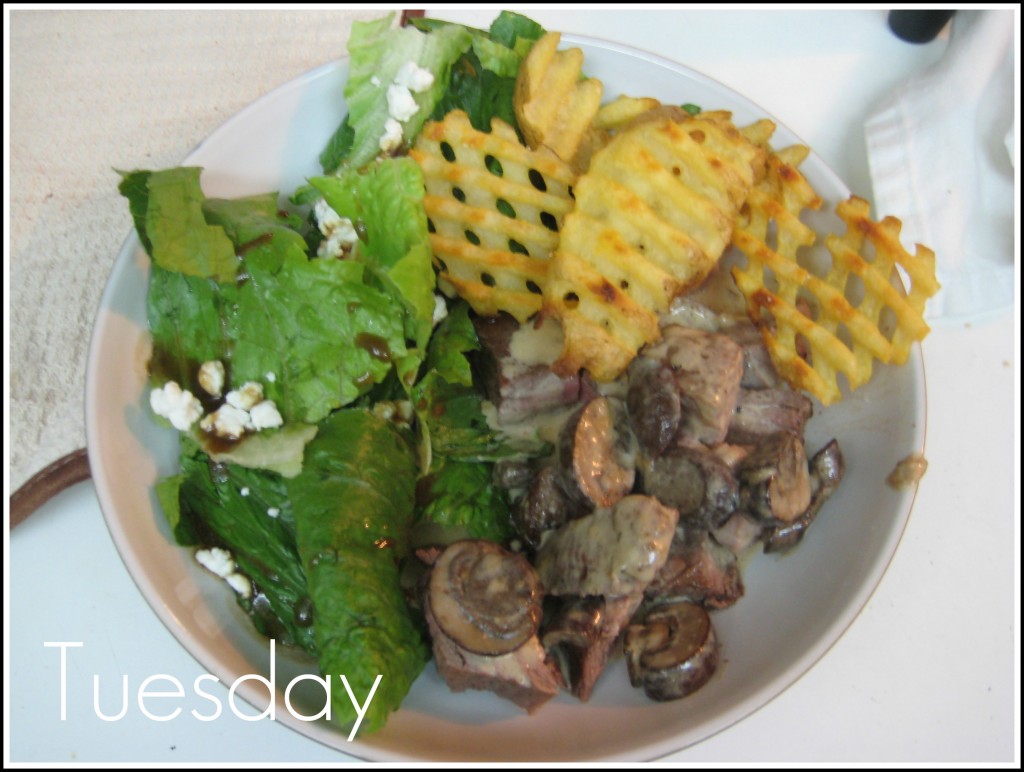 Tuesday:  Steak with Cognac Sauce and Salad
O.M.G.!!! This is definitely a favorite!  The cognac sauce was so delicious, and I was surprised that the steak was nice given the cut we bought.  I usually don't like skirt steak, but it was really nice.  This was "one of those evenings" for us as a family- Michael was held up at work, and when it was time to eat I also needed to feed Em, so I had to scarf this down, but it was so yummy it was not a problem.  When Michael ate his he was quite impressed- and it was super easy, too.  Loved it!  The only changes I made:  I detest blue cheese, so I subbed in goat cheese for my salad.  I also made a vinaigrette because the recipe called for just red wine vinegar and oil, and I like a nice, tasty dressing.  Vinegar & oil is too plain for me.

Wednesday:  Roasted Vegetable and Quinoa Salad with Pistachios
I have never had Quinoa before- I like it!  Wasn't too sure at first, but the more I ate it, the more I liked it.  It's very straight-forward for a grain- you cook it just like rice, but it doesn't take as long as rice.  I would add more different veggies to this one- it was really just carrots and shrooms, but they were yummy.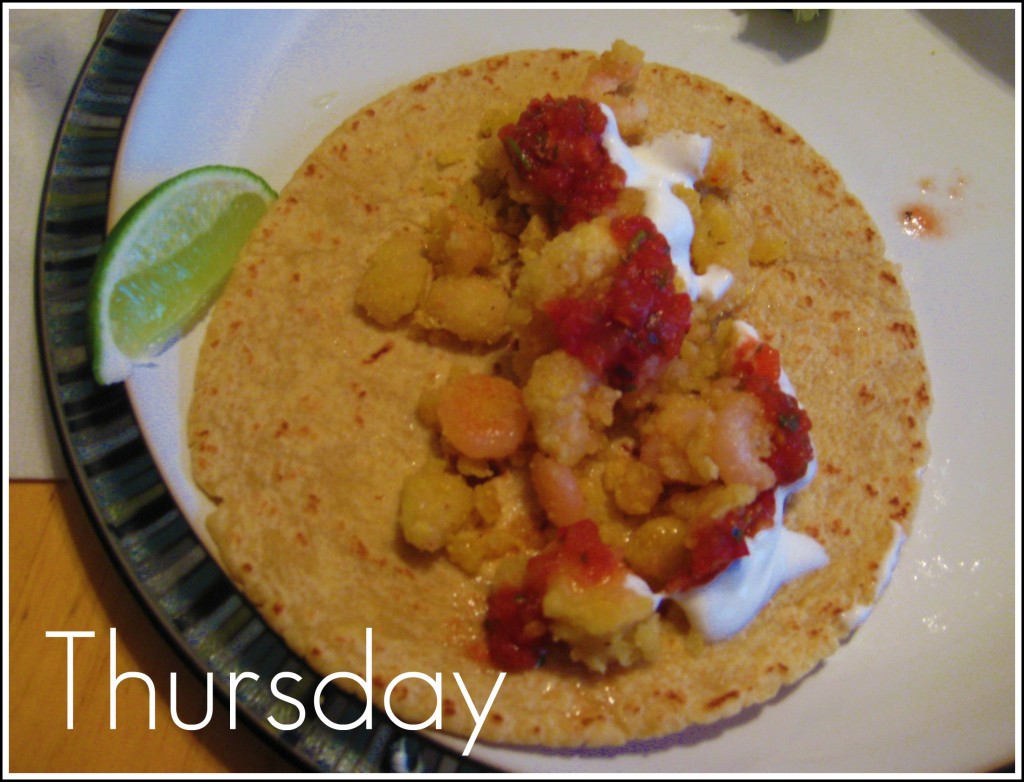 Thursday:  Shrimp Tacos with Black Beans
This is the one we made on Sunday night.  It was really good, but didn't come together the way we wanted.  Our avocado wasn't ripe yet,  and we LOVE avocado. But the shrimp was lovely with the cornmeal breading.  Michael also brought home tortillas from Trader Joe's that are made with corn and wheat, so they were like the ultimate combo of corn & flour tortillas- they are YUMMY.  This was also dish-intensive- lots of clean up.  But yummy.
Friday:  Pasta with Sausage and Tomatoes
(I totally forgot to take a picture- we were so hungry and….) YUM.  This was so simple, and again RS has you putting your oven to work for you.  You roast the tomatoes and sausage in the oven and all you have to do while they are roasting is cook the pasta.  Then you toss it all together and serve- so easy, and so good.  We used hot sausage and it was too hot for my sensitive tongue, so next time we'll just use plain sausage, but this recipe is a keeper because it really is easy & delish.  NOM NOM.
Our favorite meal of the week:  Steak with Cognac Sauce and Salad, hands down.  But every meal was really tasty- we'll make all of them again!