*sidebar:  Alternate post titles that were considered:
Respect the Coat
Go Big or Don't Sew
I Fully Admit I Have No Idea What I'm Doing (my former tag line)
What Was I Thinking? (already taken- see here and here)
Coats are Magic
Irons Are Hot and Dangerous
*end sidebar, other than to say that this post will be LONG.  It's therapy people- almost like giving birth.  Feel free to just scroll and look at pictures, but I will type out my thoughts, too, though it may be a bit wonky….  Here goes…
A while ago I introduced you to Anna's Bear, and how I was incorporating him into part of her Halloween costume.  I finally finished!  Here are some photos of Anna in her coat: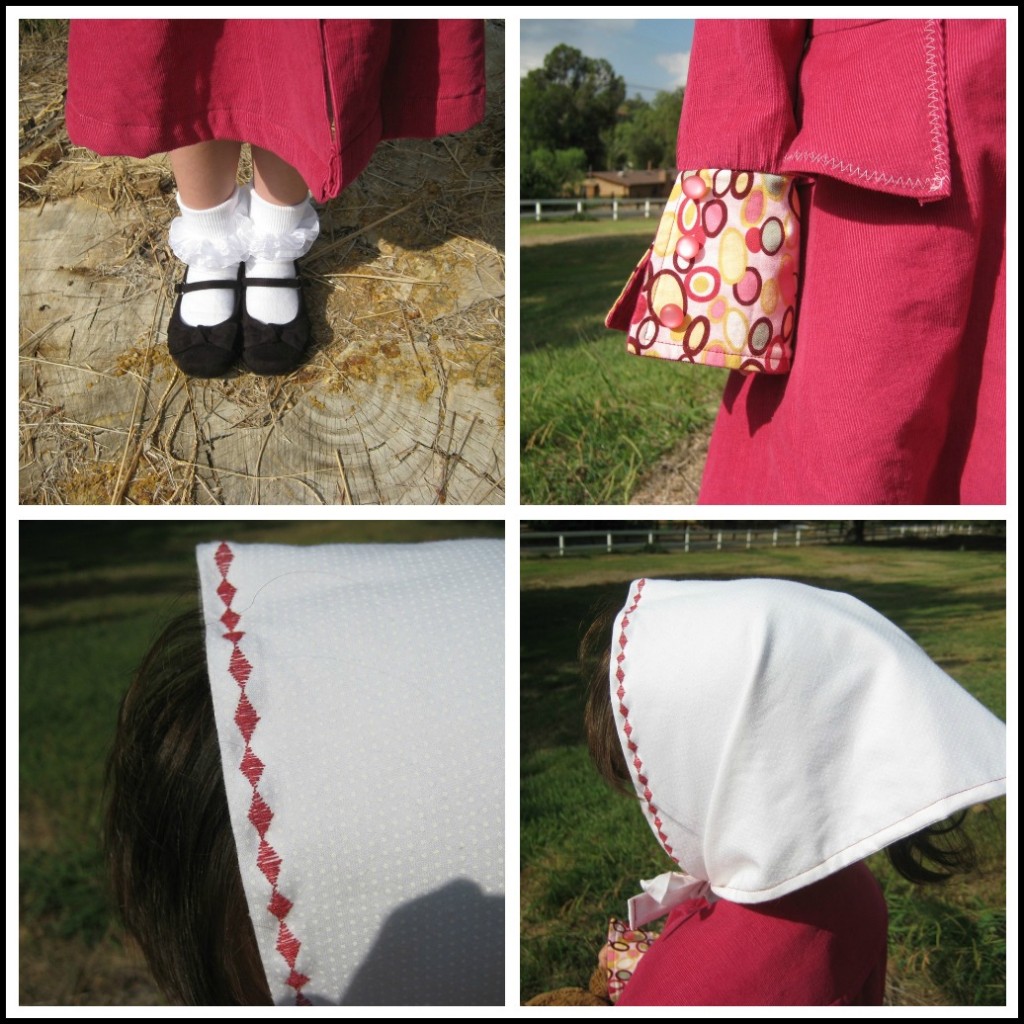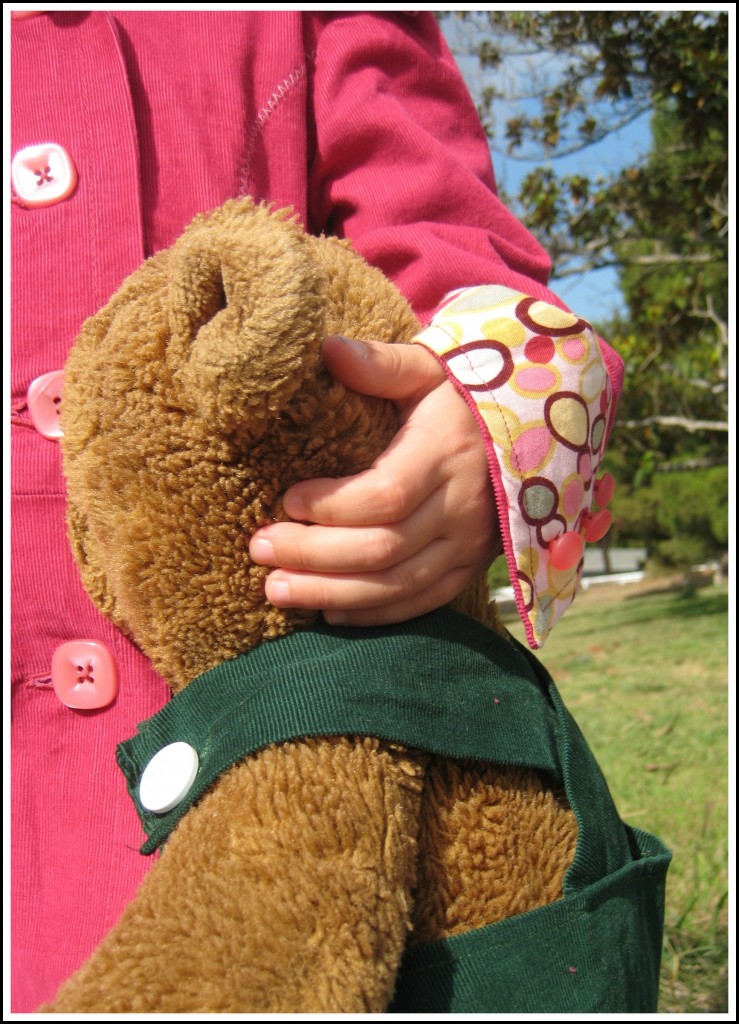 The coat by itself: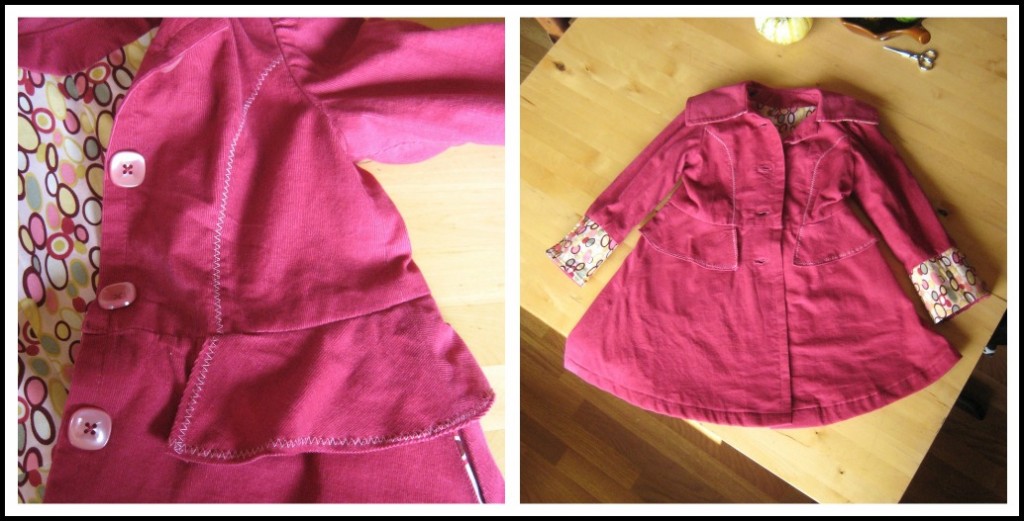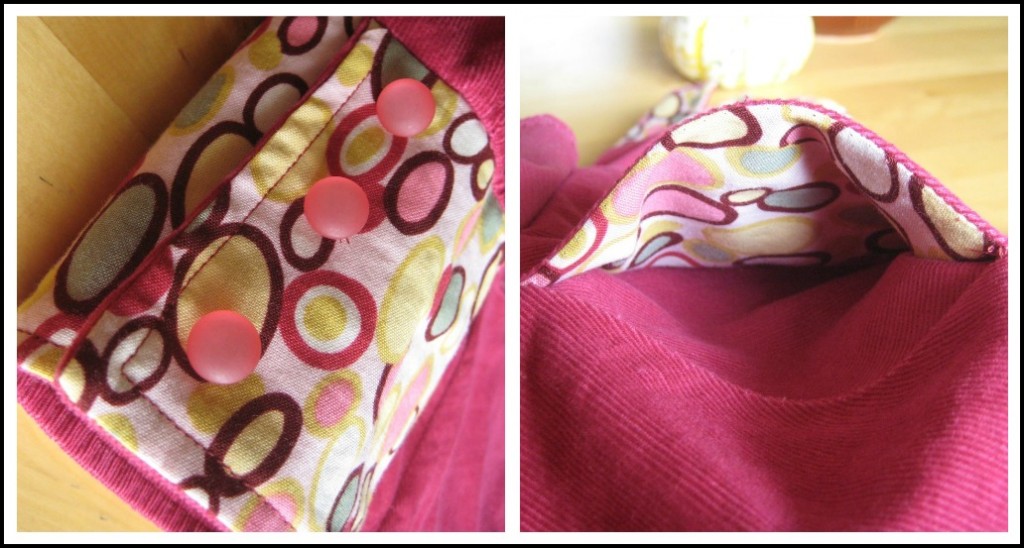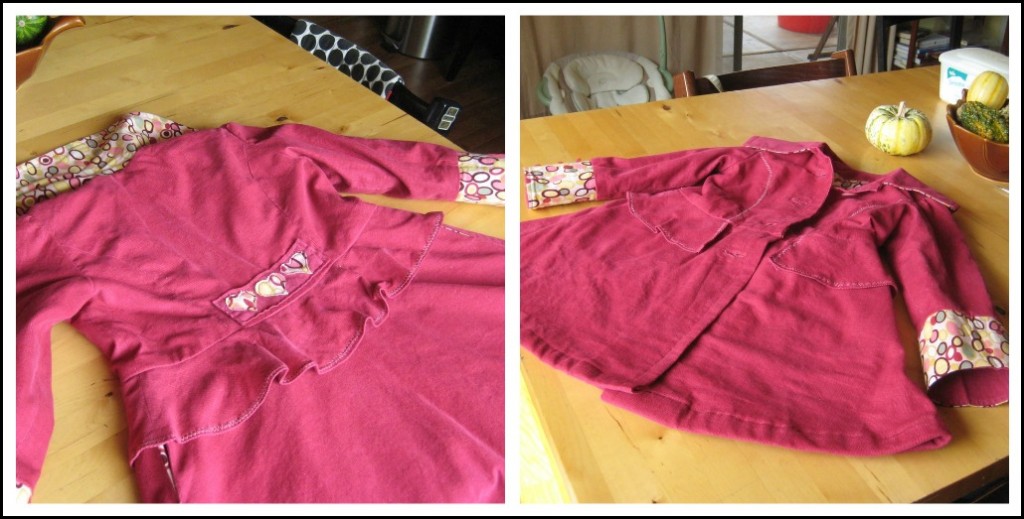 (some of these photos make the corduroy look really wrinkly, but it's been pressed, I promise!)
And here are some specific photos in the book that led to my choice of fabric, pattern selection, etc.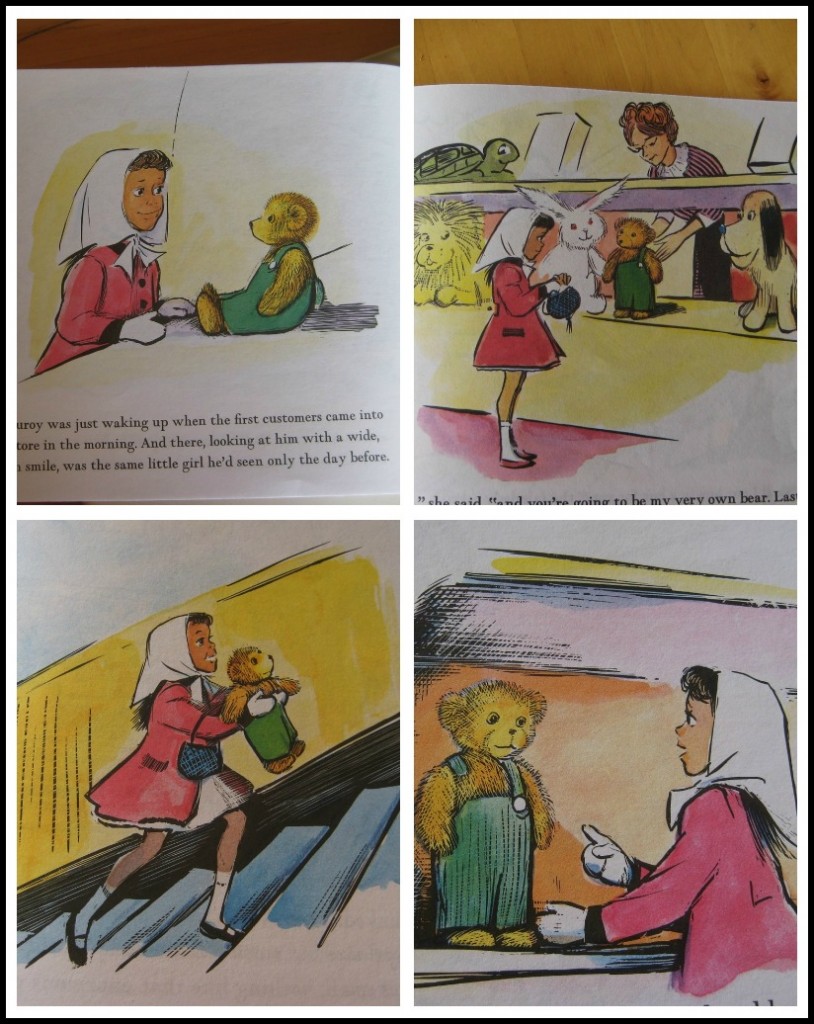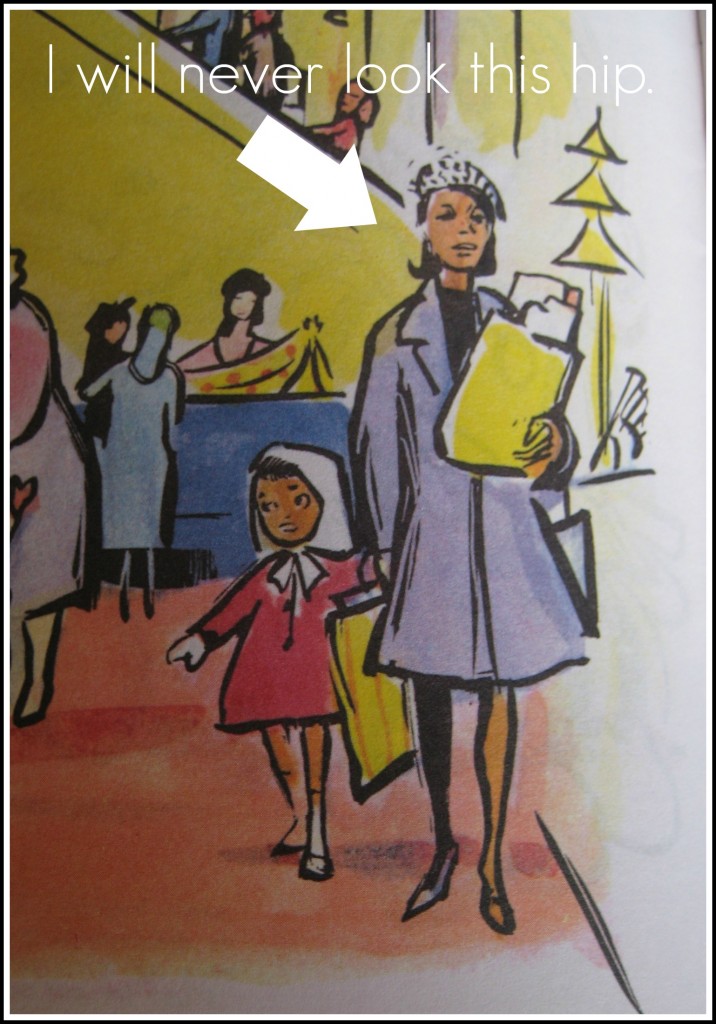 Lastly, I couldn't resist a side-by-side comparison- isn't she a cutie?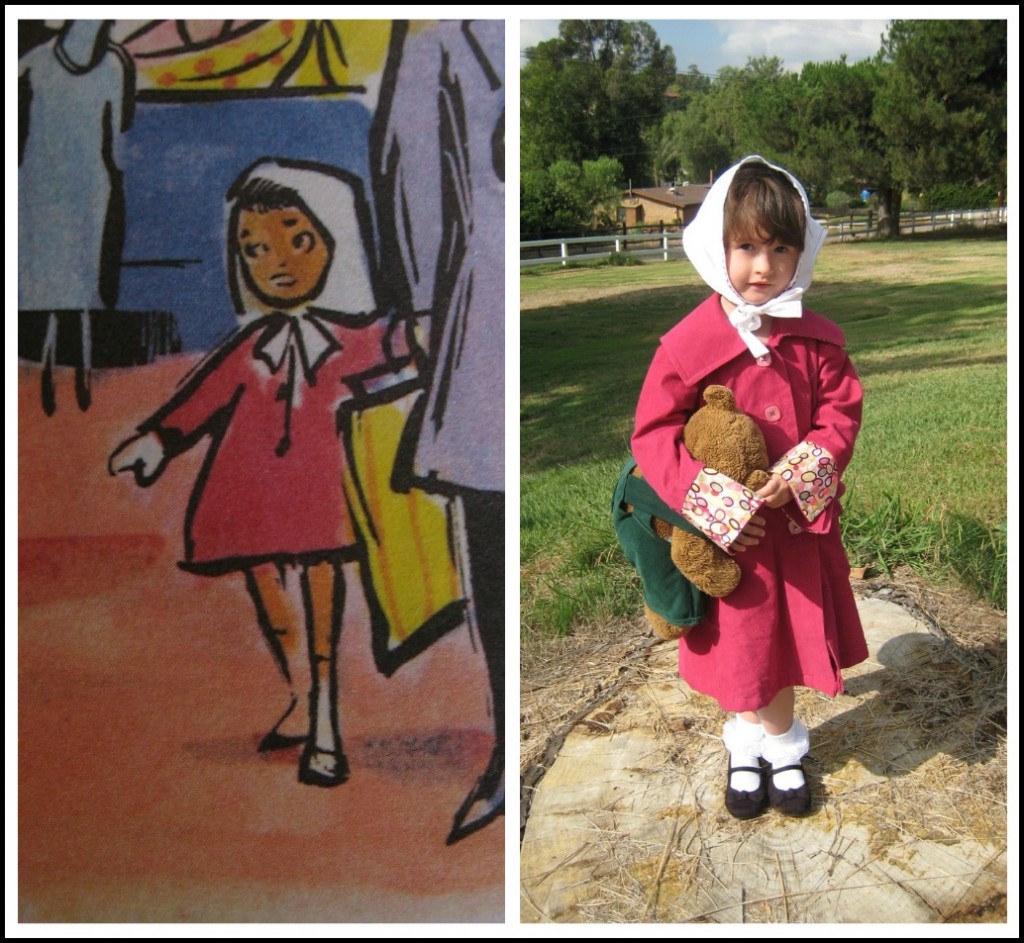 And the backstory:  Anna decided that she wanted to be the little girl from Corduroy, which surprised me given her affinity for ballerinas, princesses and other typical 4-year-old-girl stuff.  One night, as we were reading Corduroy, I mentioned, "Hey, that would be a fun costume for Halloween! We could use Bear as Corduroy, and I could make him some green overalls just like in the book."  I didn't think it would stick, but it did.  I asked her randomly for several weeks if she wanted to be a princess, like Rapunzel or Snow White?  Nope.  The Girl from Corduroy (her name is Lisa, but she doesn't seem to remember that).  Izzy from Jake and the Neverland Pirates?  Nope.  The Girl from Corduroy.   A butterfly?  Nope.  The Girl from Corduroy.  All righty then.
I was on a mission.  After sewing the overalls for Bear I started looking for pink coats (this was also an issue- she said it was pink, I thought it looked more red, but we all know that if I made her a red coat when she wanted pink….).  At the time of my search there were no dark pink anything online- lots of powder pink.  So I searched the books at Joann's and found it.  Burda #9596 (this link is to a Flickr stream- I cannot find a link to it for purchase online!).  I figured that I could sew it for her in a bit larger size and then we'd have more than just a costume- we'd have a coat for a while, too.  Here is where things got hilarious.
Have I ever sewn a pattern before?  No.
Have I ever sewn an article of clothing for a human to wear before?  No.  (Unless you count some horrendous shirt I sewed in my sewing class that I think I took when I was 8 or 9.)
Have I taken any kind of sewing lessons as an adult?  No.
Hmm.  Well, that makes it perfectly logical to think that I could just whip up a coat, right?  Heh.
I actually bought the pattern and the fabric and other necessities when I bought the stuff for Bear's overalls, but then we got busy.  My parents were here, my wonderful friend from college was here, and it was a great excuse to mentally prepare.
Some skills that I learned in this process:
I learned what facings are.  I can't really tell you what they are in a text book way, but if you take a coat and look just inside it, you'll probably see the same fabric that's on the outside of the coat run around the edges and the collar.  Then the lining of the coat will be sewn to it.  Those are facings.
I learned how to sew pockets into things.
I learned why, when you buy certain garments, the pockets are sewn shut (actually, they are basted shut).
I learned why it's so important to press open seam allowances.
I learned how to not burn myself when pressing open seam allowances.
I learned about interfacing.
I learned how to read a pattern, though there are still parts I don't quite get.
I learned that I should probably take a sewing class or two, but am not sure when that will happen.
There are several imperfections on the coat.  One of them is that I somehow missed the part where I was supposed to sew the top and bottom facings together.  I looked back over the instructions and it was not clear at all.  So I made little patches to go over the exposed hems that were a result of my newbie status and called it a day.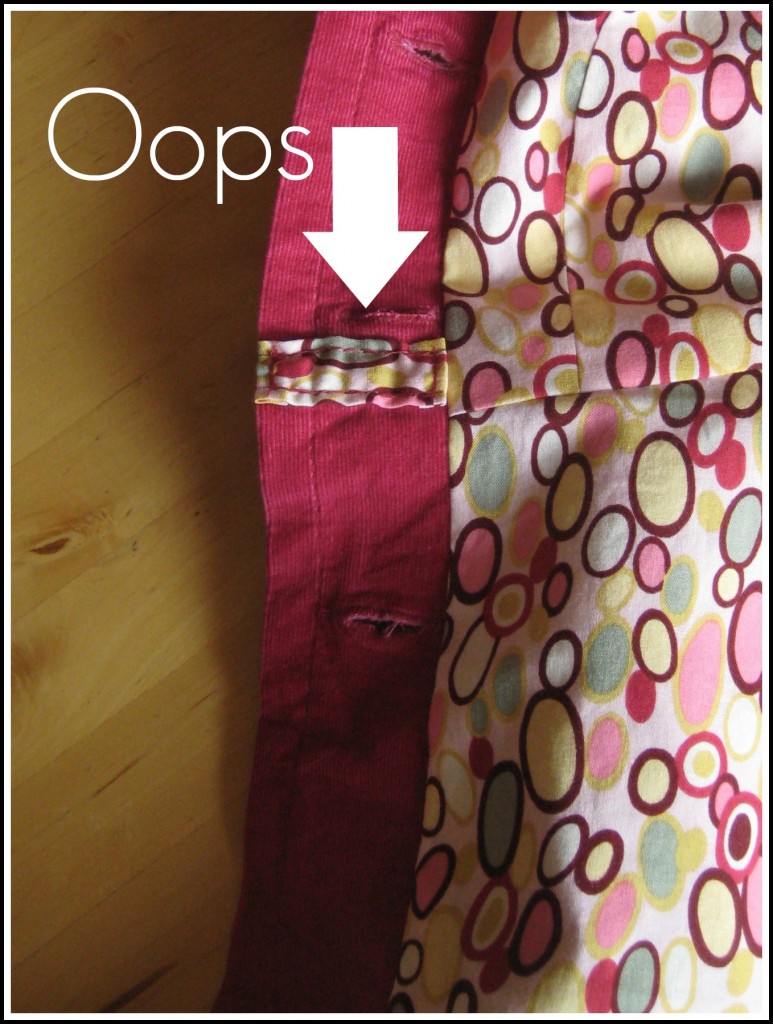 The pocket openings are two different sizes, but Anna has yet to notice- she's just happy to have pockets.  This particular pattern was definitely assuming that one knew what one was doing (ha) so I had to look up a lot of things online.  There was also a lot of lingo that made no sense, so I had to literally stare at the pattern diagram, stare at the coat.  Stare at the pattern diagram, stare at the coat.  And then after about 20 minutes of that something in my brain would click and all of a sudden it would make sense.  I also couldn't figure out how to sew the lining to the inside of the cuffs at the end of the sleeves, but no one will see that unless I show it to them, and I may have a friend who can help with that.
Overall I am uber-happy with how it turned out.  If I could go back, I would buy a more sturdy, higher-quality corduroy for the coat.  But lesson learned- hopefully it will hold up…
So there you have it- Anna's coat.  And someday, Emily's coat, I hope.  I'd also like to take this opportunity to thank my mother.  Some day I will post pictures of the plethora of dance costumes she made for my sister and I.  They were almost always made of satin, lined, and lots of tulle was involved as well.  Props to you, Mom- after one coat, much respect!
Happy Halloween everyone!
I'm linking up to Mady by You Mondays on Skip to My Lou