We did it!  Week one was awesome!  (If you have no idea what I'm talking about, click here!)  Below are individual reviews for each meal.  We definitely had a few favorites and some not-so-favorites, but what was really the nicest thing was having everything planned out.  As I type this our fridge is full of ingredients for Week 2, as well.  So nice to not have to stress/think/worry/wonder about what we're eating.
My biggest take away is that we can add veggies into our meals by roasting them.  This can be tricky in our house- we have a wandering 2-year-old, plus an old-school, avocado green oven, two tiers, and only the bottom oven works right now.  Neat.  But we ate so many veggies this week, and I liked all of them!  I do recommend, when roasting, lining the pan with foil AND spraying it with Pam or some sort of oil to help make "tossing" them easier- nothing sticks.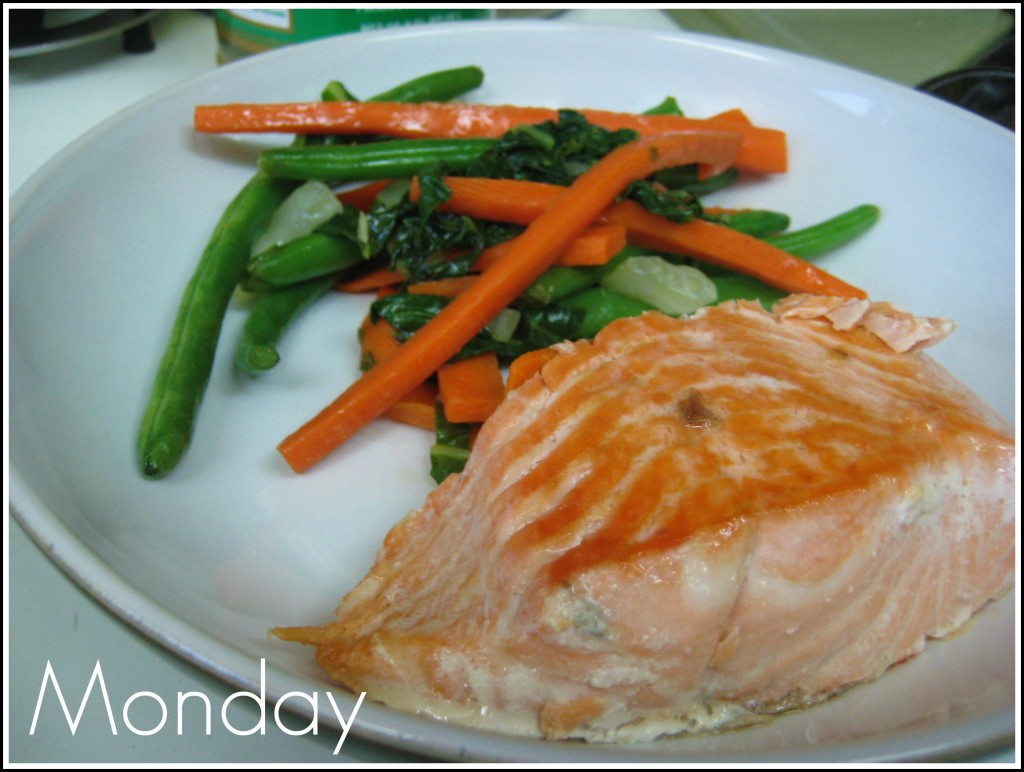 Monday:  Salmon with baby bok choy & green beans
YUM!  This was so good.  And I feel like I can cook salmon well now- it was almost too simple.  The recipe only has you use salt and canola oil on the salmon- this made me suspicious, but it was so tasty.  And the veggie mix was something new and easy.  I prepped everything during naps so all I had to do was throw it all together.  We will definitely make this again.  My only question is:  where the heck do you find baby bok choy?  We tried three, count 'em, three stores, and it was nowhere to be found, so we used regular bok choy.

 Tuesday:  Tomato Soup with Roast Beef, Cheddar, and Horseradish Panini
This was delish and easy to do.   The tomato soup was lovely, though I did change one thing.  I added some whipping cream to it to sort of take the bite out of the tomato acidity.  It was lovely.  Next time I will use less onion and garlic, though- maybe ours were just super potent but I tasted garlic and onion the rest of the night.  We also do not like horseradish and don't see that changing, so I used Greek yogurt and some herbs from Penzeys as the sauce for the panini.  Do you know Penzeys?  You should.  Great spice company.  Check them out! We used "Mural of Flavor."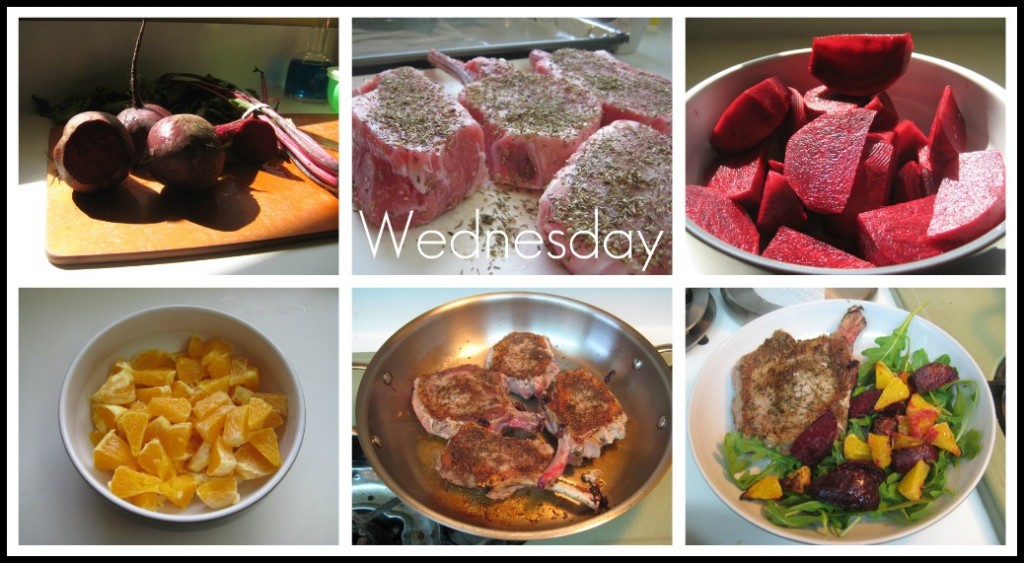 Wednesday:   Pork Chops with Roasted Beets and Oranges
I was surprised by this one. I've never, ever in my life (that I can recall) eaten a roasted beet.  I've tried canned beets and promptly said, "No thank you" when offered more, but roasted beets?  I was open to it (unlike the horseradish).  And surprise, surprise- I liked them!  Our oranges weren't so yummy, so if I ever make this again I will be sure to use sweet oranges as they didn't taste great, but that's not the recipe's fault.   This recipe did have significant clean up to do, so I would probably just make this for a special dinner.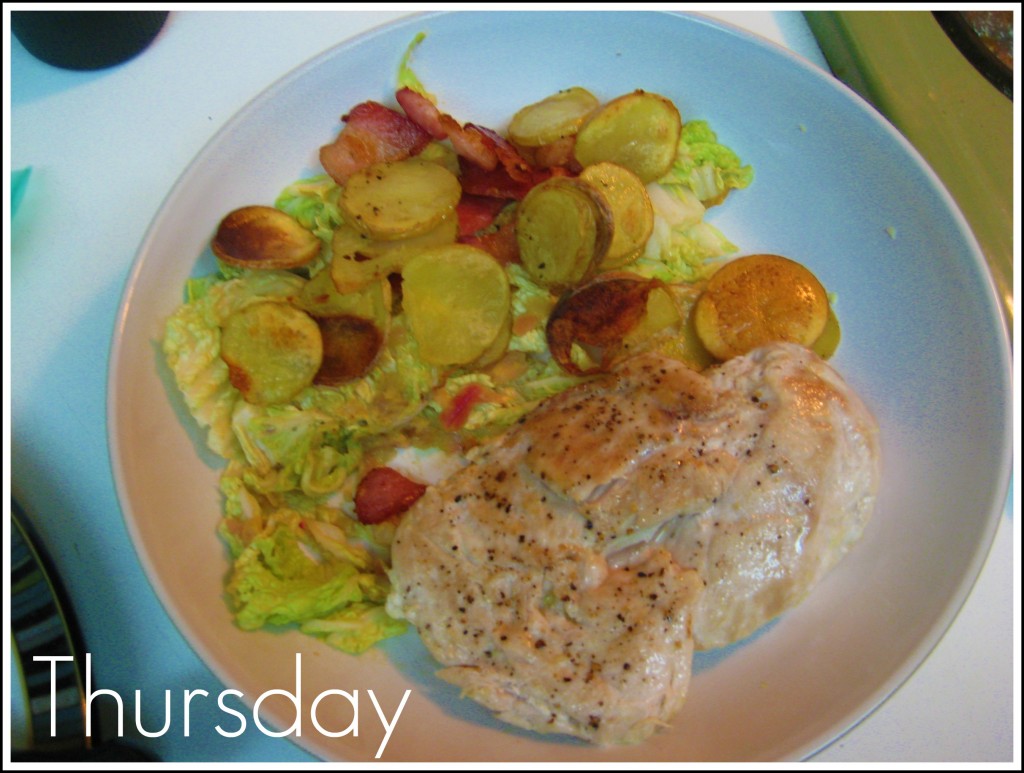 Thursday:  Chicken with Potatoes, Bacon, and Cabbage
Meh.  This was okay.  We didn't get whole grain mustard, which the recipe calls for, mainly because we had three other kinds of mustard in the fridge.  I used Dijon and it was way too potent with the apple cider vinegar- Anna held her nose when she came in to help set the table, which was hilarious.  I'm not big on cabbage, either, but we gave it a go.  I did like the chicken- it was tender and yummy, but the side dish was not our fave, even though it did have bacon in it.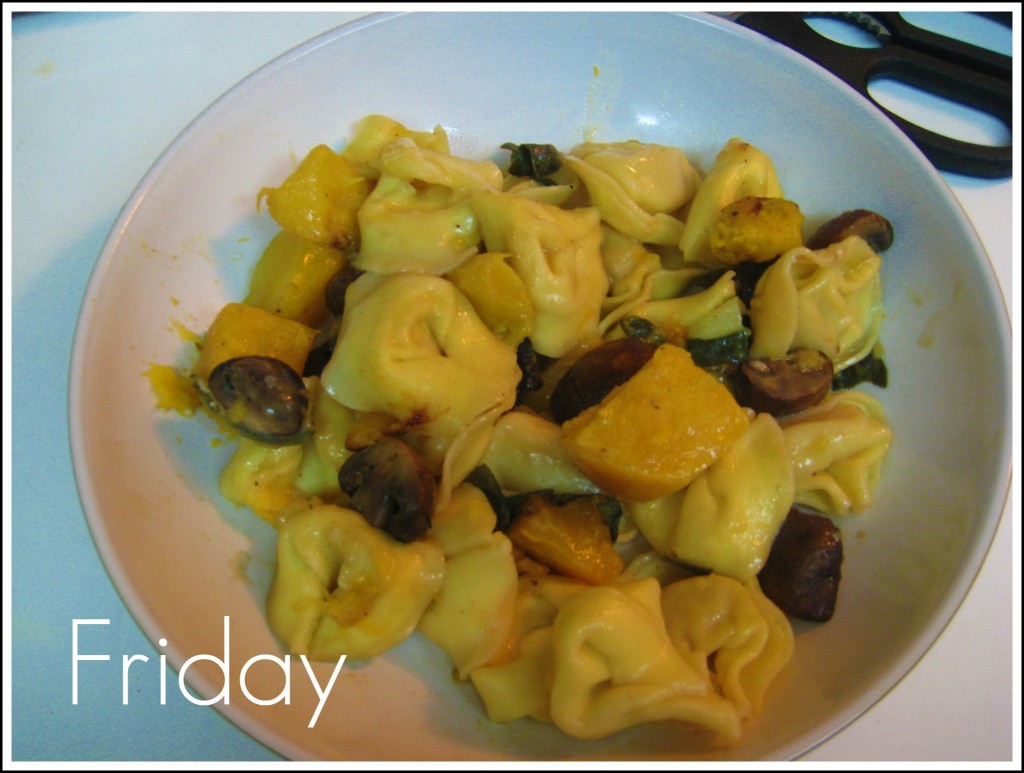 Friday:  Tortellini with Butternut Squash, Mushrooms and Fontina
This was awesome, especially at the end of the week.  It was easy to do- almost too easy.   The squash is so good and really made it "taste like fall" (if that's possible).  I'm very happy that Trader Joe's has butternut squash all chopped up and ready to use- it made the meal so simple.
Our favorite meal of the week:  Monday's salmon.  However, we also really liked the paninis on Tuesday, as well as the whole meal on Friday.
All in all, I loved following the recipes this week and can't wait to see what comes next week.  I did have to stay on top of things in terms of prepping the veggies, etc., which I tended to do just after lunch or just as the kids were waking up from naps.  If I saved everything until just before dinner time then it would have been a late dinner every time.  I think this works for me now as a SAHM- if I were doing it as a working mom I might have to prep things the night before in order to get things done without freaking out.
I also think that this week's menu was so-so in the "kid friendly" department.  We did have Anna try a few things, but dinner is our toughest meal in general, and most of these meals didn't work for Anna or Jack.  Maybe if you have a kid who will literally eat anything it would work, but I don't have too many friends who have kids who will jump into a pile of roasted beets.

  Aside from that, though, this is really a great plan.  Check back next Monday for Week 2!