Dinner time.  Such a dreaded time for so many mothers out there- what to make, what to make?  It was never a challenge for us before kids- it was an adventure.  Stop at the store on the way home from work- grab amazing ingredients, and spend the evening cooking up a storm, making a mess in the kitchen, and enjoying the fruits (and meats and cheeses, maybe a few veggies) of our labor whilst watching the latest episode of Grey's Anatomy on DVR.  Those were the days…
Now we're knee-deep in picky eaters who turn up their noses at the most awesome stuff.  We offer them home made mac'n'cheese and they dubiously push it away saying, "No, Mommy, no mac'n'teese.  No like it."  (That would be Jack.)
A few things have helped me and Michael.  One is to plan our meals on the weekend for the upcoming week.  Even if we don't stick to the plan, we can at least modify it and know that we have ingredients in the fridge to make something. But we get stuck in ruts left and right, staring at the list of the days of the week as if we're grasping at straws.  We're bored in the cuisine department.
Last month, however, Real Simple magazine came out with an issue that really caught my eye.  The cover boasts "A Month of Easy Dinners" (October) and shows some lovely shrimp tacos with black beans.  You had me at shrimp…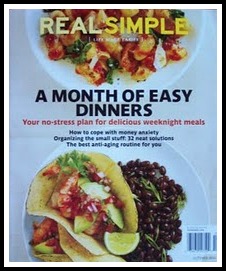 I was intrigued on many levels.  One is that even as a recipe-seeker I tend to stay in my comfort zone.  I do not wander from my box.  I think my box is pretty big, mind you- I like a variety of foods, and don't consider myself picky.  I will try anything aside from the obvious cow brain, etc.  But I do tend to look at recipes I've never tried before that don't sound amazing or delicious and I just skip them over.  I like the idea that Real Simple proposes- they give you a grocery list for everything you need for the week, and *pow* you head to the store once, get everything on the list, and you're set for the week with 5 easy dinners to make for your family.
There are lots of things listed that I have either never tried to make or have never cooked at all.  For example: beets.  I have no idea if I like roasted beets, but I'll be trying them soon.
So, next week I will let you know how Week 1 went.  Here's what we'll be eating for dinner:
Monday: Salmon with Gingery Green Beans and Bok Choy
Tuesday:  Tomato Soup with Roast Beef, Cheddar and Horseradish Panini
Wednesday: Pork Chops with Roasted Beets and Oranges
Thursday:  Chicken with Potatoes, Bacon and Cabbage
Friday:  Tortellini with Butternut Squash, Mushrooms and Fontina
You can read about other people trying RS's Month of Easy Dinners here.