I have a love/hate relationship with flat surfaces.  What would we do without them?  Surely everything would end up on the floor.  But because of them, there is clutter in my house and there are times when I seriously want to just open the trash can and sweep my arm across the length of our counters and swoosh it all away, even if there is a gift card lurking in there somewhere.
I'm sure you also have a love/hate relationship with something in your house, whether it's a room, a light fixture, a door, something.  Enter our shelf in the kitchen/eating area: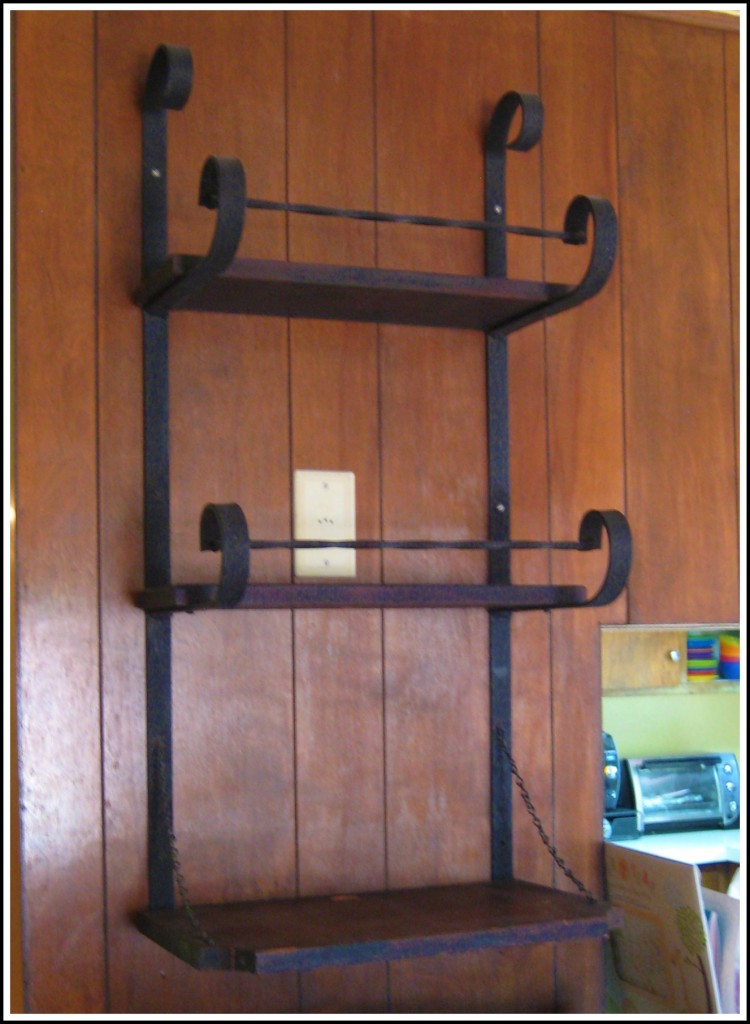 On the one hand, this thing is awesome because it stores much of Anna's everyday art supplies (soon all the kids will use them, but for now, Anna rules the art roost here), and is a great place to throw our keys, a box of tissue, and because it's where little hands can't reach, I can put things up there and know that they are safe for the moment.  On the other hand….. it's seriously fugly.  And tired.  And old.  Did I mention it was ugly?  Here's a closeup of the bottom shelf.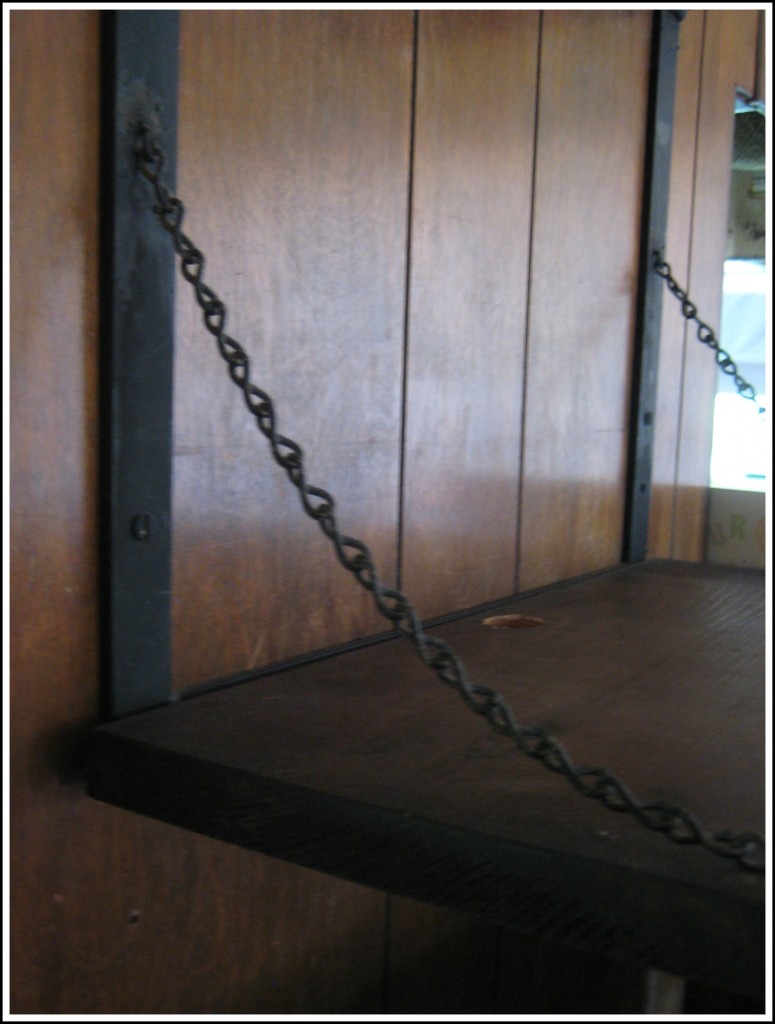 I spoke to my husband about it several times, and he mentioned that he was worried it wouldn't stay up if we took it down and put it back up.  For a while we were distracted with larger tasks with our house, so I just pondered what I would do, and finally the day arrived when I had to do something- I couldn't take it anymore.  So I took it down and disassembled it.  I told my husband that if it didn't go back up we could just hang some art in its place, and he agreed after seeing the look of desperation on my face.  Here's the finished product: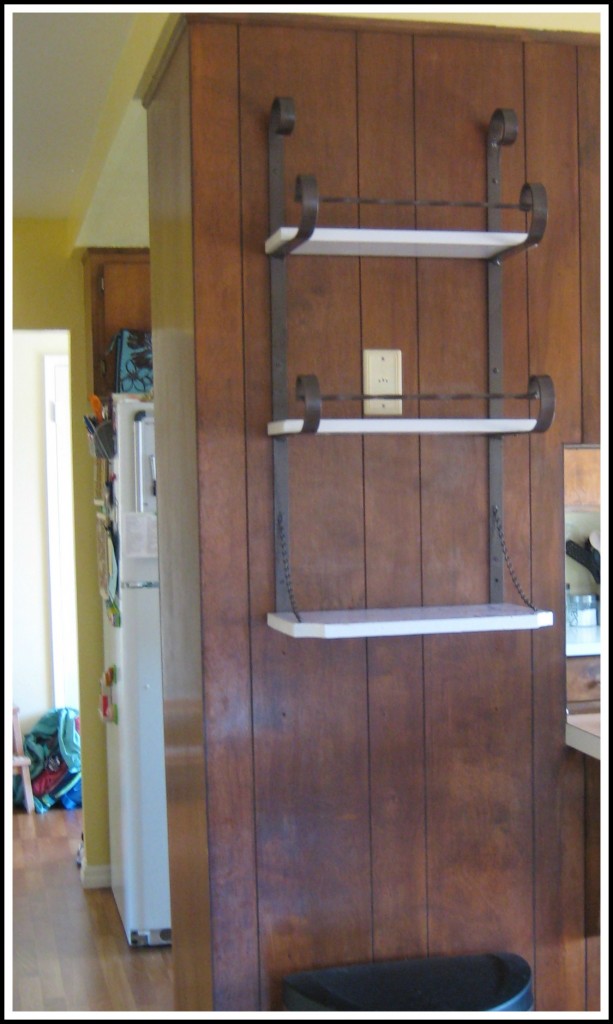 The metal frame I spray painted with this stuff: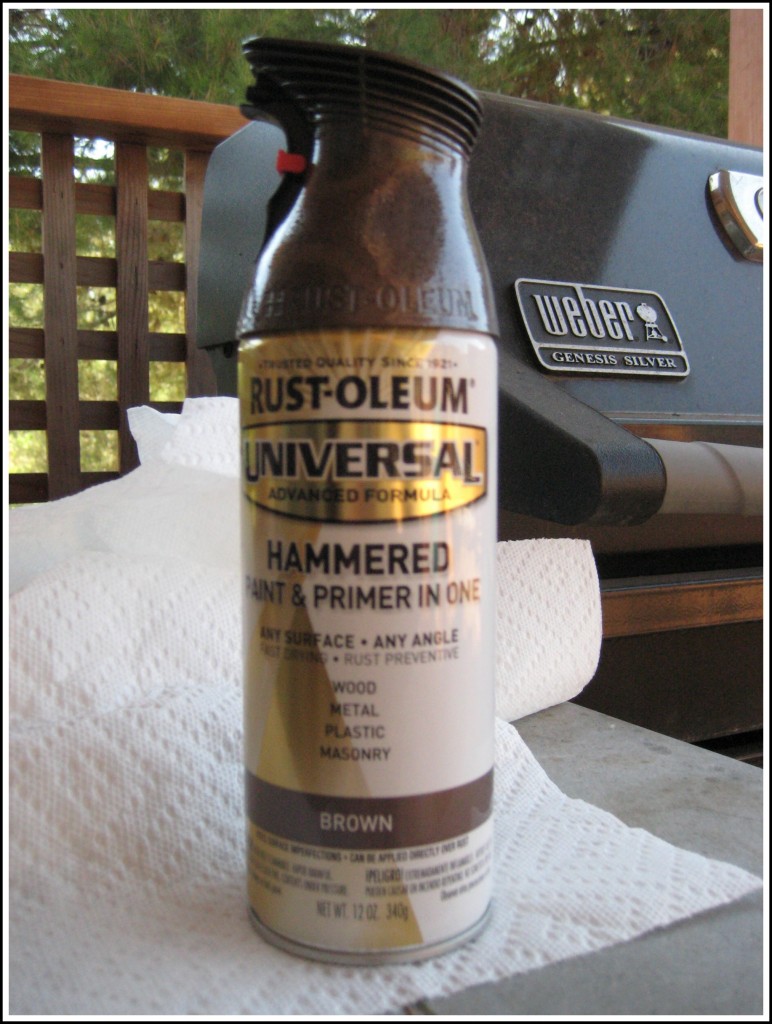 It worked really well- it really does look hammered, and now that the iron (?I think?) has a sheen to it it seems so much nicer.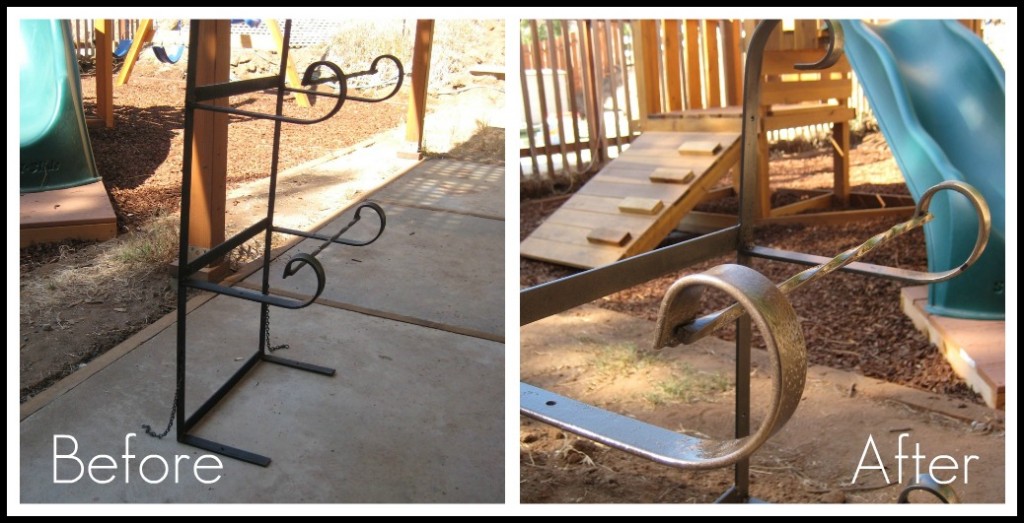 The shelves I spray painted white.  I was going to use go ol' 12×12 scrapbooking paper to cover it and give it some life, but the paper was too small, and I wanted a continuous pattern.  Then my little genius self remembered that I have a large format printer, so I scanned the paper I liked (I think from a stack of paper from Michael's) and printed it on an 11×17 piece of paper.  I trimmed it up and used, of course, Mod Podge, to seal it on.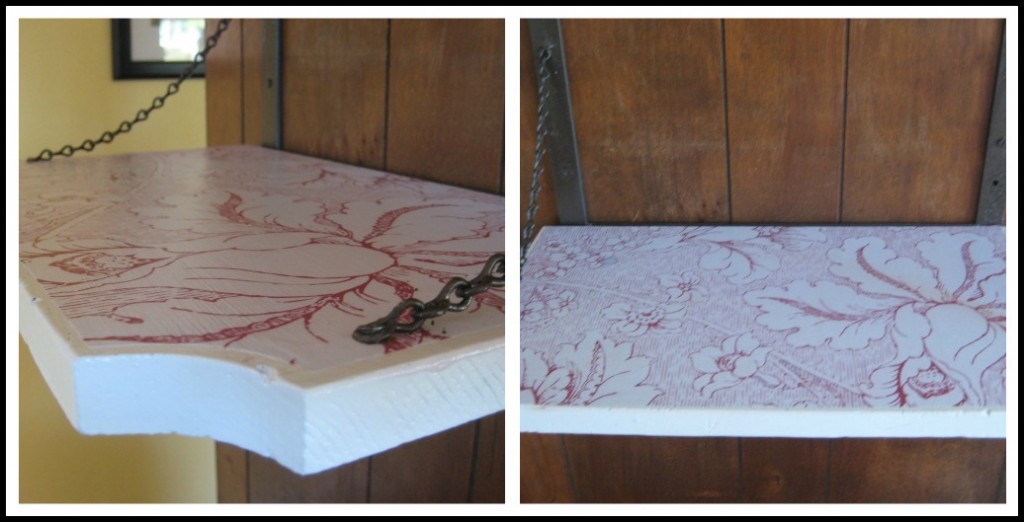 I ended up not really needing to do the top shelves because not very many people will be able to see them since they are so high, but oh well- they look nice even if only my 6'7″ brother-in-law can see them.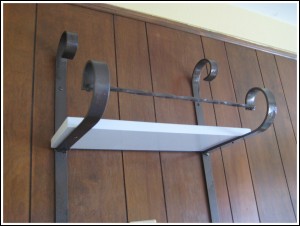 It looks so much better.  I don't love it, but I like it a lot more.  It will definitely go when we remodel our kitchen someday (oh, how I dream of demo-ing the wood paneling), but for now it's serving it's purpose and it's a lot cuter to look at.
Here's a side-by-side comparison: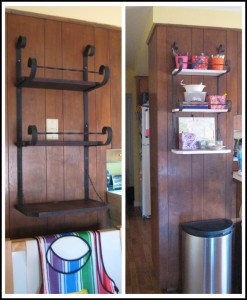 My parents are in town and we're having lots of fun.  I'm going to post more when I can- I just added lots to our laundry room- but we have to soak up the grandparent fun while we can!