We have a ranch-style house (I think).  It's all one level, which I love, and it has a loooooong hallway down the bedroom side.  We're talking 30+ feet.  Really long.
When we moved into this house, which my husband grew up in, we had tons of projects, so for quite a while this one sat by the wayside, waiting to be done.  I had lots of thoughts about how to hang pictures, but it wasn't until I saw this idea on Martha's website that I got my rear in gear and starting putting this together.
Here's the before, with just our small photo gallery that my mom gave me from Red Envelope.  (I actually need to email them because some of the frames aren't holding up…)  Many apologies for the lighting- there is very little natural light in this hallway.  We hope to put in skylights someday, but until then…

And here's the after:  voila!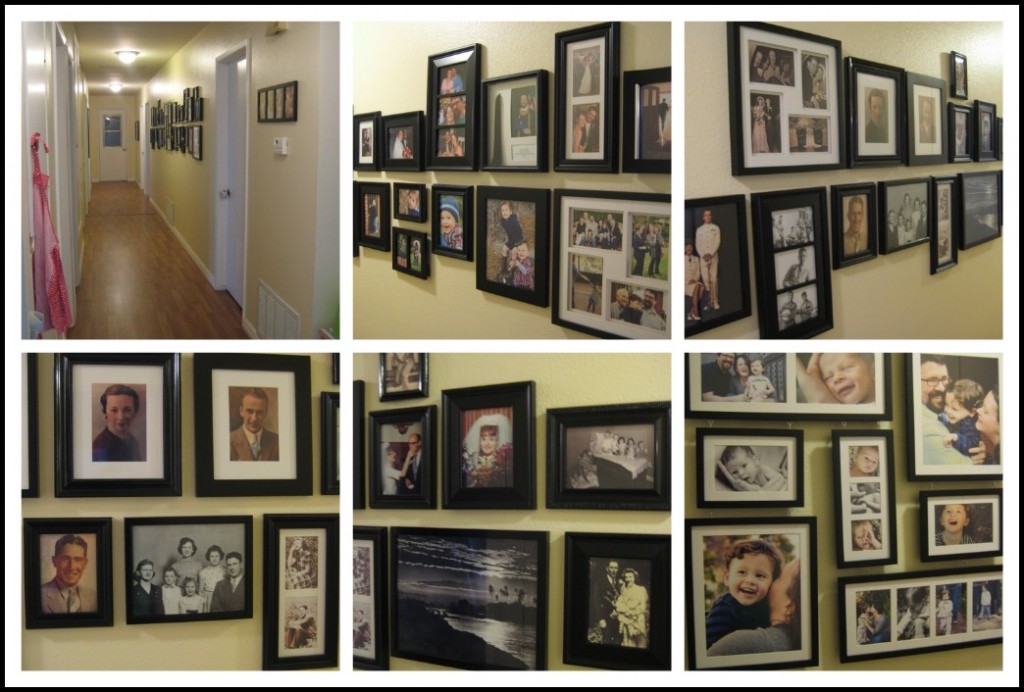 I really love the end result.  Here's a little bit about my process.
This was a very overwhelming task now that I look back and think about it.  Because of the layout I decided to do things in a way that felt a little bit backwards- I didn't even think about what pictures to use- I just collected frames.  I wanted the frames to be uniform in color, and most of them were black.  But we were definitely on a budget and I didn't want to buy frames unless I needed to, so I went through our huge collection of unused frames and pulled any that were black, or useable, but not black.  Then I spray-painted the ones that were not black.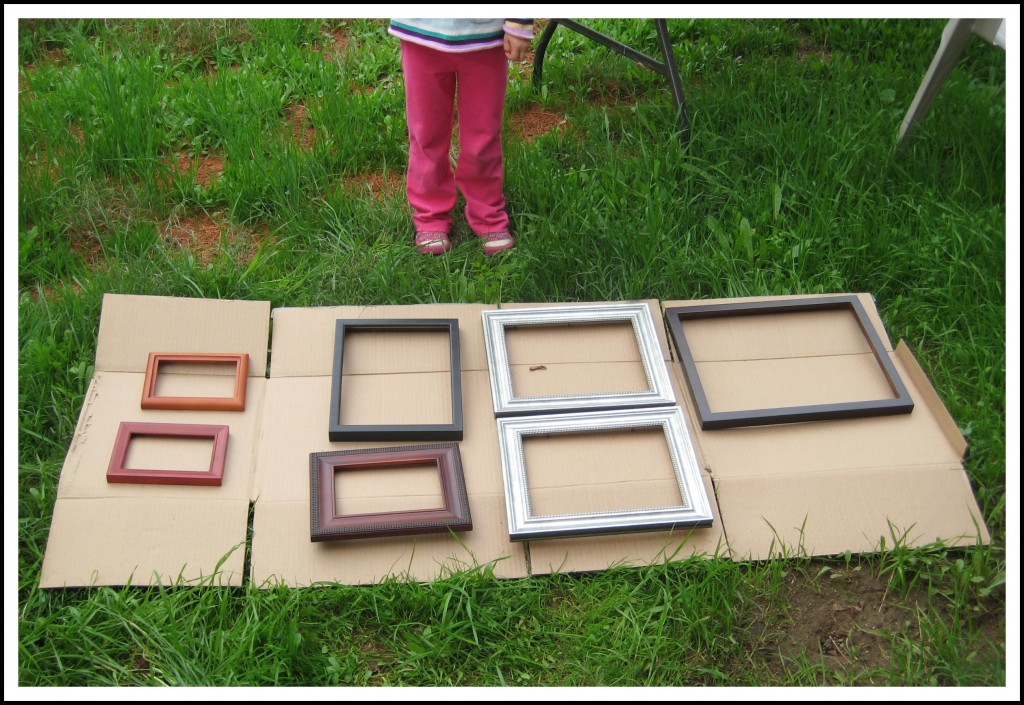 I did have to make a trip to get a few more- I chose to hit up Wal-Mart.  My theory on frames is that once they are on the wall, it doesn't matter if it was $3.00 or $30.00- it's a frame.  This was a good thing, because Wal-Mart has some cheap frames!
I followed the directions on Martha's website pretty much verbatim.  The one thing that I was very glad to have was the laser level with 3M Command Strips- that way I could easily make sure the dividing line was/is level.  Lots of painter's tape was involved as well.  Lots.
Once I had the frames ready, I taped off the dividing center line.  Then I grouped the frames into four groups so that I wouldn't have two identical frames right next to each other.  This made hanging go a bit faster because I didn't have to stop and think-  just measured, taped, nailed and hung.  It took several hours to do.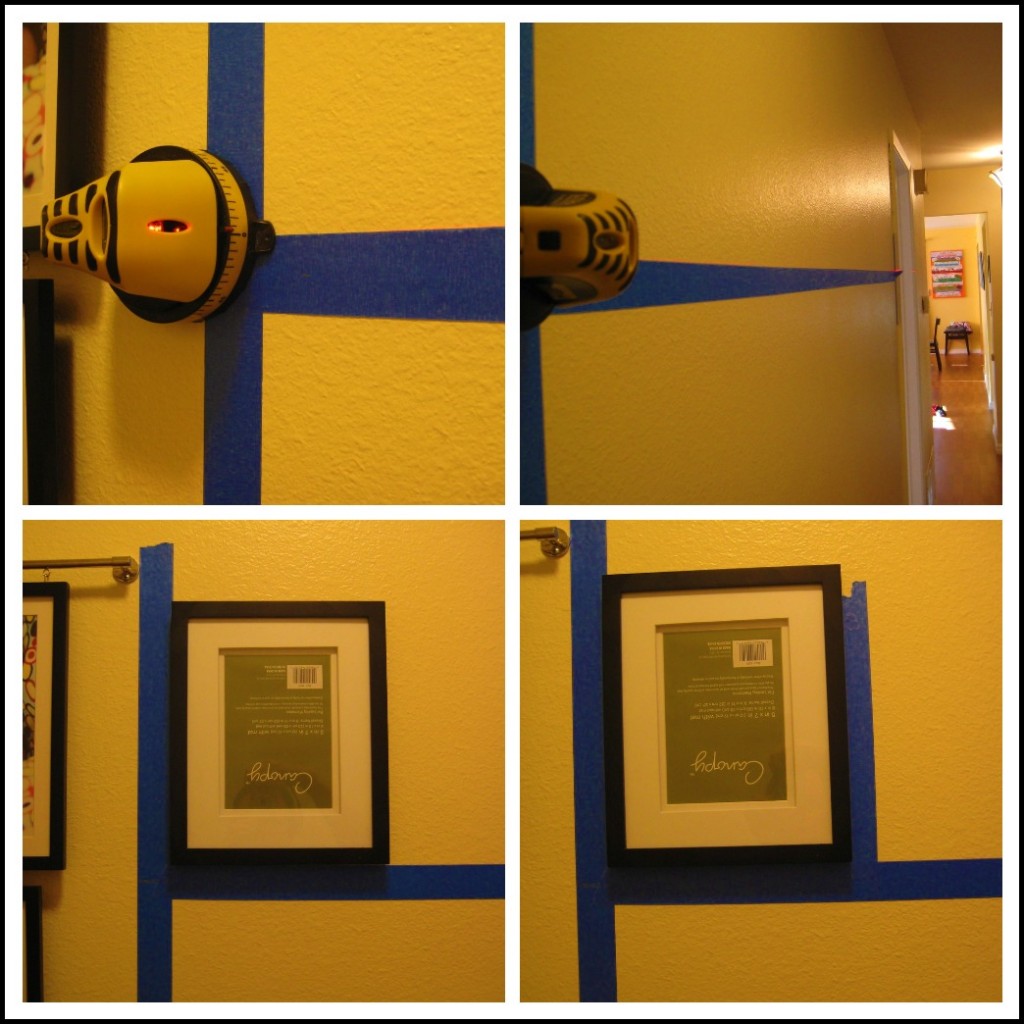 (horrible lighting- sorry!)
Once the frames were up it was time to think about pictures.  I didn't want them to be haphazard- I wanted each row to have it's own theme.  I came up with this formula (pardon the elementary-ish Photoshop skills):

Then I started a folder on my laptop and dumped photos into it whenever I had a chance.  I used Photoshop Elements to print a contact sheet with little thumbnails of the possible pictures, and I taped them onto the frames so I could go over them with Michael and we could decide.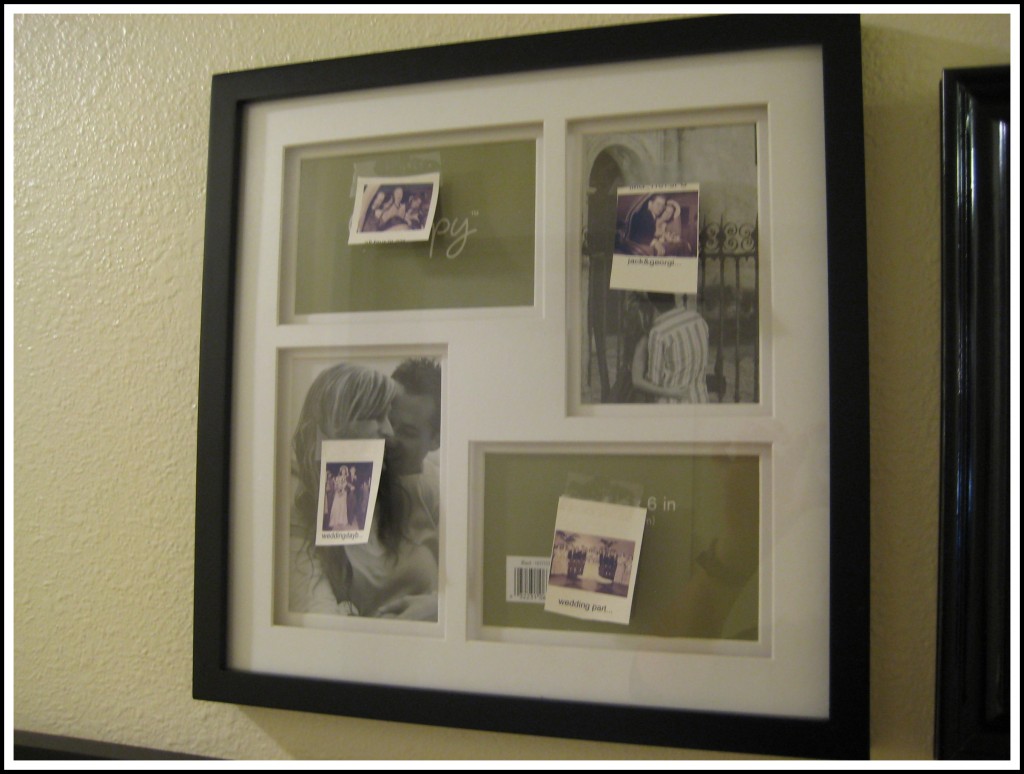 (our whole hallway looked like this for quite a while)
I had most of my family history pictures, but I had to coordinate with Michael's mother and father to get his side.  Once the last few pictures went in it was like our house was complete (in a few ways, at least).
Did I leave anything out?  Let me know if you have questions- this was so great for this super long hallway.  How do you like to hang your picture frames?