Whew!  I'm back!  I'm sure there are still several things to tweak on this new (and hopefully improved) site, but I need to get posting, wouldn't you say?
I completed this project months ago and am so happy to a) have made it, and b) never have to make it again.  Ever.
You may have seen in my post about our house that we have an office.  It looks much different than it used to because now it's a guest room AND my craft room AND an office.  While I didn't need the office desk anymore, I did need help with all of those sewing notions that pile up.  I hate digging for stuff.  Maybe it goes back to my lovely run-in with scabies in Italy (shall I post about that sometime?  You tell me….), or perhaps it's just that when I have to dig for something it's a reminder that I should be more organized in whatever area it is I'm digging in.  This project eliminated a lot of that.   I am also a huge fan of taking advantage of vertical space.  Hence: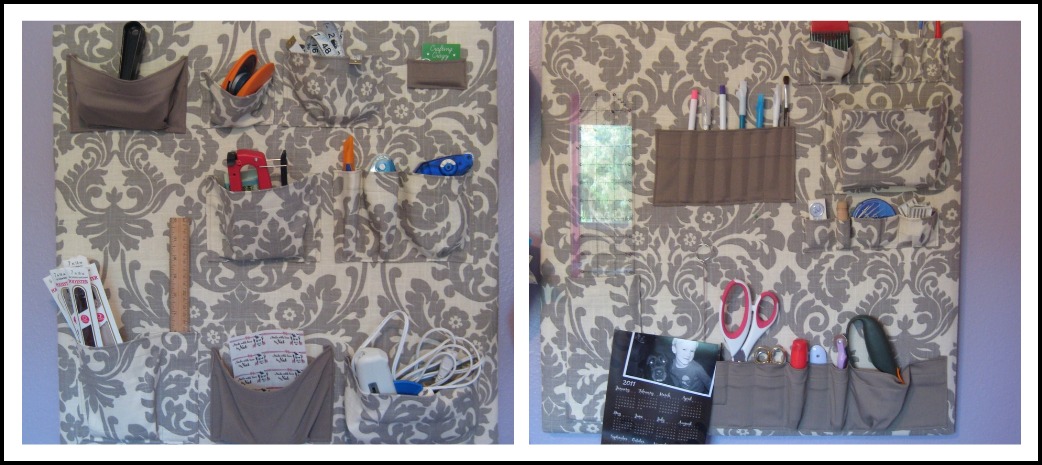 These sit above my sewing table, and they hold not only the things I use most when sewing, but also some crafting tools, as well.  And of course, it's all because of Martha….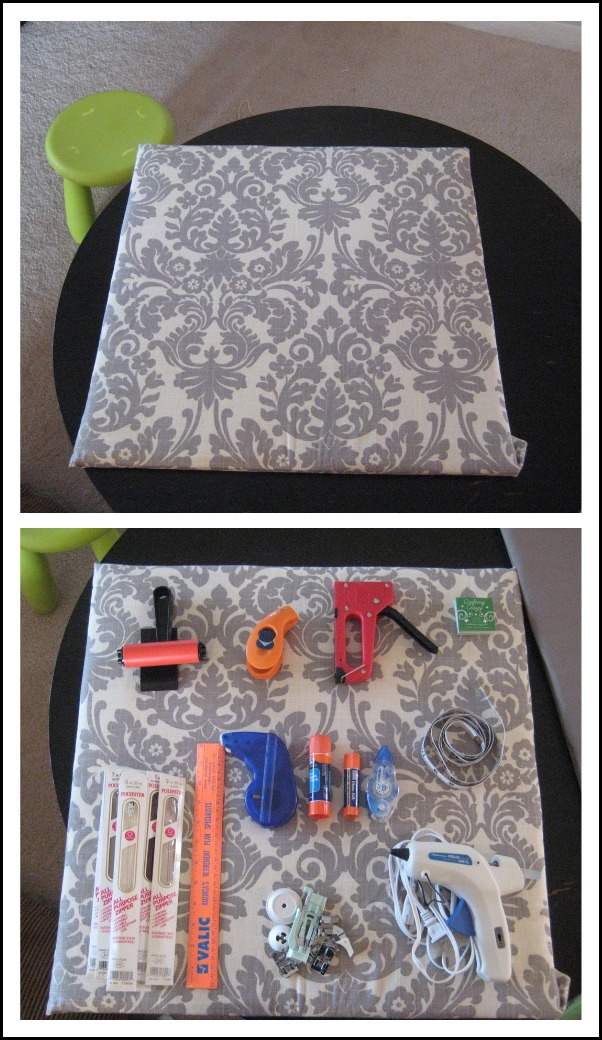 If you consult your Martha Stewart's Encyclopedia of Sewing and Fabric Crafts, you'll find this one on page 267. I apologize in advance for not taking great pictures- this was definitely in my "blog break" time and I was really doing this for myself.
I'll walk you through what I did and what I used- I used the instructions in the book as a guide, but really had to wing some of it.  As a result some of my pockets didn't turn out super swell, but that's okay- they work.  You'll see in photos below I actually made three of them, and the middle one has office supply things in it, which is nice.
In the book they suggest using homasote fiberboard.  When I went looking for homasote fiberboard I could not find it in a small enough size.  The one size I saw at Home Depot was big enough to warrant bungee cords on top of my car, and that felt a liiiiiittle over the top, so I opted for some plain pieces of wood.  The two squares are 24×24, and the middle one is 12×24. I then used some quilt batting and spray adhesive to give them a softer look.  I wrapped them up with the fabric and taped them in the back temporarily while I figured out what was going to go where.   Then I pulled everything that was driving me crazy and laid them out like you see here just above.  This took a long time.  I really wanted to get it right, so I debated for probably-excessive amounts of time making sure I could fit everything I wanted. I really took the photos of the layouts so that I could refer back to them while I was in the process- if you decide to make one or more of these I highly recommend it!
The most time-consuming part, however, was cutting the fabric for the actual pockets.  The book gives you a formula for adding length and/or height depending on the pocket you want to make, so I followed that and for the most part it worked out just fine.   What was challenging was keeping them all straight so that I didn't a) get them mixed up and b) remembered where they were supposed to go.  You also have to press them and sew the tops over so that they look nice (who'd-a-thunk- Martha wants something to look…nice?).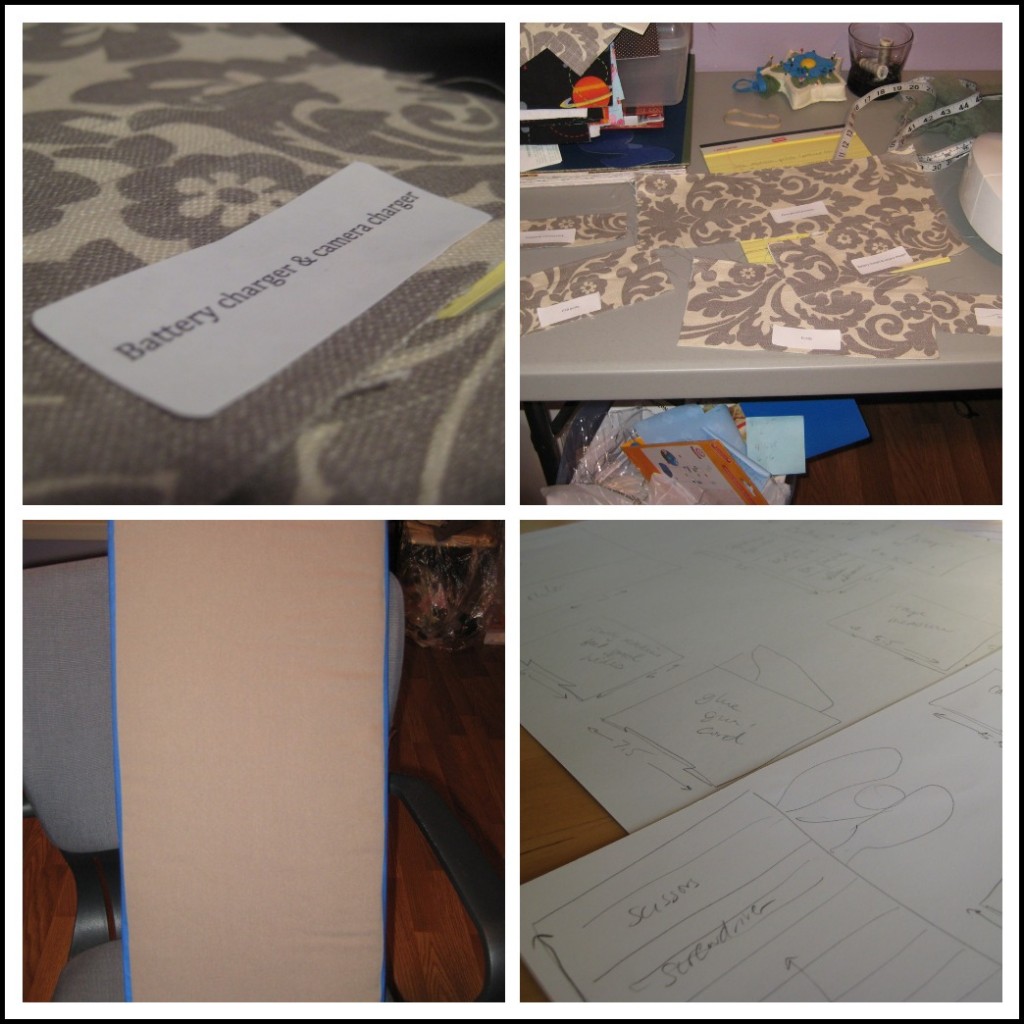 Here is a collage of some of the process.  You can see that I ended up using some office labels to keep everything organized.  This worked nicely because they stuck nicely to the fabric without ruining it, so once I had the pocket in place and ready to go, I could toss the label and it was like checking off an item on a to-do list.  Done!
The bottom left photos shows the middle panel I made for office supplies- and you can kind of see that I taped a border around the edge.  I did this to help myself remember where the edge of the wood would end up being- sort of helped me keep everything level, I guess.  And the bottom right is just a sketch of each board so I could write down measurements, placement, etc.
Once I had the pockets sewn on I stapled them to the wood on the back with a staple gun about 8 million times.  My husband helped me place the hanging wires on the back and, since we used wood which is much heavier than the fiberboard, we made sure to hang them on studs in the wall so that they wouldn't fall off eventually (crossed fingers).  Here are a few more pictures of the final product as it looks in my office: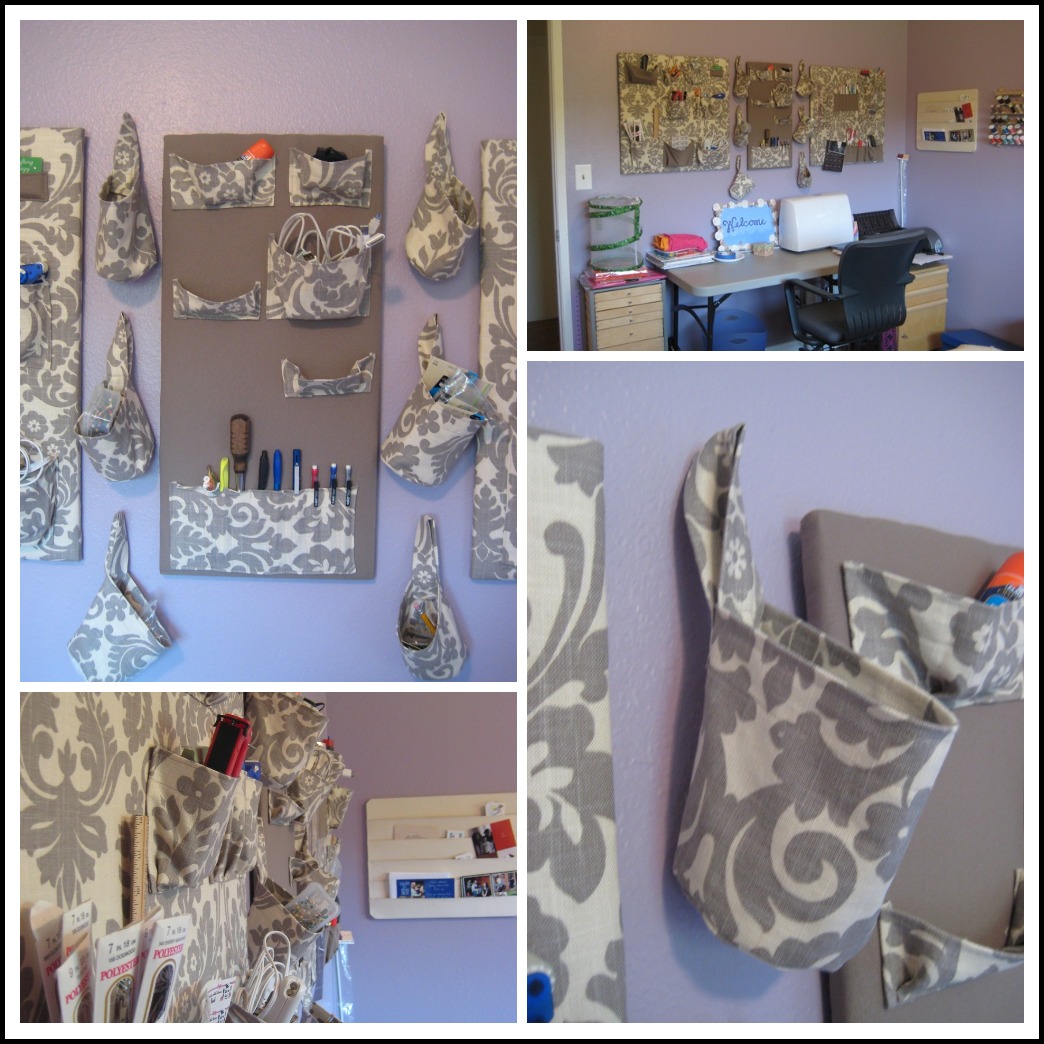 It's hard to tell in these photos but my office is still a dusty lavender- quite similar, actually, to my new background color on this blog.  I love it.  And the gray of the fabric and the print really looks nice.  You can also see that I made some little cups to hang- it looked sort of empty in between and I had a ton of fabric left over, so I made six little hanging….cups(?) to put things like buttons, pins and safety pins in.
How do you organize your sewing notions?  If you decide to make something like this, give yourself plenty of time and don't rush.  I didn't rush this one and I still made a few mistakes, but I still love the final product.  My pockets don't look nearly as perfect as the stuff in Martha's book, but it's so very nice to have this stuff right in front of me whenever I need it.   If you have a question, if I left something out, please leave a comment!  I'm going to link up to some link parties, too, as soon as I get a chance!  And if you're all the way down here at the bottom, thanks for reading this far!
I linked up to: