Cancer sucks.  Cancer can bite me.  For reals.
(If you'd like, feel free to scroll to the bottom to see pictures- I got lots to say.)

I've been debating about whether or not to post about this project because it's a bit personal for someone, and the someone isn't me.   But the thought of not sharing this doesn't sit well with me either, so I'm going to post in hopes that my project might help other people dealing with the same thing, and that they will be able to copy my project in their own way.
A friend of mine was diagnosed with cancer in the last few weeks.  It's an aggressive form of cancer, one that requires immediate surgery and treatment.  This friend is about my age- mid-30-something.  A beautiful family, a beautiful life, a beautiful woman.  And lo and behold, here comes the big C word to throw everything to a screeching halt.  To protect her privacy and her family's, I won't mention how I know this woman or her name- it's really her story.  But I was still totally thrown by her diagnosis, perhaps because it really hit home that cancer doesn't give a flying flip if you're 4, 14, 40, or any age.  And because of that, cancer can kiss my ass.
After my friend was diagnosed I found myself in a place that I bet a lot of people have been: "What do I do?  What do I say?  How can I possibly make this better when it sucks so completely?"  I literally could not sleep the day I found out, even though I hadn't spoken to this friend since earlier in the summer.  For a while I tossed in bed that night, and then as this idea came to me, the hairs on my neck stood up, and chills went from my shoulders down to my wrists.  I had a plan.
My apologies for not taking many pictures as I went, but as I made these canvases I also had family in town (my parents) and we had already planned a weekend trip amidst me trying to collect materials.  I was lucky to finish it in time for it to be with her when she comes out of surgery (hopefully) and is recovering.
I wanted my friend to know how many people were supporting her.  I sent out messages for all to write words- personal messages, inspirational quotes, whatever they felt comfortable with.  I collected all of these messages and then typed them up in various fonts that seemed to fit.  I had a lot of fun in Photoshop and learned a lot along the way.
I ended up needing 3 canvases.  I wanted the center one to stand out, so I searched online for a graphic design of a heart.  Then I painted my own simplified version using the colors I had chosen.  I outlined a heart on the canvas and then painted around it.  Then I filled in with white.  These are acrylic paints that I used.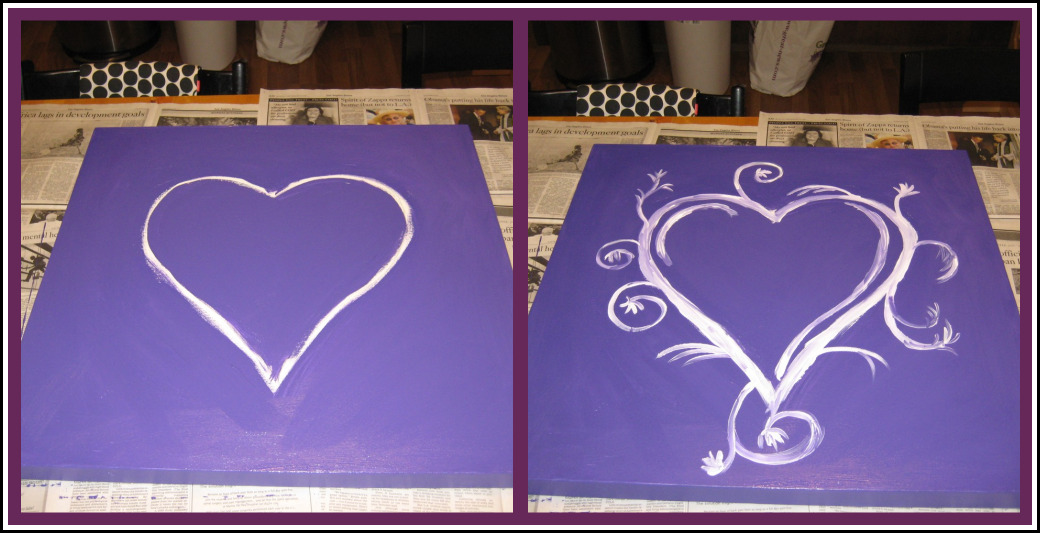 (many apologies for the quality- some of these were taken at night)
I painted the other two canvases a teal color.   After they dried overnight I took the messages that I had already printed in various fonts and colors of paper and started to fit them all together like a puzzle.  I am only showing shots of the three complete canvases and up close shots of the quotes that turned out well.  I tried to keep the personal messages on the pastels and the single words and quotes on grays, with a little variation.  Below are some shots of the final product(s):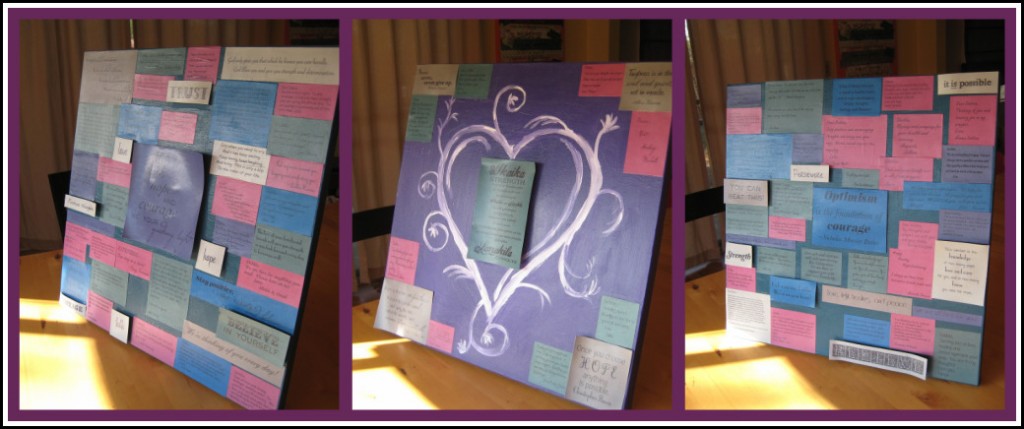 I used foam squares to give them some dimension, lifting some pieces above others.  This proved helpful with fitting things together- sometimes I need to tuck things underneath others, but I didn't want anyone's message to be blocked..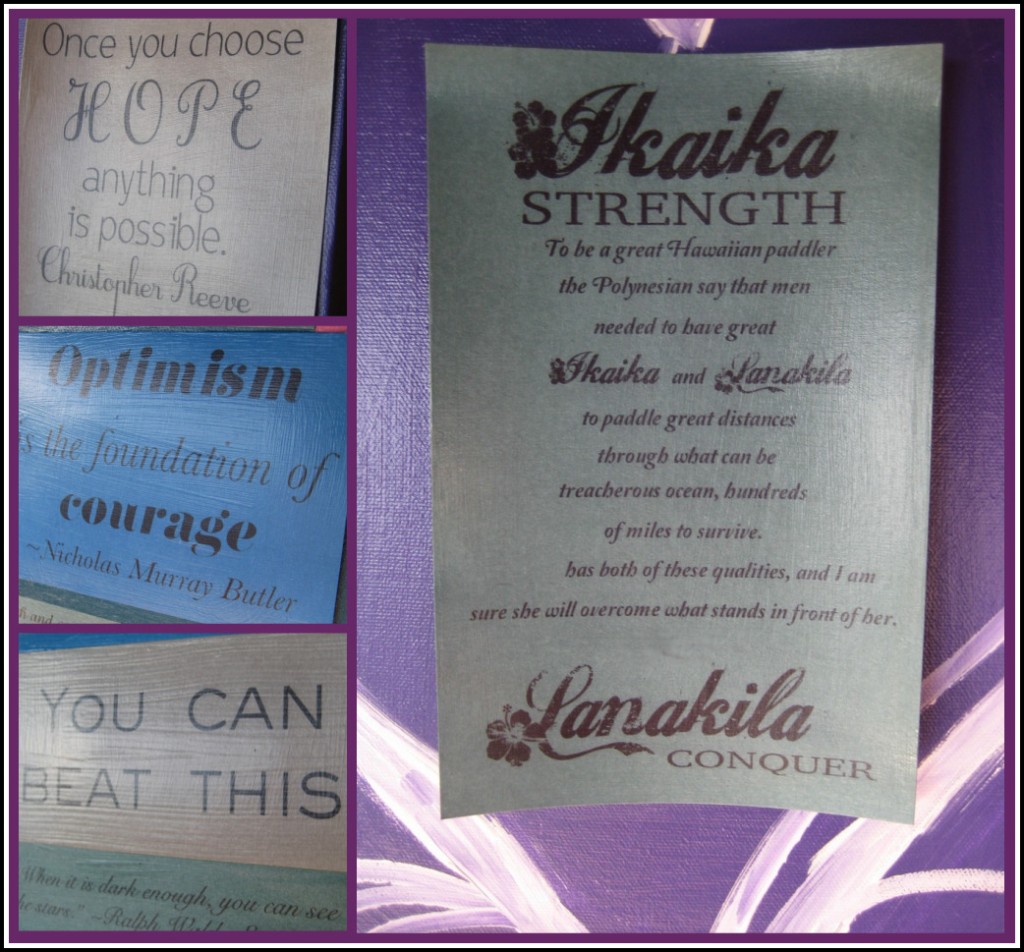 A friend wrote the verse on the right in this one (above).  Ikaika & Lanakila are two Polynesian words for "strength" and "conquer."  I loved what this friend wrote and made it the center piece of the center canvas.  I think if I were fighting this fight I would want to be reminded of those two words often.

I love all of these fonts.  I'm a font addict.  I've been getting my fonts at dafont.com.
I made sure to use Mod Podge Paper so that the paper is preserved, and then I finished with Mod Podge Matte.  The paper elevated on the foam squares did curl a bit- perhaps I should have mounted the raised pieces on wood or something, but I actually ended up liking the way it turned out.
My hope is that if anyone you know is diagnosed with anything horrible- cancer or otherwise- that you might be inspired to make something for them.  I know that my friend will appreciate this, and I hope that in a couple of years, when she has kicked cancer's ass that she can still look at these and remember that she wasn't fighting alone- she had lots and lots of people fighting with her.