I'm such a nerd.  I love it when things are organized.  It makes me feel calm and like I might know what I'm doing in at least one venue of my life.
When we first got married, Michael and I bought a super-tiny condo near downtown San Diego.  It was 1,000 square feet + a garage + a tiny storage unit.  No patio, no outdoor area for a grill- nada.  Our kitchen was neat, but not huge, and I wanted to keep our spices out of the cupboards.  I found these containers at the Container Store and in the spices went.  Even though that was our first place, and we are currently on our third, we still use these spice containers.  I love having easy, fast access when I'm cooking, without hunting and pecking for common spices.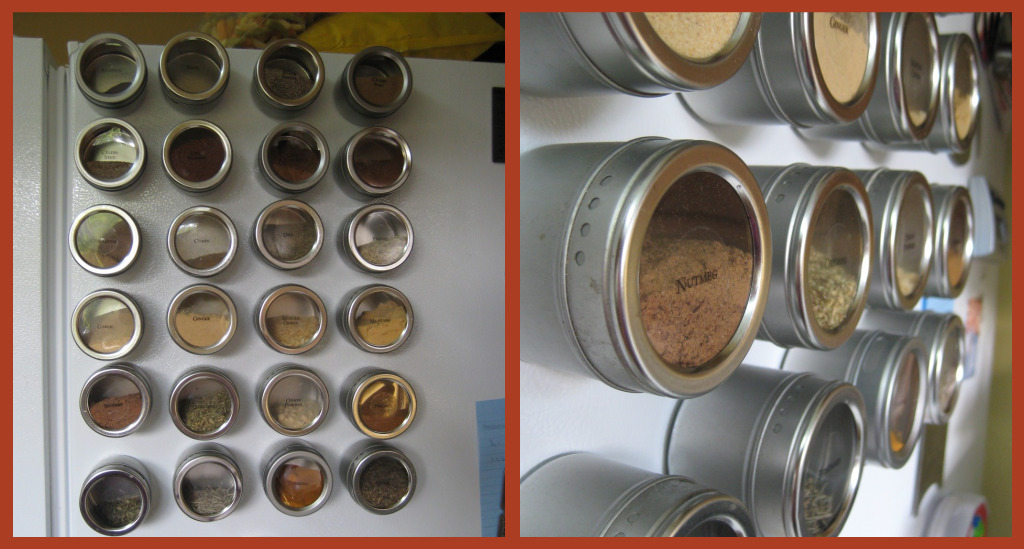 Originally I handwrote in permanent marker the names of the spices.  However, at a recent visit to the Container Store I saw that they make nice stickers for them, so I redid them and am again in spice-organization-heaven.  By the way, do you know how to erase permanent marker from plastic? All you have to do is color over it with a dry-erase marker and then rub it off with a paper towel- it all comes off.  I had to do it a few times, but it totally worked.  Love it!

We are going to be remodeling our kitchen in the next year or two, and I plan on still keeping our spices out.  I love the colors, the names, and the access.  We may put them on a backsplash instead of the fridge, but they will be out in the kitchen with us somewhere.
How do you organize your spices?   I love seeing how people cook and what they do in their kitchens.  If you do something with yours, please post a link with your comments- I'd love to see!