I've been eyeing the six-pack beer containers for a while.  Not just for the delicious containers of summertime bliss, but for their revamp possibilities.  Last week I did a huge cleanup in my office- reorganized everything and made my creating space much more useable and functional.  Someday I'll have a space like this or this, but that's a long way off- right now I'm just happy to have a table and a closet.
When I was done I decided to get to work on the possibilities of this here beer container.  (Keep your beer preferences to yourself.  And if you haven't tried this kind, give it a whirl- I love it.)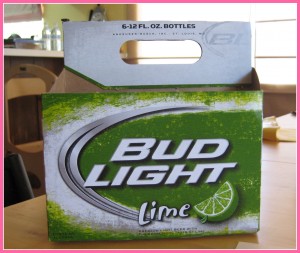 Here's what you need if you'd like to repurpose your beer container.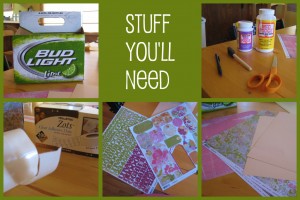 Beer container or anything else that holds cans/bottles
Mod Podge (of course- it's my new BFF apparently) and applicator (I like sponge brushes)  (I have MP Hardcoat pictured- was thinking of using it and decided not to)
pencil or marker for tracing
Scissors (I've only pictured my big pair, but I ended up using a small pair for the handles)
Paper that you love, love, love and have been afraid to use for something because it's just so nice.  Use it.  What's the point in it sitting there?  There will always be more paper somewhere that you love.
Any other cool, crazy accoutrements you'd like to add (stickers, letters, borders, zots, tags, etc.)
Something to cover your worksurface.  Come on, we're using MP people.
Steps to take:
Drink the beer (sorry, had to say it)
Decide how you want to use the paper- what's going to go on the front, back, sides, etc.  I did not do this and ended up having to change things up.  It still looks fine, but I was momentarily bummed.
Trace the different sides of your container on the paper and cut out.  You don't have to be too precise- the parts that show on mine are hardly noticeable, and it just adds to the character.  I've had this paper on the left for years- I think, actually, for about 10 years.  I always thought I'd use it to write a letter or something, but never happened.   I just love her face and her arms.  I couldn't bear to throw it away.  When I found it during my office reorganization I knew it had to be part of this- this way I can see her every day.  Love it.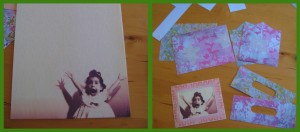 Mod Podge it up.  I painted the MP on the container first, smoothed the paper on top and then let it dry.  Then I came back to it 15 minutes later or so and painted the paper with MP.
Add your "extras."  I framed the girl in a frame I had that happened to look good with what I had.  Then I used 3-D Zots to lift her up a bit from the box- nice layered look, I think.  Here's my finished product- I. Love. It.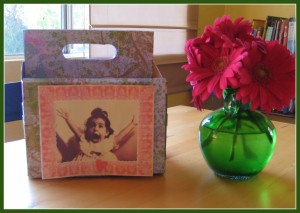 Oh, but that's just one side.  Here's the rest, and a shot of it on top of my shelf.  The other side says, "Get your craft on!"  The two small sides say "create" and "love."  I was going to do "create" and "inspire" but I ran out of R stickers.  Oh well.  Love is always a good thing, I say.  I'm using it to hold my (what else?) Mod Podge, acrylic sealer and brushes.  The slots are just a bit smaller than a large jar of MP, but since the cardboard is flexible it's all good.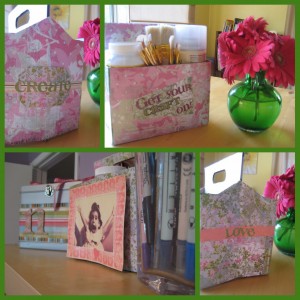 And now, here's my little freebie for today: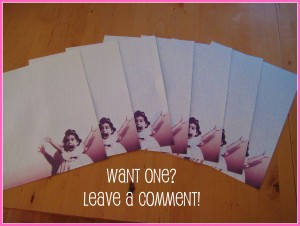 I have 7 more pieces of this little lady.  Would you like to use her?  I'd love to send you a sheet- it's just 8.5×11 paper, not thick at all.  My only condition is that when you make something with her you link up to this post and let me know what you do with her.  'M-kay?  Pictures would be awesome.  So, since I have 7 pieces, the first 7 peeps to post a comment will get her in the mail.  Make sure I can find you, either leave your email with the comment (not in the comment- in the box) or make sure your contact info is current on your blog.  That way I can get your address.  If you don't want the paper but still like what I did, feel free to still leave a comment- I love to see what people think.
I am linking up to It's a Blog Party,  C.R.A.F.T., and  Making the World Cuter.  Yee haw!
p.s.  I apologize for my excessive use of parenthesis.  (I can't control myself.)