I hate ironing.  No really.  I hate it.  I know of some people who love certain household tasks (my mom and my brother-in-law love to vacuum).  I have yet to find one that I look forward to. That being said, I love a product that makes any household task easier or better or faster.  This one that I have found does all of these things.  I love it.
We are blessed with a laundry room in our house, which is great.  Not having laundry in the garage seems to be an anomaly here in SoCal, so I was really pleased to know I would have a designated space for laundry and a place to keep chemicals and other things up high.  However, our laundry room is pretty narrow, and an standard, run-of-the-mill ironing board would not work.  I didn't want to use our guest room or another room for ironing because I'd never take it down, so we'd always have piles of fabric and clothes needing to be ironed, and one more thing to do.  Up to this point I've been either a) avoiding ironing all together or b) using our old, over-the-door ironing board.  It's loud- when I take it down it's creaky, and when I iron it's creaky.  The board itself is too small, too.
I wasn't exactly in search of anything, but then I was looking through Improvements catalog and found this.  (Improvements is one of those catalogs that you never know what you'll find when it shows up.  Lots of great things for your house, and then as you're flipping through it they spring things on you like the "health and intimacy" pages- oh my.)
I love this thing.  It's the answer to my ironing prayers.
Here's my dryer before: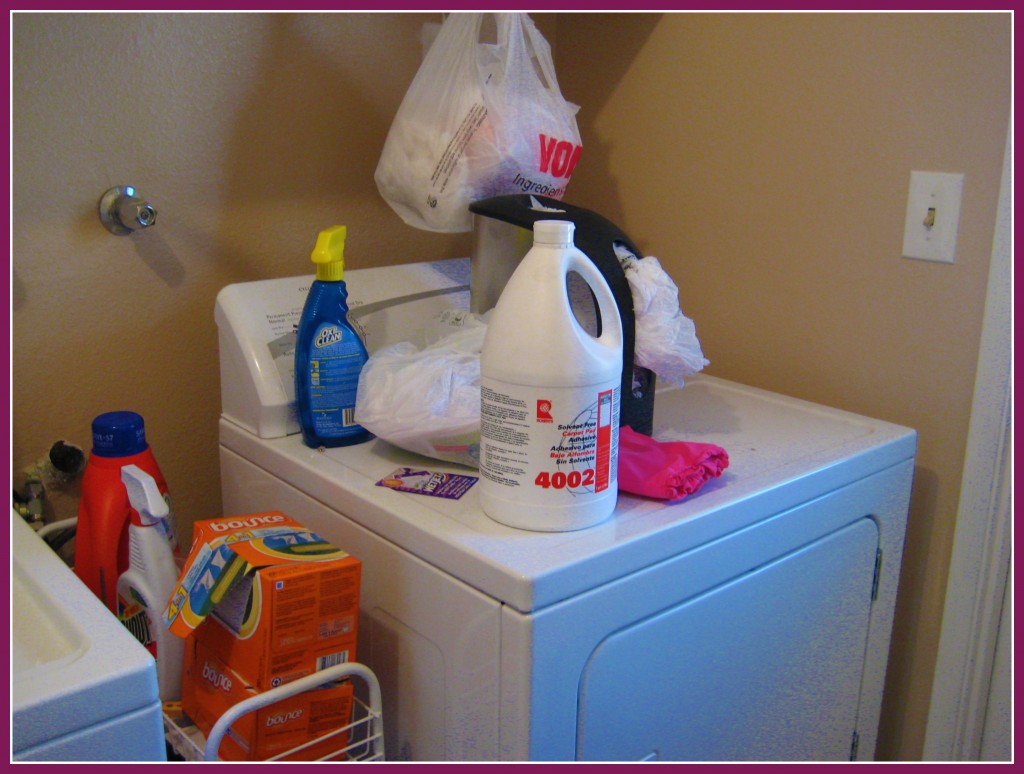 And here it as after- this was a great "forced organization" for me- I reassigned some things in about 10 minutes to make way for the pad (okay, and I also finally put away the carpet adhesive).  Now the dryer is always clear.  Love it!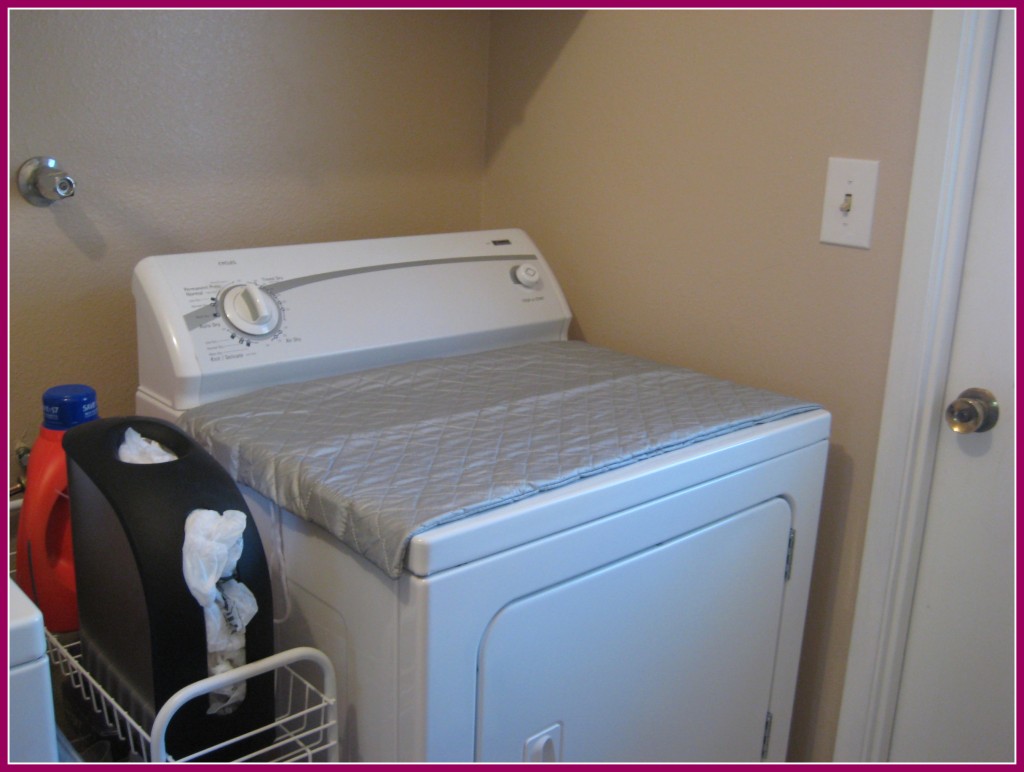 What I love it for best is pressing/ironing fabric that is ready to be sewn into something.  I throw all the fabric behind the dryer and pull it forward as I'm ironing, like this:
(Sorry about these photos- they were taken at night.)
It's great.  I have to shift it to the left or right as I go, but I still get ironing done so much faster, and having nothing to pull out or set up makes it so great.  I wouldn't say I love ironing now, but I'm enjoying it much more than I used to because of this thing.
So far it's held up great.  The only place I've noticed with any wear and tear is when I ironed some very small parts of sewing projects to press them, the area around it did show some heat damage.  Also, when it comes it reeks of plastic, so if you're sensitive to smell you may want to open it outside and let it air out before bringing it inside.  Last possible negative is that it covers the lint filter on my dryer, so I have to remember to clean it.  If you have a fancy dryer like the one I dream of I'm not sure where the filter is, so it might not be an issue for you.
I think for $13 you can't beat this thing.  I'm wondering if one could make one on their own with more fun prints or something.  Maybe I'll add that to my list…
Happy Weekend!