I'm working on this whole "having your house rise up to meet you."  Yeah, I know.  I'm a Martha fan and an Oprah fan.  Big time.  So sue me.
I'm also in the process of revamping our front door… area.  Stoop?  Threshold?  Doorstep?  You know- where people arrive.  More to come about that, but this whole revamp got me to thinking that aside from all the plants we have, there isn't really anything to welcome people to our house.  I've seen little welcome signs around in stores, but none of them have the flair or look that I want.  I want them to be just the right size, not too big, not too small.  I don't want them to be boring, but I don't want them to be too busy because no one wants to be distracted while walking into someone's house (especially me- I'm accident prone).
So I set to work.  Have you seen JSIM?  If not, get your booty over there- Cathe gives you free stuff all. the. time.  I recently downloaded some alphabets from Cathe  here and chose one to use for my sign (Cathe- you rock!).  I don't own a Cricut or a Silhouette (someday?), so it was either print something on the printer or make it myself.  I was feeling artsy and techy, so I opened up Photoshop and put together "Welcome" from my favorite alphabet that Cathe gave me, and printed it out on a plain piece of 12×12 piece of paper to create a sort of mock stencil.  This did not look "pretty" when it printed- since it was a stencil it was just a functional thing.  You'll see it below in the pictures.
Here are the other supplies you need (see list below the collage):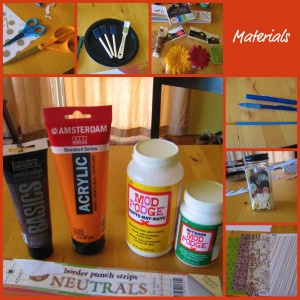 Canvas or other crafty surface to put everything on (picture frame? bottom of a box?  endless possibilities)
pencil & permanent marker; also a good eraser if you are sloppy like me
paint brush with a thin tip
Brushes and applicators for your Mod Podge and paint
Mod Podge (if your sign will go outside you'll want some Outdoor MP)
Acrylic Paint in color(s) of your choosing
Paper flowers (mine are by Bazzill Basics)
buttons for flower centers (doesn't matter what color they are- they will get covered up)
coordinating scrap/craft paper (take the easy route- I chose two that were already paired together)
any other scrappy/crafty things you'd like to use.
paper plates for Mod Podging
newspaper for covering your work surface
scissors- I used two kinds (see photos) a basic pair and a small, extra-sharp pair for the detail work in the frame I cut out
Clear Acrylic Spray- something to coat the finished product
Steps:
Paint the canvas a color you like.  Paint most of it, but you don't have to paint the very center.  (I had orange and brown left over from this and this, so I mixed them up to get a nice fall orange going.)  Set aside to dry.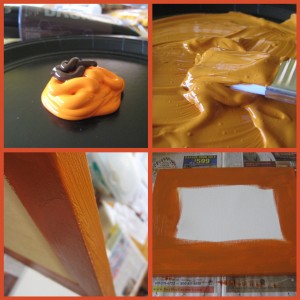 Mod Podge the top of your flowers, being careful not to MP them to whatever they are sitting on.  I really just did this to stiffen them up a bit in case the humidity gets to them over time.

Cut your background paper to the size you want.  Since my canvas was 11×14, I trimmed mine to about 10×12 (I think).
Choose a shape for your Welcome paper.  I was going to do an oval, but then while in Photoshop saw this oval frame and liked it better.  I printed the frame on my Welcome paper and cut it out.  The frame wasn't as dark as I wanted because of the pattern on the paper, so I went over it again with a dark brown marker.  You could also just trace a shape you like, or draw one freehand, but I'm not that symmetrical in my drawing.

I turned the Welcome that I printed out from JSIM into a sort of pseudo-stencil.  I trimmed it up and traced parts of it on the paper, and then connected the dots.

Then I went over it in an archival pen, and then I painted it with paint so that it would look more handmade/crafty.  Here you can see I'm halfway done with the paint.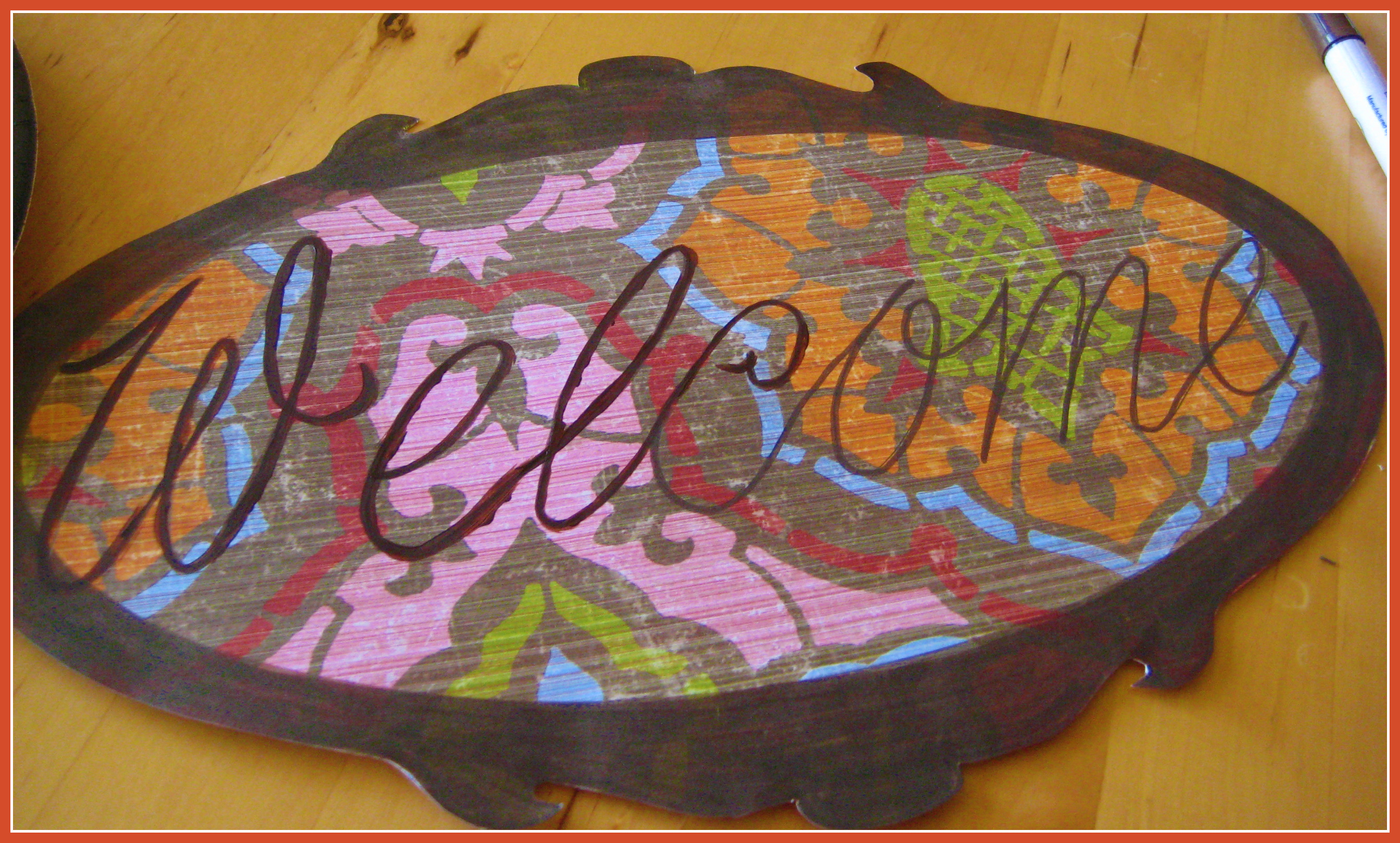 Get out your Mod Podge!  I used two types here- basic Matte MP for the first stuff, and then Outdoor MP for the last layer.  I did the two papers, background and Welcome, just on the back first, and then let them dry for about 30 minutes or so.  Before they set I went over them with a ruler to make sure there were no bubbles.  Then I came back and did the top of the paper.
Flowers:  I placed the flowers on with MP. Then I covered buttons with the same papers and MP'd them to the flowers.  This was all very messy, which is fun or awful depending on your level of  mess tolerance.  Since my children were not present, I loved it.  Had they been present, I probably would have received 5 phone calls and had to settle 3 tantrums.  Instead, I ModPodged in silent bliss.  It was great.
After all of that dried, I did the layer of Outdoor Mod Podge.  Note:  Outdoor Mod Podge is THICK stuff.  Work carefully and slowly.  Spread out what you have before glopping on more- especially with the flowers.
After all of that dried, I sprayed the whole thing with some clear acrylic spray (outside) and let it dry overnight.  Add a couple of hangers and some lovely brown ribbon and voila!  A welcome sign!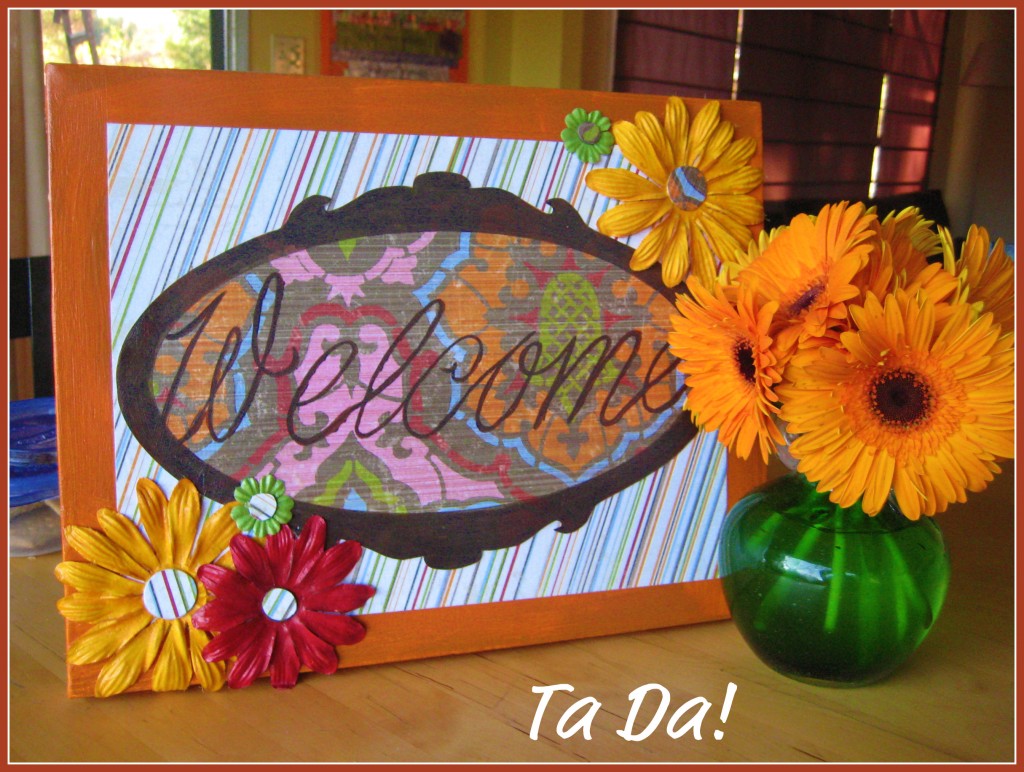 Here is what it looks like hanging on the wall.  I don't think the ribbon will stay this long, but I just wanted to see it hanging to give you an idea of what it looks like because…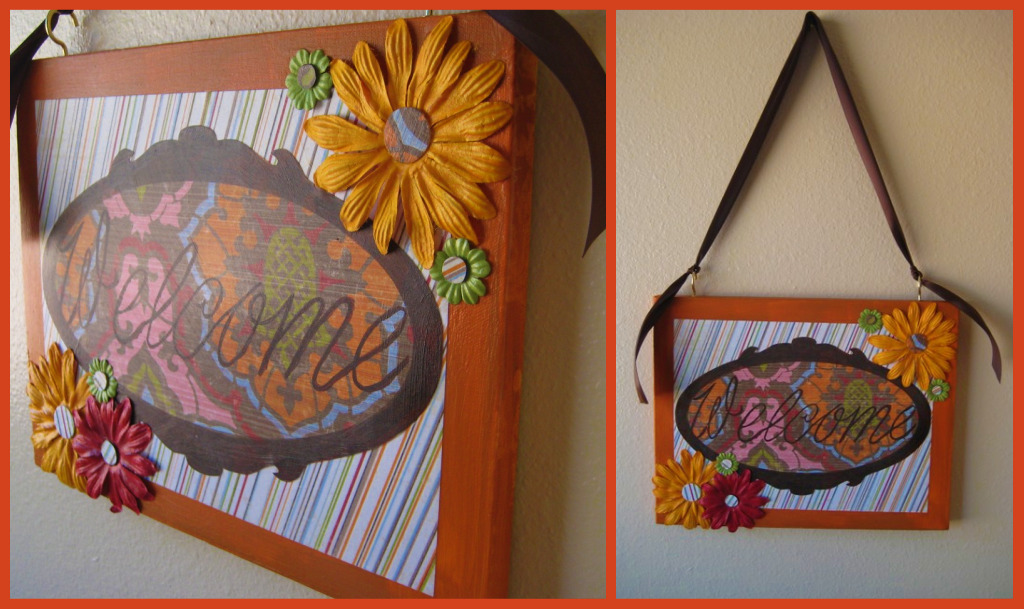 Giveaway Alert!
Here comes my surprise….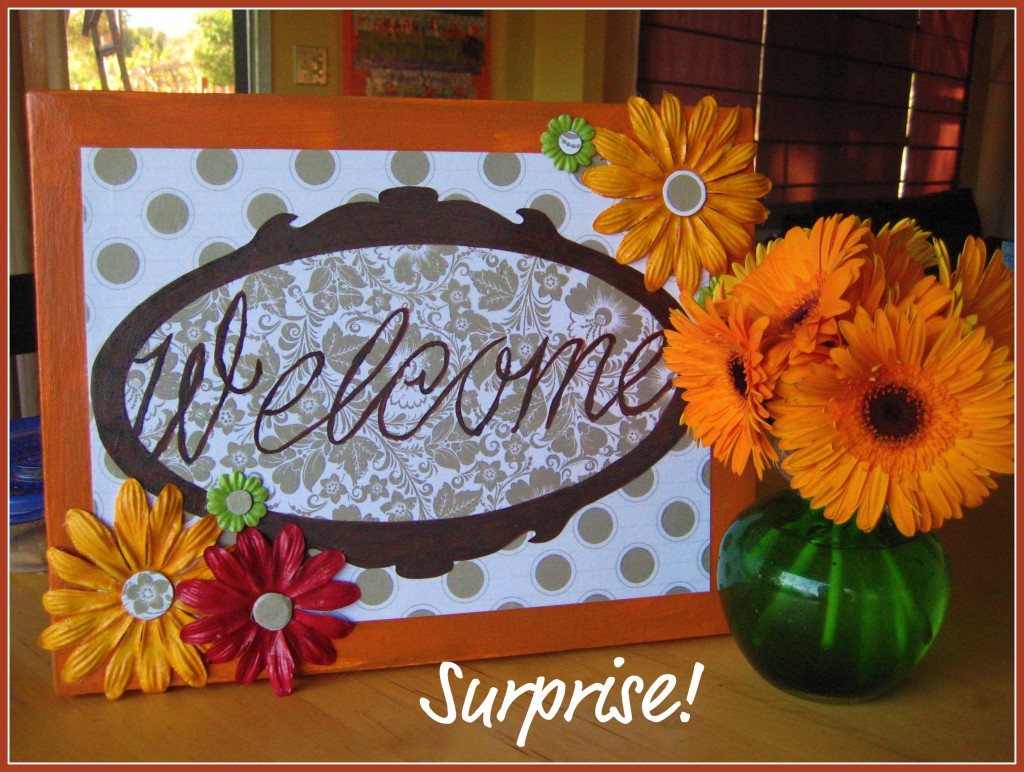 I made TWO!  One for me and one for one of you lovely readers.  My plan is to make one of these for each season and a few holidays (so yes, there will be more giveaways here at Crafting Crazy).  It was really fun to make, and if I can brighten my doorstep and yours, who can lose, really?
How can you win this Welcome Sign? Read on:
This Giveaway includes:
1) Polka-Dot Welcome sign pictured above
2) Two brass hangers for hanging (I will place them if you like, or send them along with the sign in case you aren't sure how you want to hang it)
3) Lovely brown ribbon for hanging- you can let me know how long you'd like, or just let me guess how much you need.
How to win?  Share the love.  Lots of ways to win:
#1:  Leave a comment.  That's all.  Just leave me a comment- say hello, I like your sign, I hope I win, anything.  Just leave a comment.
#2:  Look at the bottom of this post.  See the little bar down there that says "Sharing is Caring?"  Share my post somewhere from that bar, then come back here and tell me which one you used and if it was cool, annoying, easy, hard, etc.  This is a new tool and I don't want to use it if it's frustrating.  If something doesn't work, tell me!  I need help with this one, so even if it doesn't work, just tell me and that counts as an entry.
#3:  Do you tweet?  Follow me on Twitter (button is up on the right) and let me know via a comment.  If you already follow me (thanks!) then just let me know in a comment.
#4:  Subscribe to my blog via email.  In the right side bar near the top you'll see a box that says "Subscribe to Crafting Crazy Via Email Updates".  Enter your email, and leave another comment to let me know.
#5:  Use my RSS feed button (the little orange thing at the top right) or the Google button (below the orange thing) to add me to your blog feeds somehow.  Let me know- leave another comment.
I will announce the winner on Friday, August 20th and will send the winner the sign to hang.  I would love it, if you win the sign, to send me a picture of it hanging in/on your house so I can see where it ends up.  If you blog, I'd love a mention on your blog, too!
Can't wait to see who wins!