Don't you think throwing a nice party is sort of a craft?  It's definitely an art form, and it's hard to do well, I think.  Anyhoo…..
My mother was adamant about a lot of things when we were growing up (I'm the youngest of 3, and yes, I was worried they would forget about me so I acted out just for the recognition).  One thing that I still thank her for today is the fact that she taught us such good manners (as I'm typing this I'm hoping that no one sends me a comment that reads: "Yo, you were totally rude to me and this is what you did….").  We always said please and thank you.  I'm finding myself doing the same with my kids- maybe it's in the DNA.  In this case, it's a good thing.
As a working mom, one of the hardest things to do every week is leave your kids somewhere.  Doesn't matter where it is, or even if you think it's actually good for them to go to childcare/preschool/etc.  It's just hard to leave them.  When we found our kids' preschool/childcare place, it was a huge relief because we LOVE their "school."  The classes are small, the teachers are amazing, the two women who run the place are flexible and helpful, and they still consider me the boss of my children.
I told Michael that I wanted to celebrate them this summer by giving the kids' teachers  a thank you party.  It was so fun to plan something like this.  If you've been around since I started this blog you may remember this post about asking their food and drink preferences.  This also sort of built the excitement for them- they were all a-twitter the day or two before the actual party.  I thought I'd share a few of the things we made for them.
You can find the original recipe for these here at Epicurious.  It had really great reviews, and I actually made these a few years ago for a friend's bachelorette (ah, those were the days), so I knew they were yummy.  However, I had to alter the recipe a bit to make it work for us.  The original recipe calls for pear brandy.  Pear brandy is a bit expensive, and with everything else we were doing I needed to cut some corners.  So instead, I used some regular run-of-the-mill brandy, regular (nice) vodka, and some Absolut Pear.  My version of the martini is at the bottom of this post.
Caprese Kabobs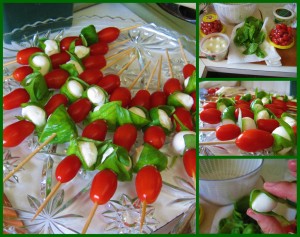 These are fairly self-explanatory, so I'll just post pictures.  I got our little mozzarella balls at Trader Joe's along with one of those huge basil plants.  I covered them with wet paper towels so the mozzarella cheese wouldn't dry out before the party, wrapped the platter in saran-wrap, and popped it in the fridge.  Then I drizzled them with a slightly sweet balsamic vinaigrette right before serving.  Yum- and so pretty.  I liked this because it wasn't too heavy before a nice, hearty Italian dinner.
Tiramisu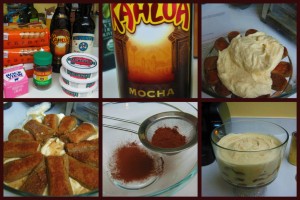 I also found this on Epicurious, here.  It was delicious!  This was my first Tiramisu.  My biggest challenge was finding the lady fingers, but once I found those we were good to go.  Warning:  do not be troubled by the filling while you are making it.  I tasted it and was concerned that it didn't taste good, but something about sitting overnight in the fridge and setting makes it taste oh-so-wonderful the next day.  And it was great because it was one less thing to worry about the day of the party.  I used Sweet Marsala instead of dry.  Tasted fine to everyone!  And I used a trifle dish because it just sounded pretty and many commenters on the site said it made for nice presentation, so I followed suit.
Lastly, a couple of other pictures.  One is of my china.  We pulled it out, and I'm so glad we did because I. Love. My. China.  I remember calling my mother when we registered, worried that I was picking a rather fancy one that was a bit more expensive.  My mother said something like, "Do not pick a cheaper china just to be nice.  Pick the one you want and people will buy it.  You will regret it if you pick one you don't like just to save people money.  If they don't want to buy you china, they will buy you something else.  Get the china you want."  She said this, of course, in the way that all mothers have- the guilt fell away and I got my china.  Thanks, Mom!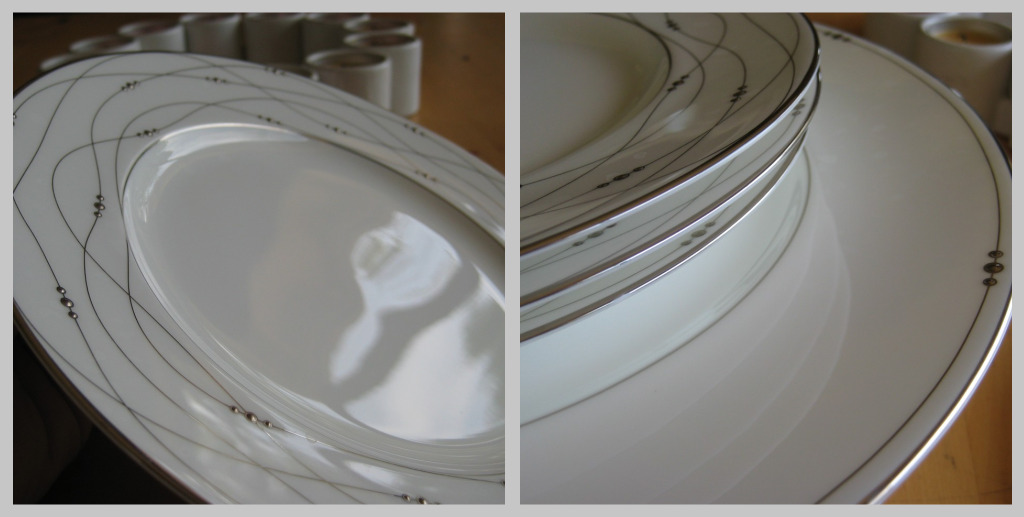 Finally, I took this picture towards the end of dinner- we turned out the lights except for some distant lamps, and lit the candles.  It was so relaxing to eat in a dimly lit room- and everyone looked stunning.  

 That's my amazing husband in the background.  I am totally in love with him, by the way.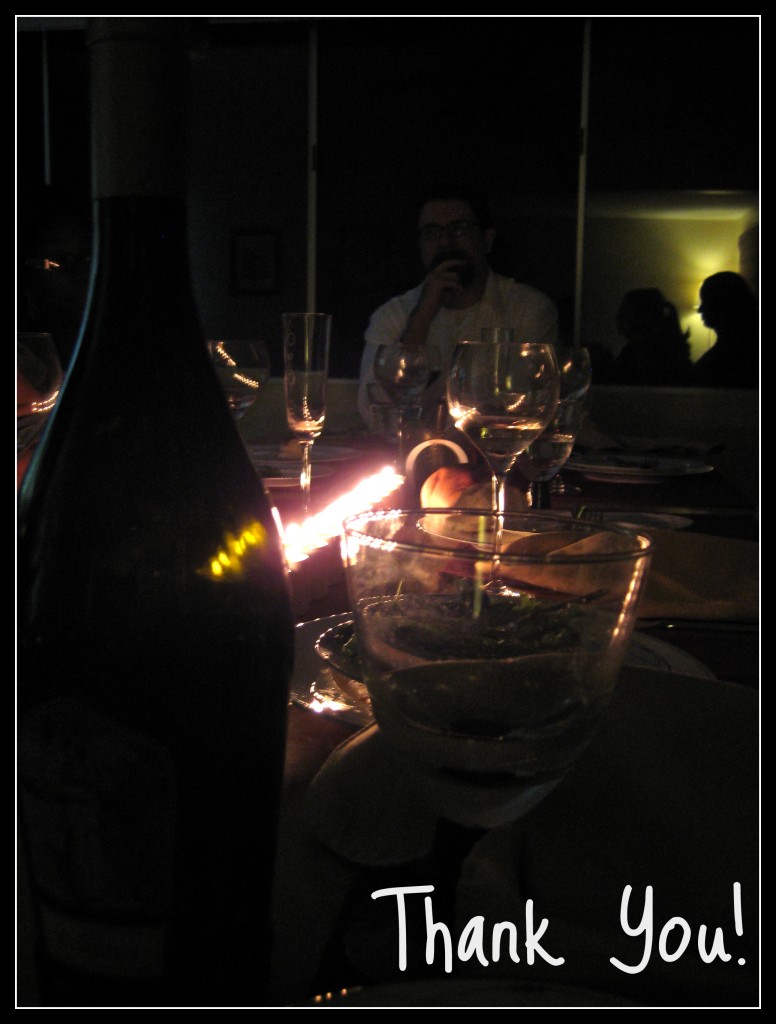 So, who can you thank?  How would you thank them?  This was so much fun, and I think we'll do it again next summer, for shizzle.  Nothing can replace confidence in those who care for your children, and thanking these wonderful ladies felt good.  Great.  Awesome.  And I got toasty-buzzed in the process- who can beat that?  Okay fine- I was a bit hungover the next day.
Here's that Pear Rosemary Martini recipe (my version):
1 cup simple rosemary syrup (see below)
375 ml (1/2 bottle) plain vodka
375 ml (1/2 bottle) Absolut Pear vodka
3 tbsp Brandy
5 tbsp. fresh lemon juice
For the syrup:  boil one cup of water with one cup of sugar, stirring to dissolve.  Once it boils, reduce to a simmer for 2 minutes, adding 4 rosemary sprigs while simmering.   Once it's cool to the touch, remove the rosemary. Completely cool before adding to the liquor.
Combine all of the liquids in a pitcher and place in the freezer for at least 3 hours.  Before serving stir it up.  If you have time and a mesh strainer, it's good to strain the pulp out of the lemon juice.  Garnish with a sprig of rosemary.  Caution:  these go down easy and sneak up on you!